Everton made a significant statement by keeping defender John Stones at the club last summer; rejecting three bids from Chelsea and a transfer request from the player.
The Toffees face arguably an even bigger challenge to keep Romelu Lukaku at the club this summer after the striker cast doubt over his Everton future by stating he wants to play Champions League football next season and his departure from Goodison Park looks inevitable.
Everton struggling to match Lukaku's ambition
Lukaku has made plenty of headlines this season, but his well-publicised quotes about wanting to play in the Champions League next season will not have been what Everton supporters would have wanted to here. Martinez's side are 12th in the Premier League table, 13 points behind Manchester City in fourth, meaning European football is extremely unlikely next season and consequently, a Goodison Park exit for Lukaku is increasingly likely.
Deep down everyone connected to Everton will have known that the day would come when Lukaku would leave the club, but many hoped that the Toffees could make Lukaku's ambitions of Champions League football a reality. Roberto Martinez always stated his aim was to guide Everton to a top-four finish, but Lukaku's 25 goals this season have not been enough to realise his European ambitions, mainly because of a poor home record and defensive fragilities.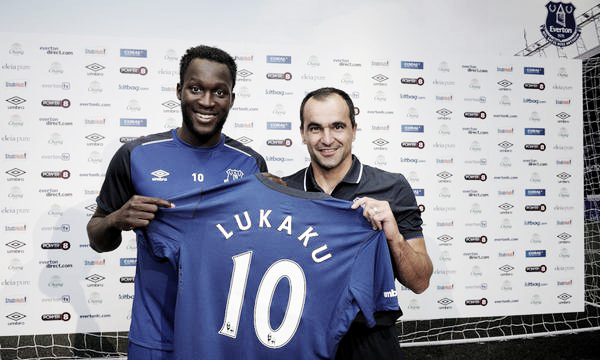 Everton may not be ready to step up to the next level, but Lukaku certainly is. Lukaku's progression has not been matched by the Toffees. The Belgian scored 17 goals in his first season while on loan at Goodison Park, before scoring 20 goals last season after joining the Blues for a club-record fee of £28million. This season Lukaku has already scored 25 goals in all competitions, including 18 in the Premier League at a rate of a goal every 140 minutes.
His rich vein of scoring form has attracted interest from a number of European clubs, including Manchester United, Real Madrid, Paris Saint-Germain and Borussia Dortmund. But Everton have made their position clear, insisting that they do not want to sell and will demand £50million-plus for the in-demand star.
Everton's ambitions must become a reality; otherwise other key players will follow
At every football club, there are many occasions when supporters cannot understand why someone would want to leave the club and have been left angered and confused by their decision to do so. But few supporters will begrudge Lukaku if he leaves and the reasons why.
Everton almost doubled their club record transfer fee for the Belgian, but they have seen him learn, develop and grow over the last two seasons. Supporters will, however, be left frustrated that Lukaku's ambition could not be met, especially considering the quality of Everton's squad and exciting talents such as John Stones, Ross Barkley and Gerard Deulofeu.
Supporters will also be concerned that other key players could follow if the club do not address their underachievement and other players consider whether their future ambitions can be fulfilled at the club. How long will Seamus Coleman, Stones, Barkley and Deulofeu be content with no European football, especially if clubs involved in these competitions show interest? Investment from Iranian-British billionaire Farhad Moshiri may have given the club greater financial clout, but convincing key players to remain at the club must see Everton's Champions League ambitions becoming a reality.