Alan Curtis was again left in charge of Swansea City on Saturday, and he again made key, positive decisions from his technical area to instigate a 1-0 win over Norwich City.
Whilst Francesco Guidolin remains ill, the Welshman continues to be a great stand-in as he made two effective substitutions at the weekend to help his team to victory.
Whether he will be in charge for the weekend's game with Bournemouth remains unclear, but fans will not fret if that is the case such has been his success in the last two outings - the other a 2-1 win at Arsenal.
Impact subs
Speaking to Wales after the game, Curtis discussed his substitutions, with Modou Barrow replacing Alberto Paloschi at the break, and Leroy Fer coming on later in the second half.
The first team coach recognised the impact Barrow made immediately, which helped his team step up from a "poor first half." He said he felt that the team "needed a bit more width and a bit more pace," which is exactly what the Gambia international brings to any side.
"He has got great pace and he can hold a position out wide," Curtis added, which he believes helped to "stretch the game" and allow Swansea to take control.
The decision to remove £8 million man Paloschi, meanwhile, should not be taken personally by the player, as Curtis said the change "was more to get Mo on" and that it was "no reflection" on the Italian's display, as everyone was "average to say the least" in the first period.
"It could have been anybody up front," he continued, but he went for Paloschi as, "the way the game was going," he was desperate to get Barrow on the pitch and knew André Ayew could do a job through the middle.
As for Fer, Curtis believes he gave the team "a bit more edge" in another "positive change." Again, he said the decision to withdraw Leon Britton for the Dutchman was "no reflection" on him, as he was "one of [Swansea's] better players," but "the balance" with Fer and Jack Cork was more attacking.
Fer would have an impact quickly too, setting up Gylfi Sigurdsson to finish "probably the best move of the game" just past the hour.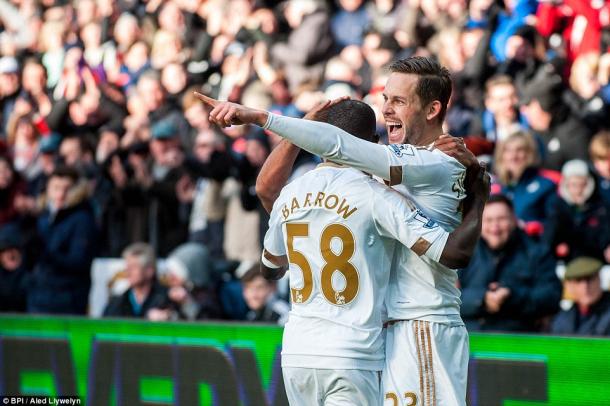 All about positivity
The changes made were positive and attacking ones, which was certainly met well by the fans.
Curtis felt that Swansea "didn't have control" in the first half and, after an uneventful opening 45 minutes, "the onus was on [them] as the home team to push on a little." Thus, he opted to bring on two players to help them do that.
"Mo is going to attack people and defenders have to drop because he's so quick and positive," the Welshman said. He described his introduction as "a no-brainer" because of his opposing full-back, Russell Martin, being played "slightly out of position" and also because he was booked.
"Every time Mo comes on he makes a huge impact," he said, whilst Fer was the creator of the game-winning goal.
That win puts Swansea a massive nine points clear of the drop zone and, though Curtis admits he is "proud" that 50 per cent of their wins this season have come with him in charge, he is focused on "the most important thing" - "stay[ing] up."
"It would affect so many people at the club and the area [if Swansea went down]," he believes, but the team have given themselves "a great opportunity" to survive now with that win, so much so that Curtis said: "If I was a club looking up at us I'd think Swansea were safe."
However, he recognises that there is "an awful lot of work to do" and that the team themselves cannot "feel" as if they are safe either, "because 33 points will not get you to safety."
Tough run coming
The mood is certainly positive now in South Wales, but the job isn't done yet as Swansea drag themselves over "the line" to ensure safety.
With nine games to go, the Swans still have to face two teams scrapping for their lives - Newcastle United and Aston Villa - as well as teams fighting for the Premier League title and European places, such as Leicester City, West Ham United and Manchester City.
Curtis recognises that there are "a couple of games where [the team] can make sure" they stay up, but if they fail to make the most of them, they could be left trying to get the job done in "some real tough [matches]."
One of the former comes this weekend, as Swansea face a Bournemouth side who are all but safe and enjoying their football. The encounter will see both teams searching for a third successive win, but the main question at hand first is who will be in Swansea's dugout?
Curtis says "there's always a chance" that he could have to stand in again, but, "from a medical point of view," he believes Guidolin "should be okay" for the fixture.
Regardless of the man in charge though, "the message is still the same," and that is that Swansea "have to pick up more points" - "whatever it takes to get to safety."