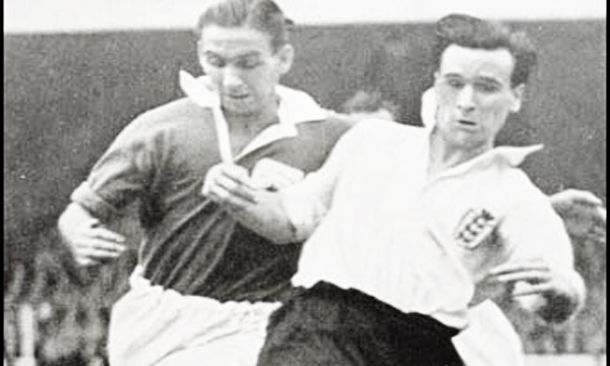 For several years after the Second World War, financial issues were rife in Great Britain, and wages for the public in all lines of work suffered as a result; not least in football, even at the very top level of the English game. Any player would be understandably tempted to take an offer for much higher wages in the same field of work. This is exactly what happened in the early 1950s, when three high-profile English players were persuaded to end their European careers and instead move to Colombia and instead ply their trade there.
Luis Robledo, president of Independiente Santa Fe (a club based in Bogotá, for whom the English players signed) studied for a period of time at the prestigious University of Cambridge in England, and decided that high-quality football would be the thing which could end the ongoing civil war in the South America country. Many important figures in the game have been known to have opinions on how the sport can unite fighting factions – we've all heard about when the warring sides in World War 1 laid down arms for a day on Boxing Day 1914 and joined in a game of football – but perhaps this decision by the Santa Fe president was a bit too far.
This is a time when there was a cap on how much a footballer could earn each week. An industrial worker earned on average £15 per week, which was deemed enough to live on. A footballer was allowed to earn a maximum of £20 per week to live on, which doesn't seem like much. If there was only one inline of income coming into a household – even if that was the maximum of £20 – it must have been difficult to get by each week. Footballers, even in modern times, have their families in mind when completing a transfer, so surely they would leap at an increased pay packet if they were offered it?
It seems that Robledo was willing to offer quite a substantial weekly wage to players willing to move across the Atlantic. Some wages were rumoured at as much as £60 per week, three times the maximum wage in England. Substantial signing-on bonuses were also on the table, guaranteed to make the transition from rainy northern England to Colombia's capital easier. Whilst some may have struggled to live on their wages in England, a much larger pay-check would allow the purse strings to loosen, and making things less of a strain to purchase.
"We'll live finer than any footballers in the world"
That is a quote from one of two Stoke City players to complete a move from The Potters to South America in this era. One was right-winger George Mountford, whilst the quoted man was known as Neil Franklin, a defender who had played for the English national team prior to his move. Both had made over 100 appearances for the Midlands side, and for them to sign for a club hardly respected in the world of football was a shock. Both were paid a huge sum of £60 a week each, alongside a £2000 fee for signing for the club in the first place.
In three months playing in Colombia's top-flight, Franklin played just six times in the league for his new club, scoring once in the process. His former Stoke team-mate Mountford stayed in South America for slightly longer (until 1951 from 1950, whereas the defender only stayed for a period in mid-1950), but wasn't a huge hit either. The winger made 17 appearances for the Bogotá side, with a return of 9 goals. For a winger, that is not a bad record at all.
A third English-based player to complete a move to Santa Fe was then-Manchester United forward Charlie Mitten. The British Burmese-born player had enjoyed success with The Red Devils during his time at Old Trafford (four high-placed league finishes along with an FA Cup win in 1948), making 140 appearances and scoring 60 goals too. He was persuaded to try his hand in Colombia following his spell with United; this came after The Red Devils went on a tour of America in 1950, and played 12 games during this time.
Whilst on this tour, Mitten took objection to how much him and his fellow English stars were being paid, given their huge popularity around the globe. Other players – namely the two mentioned earlier, Franklin and Mountford – also sided with the United attacker, and were all approached about playing for Independiente Santa Fe (Mitten before the America tour had even finished) in Colombia. It is rumoured the former Manchester United man received a signing on bonus of a massive £5000 to go with his £40 a week wage.
However, much like the others, the forward did not enjoy a rich vein of success in South America. The player played just 24 times in the league for his new side, scoring 8 times, before leaving in 1951. That meant that all three English stars had moved to Colombia on the promise of high wages and a good life, yet all returned home within a year. That can't just be a coincidence; there had to be a reason.
The obvious motivation is that Santa Fe's funds for paying the large weekly wages dried up. This has been quoted as the reason by at least two of the trio, and is obviously a big reason to return home. If they all moved to South America because of the large amount of money available to them, then that dried up, what reason is there for them to stay? Social reasons were also named, with a 6:30 P.M. curfew being part of the problem. However, families also failed to settle in Colombia's capital city, which can often happen when you do not speak the language. These men will also have taken this into consideration before moving back to Europe and to England.
The whole venture did not turn out well for the Colombian nation. They were exiled by FIFA for their part, which meant any national appearances made did not count. This is why when Alfredo Di Stéfano turned out in the Tricolor shirt, his caps were not officially recognised by football's world governing body. However, this exile lasted just a few years, and Colombia made their first ever World Cup appearance in Sweden, in 1958.
For their part in the affair, the players who had all made the move to Bogotá in search of a larger pay packet were also banned temporarily from playing the game. Charlie Mitten was perhaps the worst hit. After turning down a chance to join a Real Madrid side managed by Santiago Bernabéu and containing the likes of Héctor Rial and Di Stéfano (an opportunity which Mitten later admitted he regretted not taking), and returning to England, the forward was fined six months' wages, along with a ban from playing for the same period of time. However, Franklin and Mountford were also banned, so were not entirely acquitted for their misdeeds.
It is fair to say this couldn't have happened in modern football. Instead of only a small number of clubs having money, most teams are able to offer attractive wages to players, so there is likely to be somewhere where players will fit in and still be giving the required money to live on. There also isn't a salary cap on football now, allowing clubs to offer as much many as they want. Whilst some clubs employ their own cap, there is no obligatory one, and as such, players don't have to go to an unknown, yet rich country in order to make a living.
Since the 1950s and this affair, Colombia's football has become much more reputable. This is helped by the fact their civil war ended in 1958 (seven years after the last English player left, so there was very little help from them in that respect), meaning more players want to go and play there. They also have stars like Radamel Falcao playing for them now, and lie 4th in the FIFA World Rankings, and are expected to be a prominent side in this year's World Cup in Brazil. This begs the question, "would the trio of Englishmen be able to live in Colombia in modern times", which I believe to be an interesting one. Whilst the native language is still Spanish, there are a large amount of English-speakers, guaranteed to make the move easier. Though we'll never know the answer for sure, many will wonder just what went wrong with 'The Bogotá Bandit' (Charlie Mitten), and his team-mates at Santa Fe.
The title for the article is a play on the title for the famous George Green novel, 'Our Man In Havana', published in 1958.