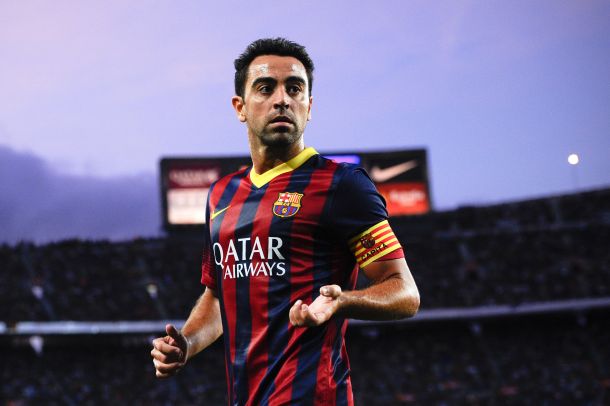 Since joining Barcelona's youth academy in 1991, Xavi Hernandez has never looked back. A glittering career at the top level of world football has seen him develop into a Barcelona legend, and football icon. After winning every club trophy imaginable and also winning the World Cup with Spain, Xavi has had one of the most impressive careers in world football.
For a number of years now, Xavi has been the heartbeat of Barcelona's midfield, often running the show with his partner in crime, Andres Iniesta. Xavi and Iniesta have always been seen as a pair on the pitch, and sometimes off it too. It's impossible to imagine one playing without the other. Well, next season we might not have to imagine it.
It has been widely reported by both overseas and Spanish press that Xavi will be leaving Barcelona this summer. Reports have told us that Barça have agreed to let Xavi leave for nothing - despite having time remaining on his current contract. It was first reported that he could be off to the Far East. But now it appears he's got his heart set on a move to the USA, with football ever growing in America.
A number of reliable sources claim that Xavi has agreed a deal to join new football club, New York City FC. If Xavi were to join, he would be play with old team-mate David Villa and possibly ex-Chelsea midfielder, Frank Lampard.
However, New York City FC won't enter official competitions until 2015. Meaning that if Xavi did join, he would have to go on loan to another club in the meantime to keep match fit. David Villa for example, has joined Australian outfit Melboune City. Xavi could follow him to Australia, or possibly enjoy a short stay in the Far East - as originally planned. Or, it could be possible that he re-joins Barcelona on loan. Although, this looks slighty unlikely at the moment.
Wherever Xavi chooses to play his football next season, it seems that it will be away from Spain, and away from his beloved Barcelona. The day Xavi leaves will be a sad for Barça fans, as it will mean that another legend will leave, as Carles Puyol and Victor Valdes have already done.
He'll always be remember at Barça though for being arguably the best midfielder they've ever possessed. And at a club like Barça - that's saying something!