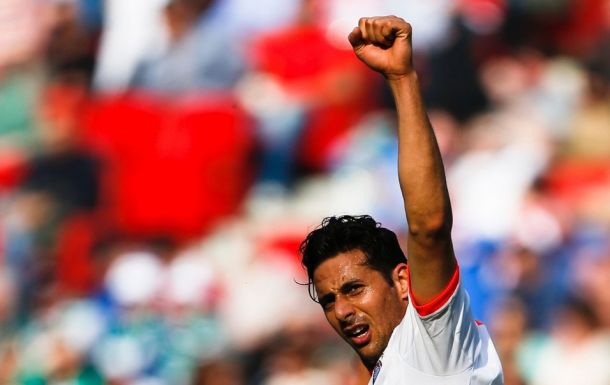 When one is asked about modern legends of the Bundesliga, it is highly likely that the name of Claudio Pizzaro will not be the first on your lips. However, the ever-smiling Peruvian footballer has created a legacy that will be remembered for many years yet as one of the greatest, if not the greatest foreigner to play his trade in Germany. On 23 October 2010, he surpassed the 133 goal tally of former Brazilian great Giovane Elber to become the highest-ever scoring foreigner in Bundesliga, with his current tally standing at 176. There are no signs of Claudio Pizzaro calling time on his career anytime soon, with the fact that he is adored by both Werder Bremen and Bayern Munich fans telling you all you need to know about his character and level of performance on the pitch.
Claudio Miguel Pizarro Bosio was born on 3 October 1978 in Callao, Peru, and started his professional football career at the age of seventeen with Deportivo Pesquero, a small provincial team in the city of Chimbote. Even in his very early playing days, he already showed a penchant for headed goals and calm finishing that would become the hallmark of his successes in Europe, which quickly caught the eye of Alianza Lima. The young Claudio Pizzaro did not disappoint, and proceeded to score 25 goals over two seasons with the club, finishing as runner-up in the Torneo Apertura Of Peru in 1999. This would also lead to his first international cap for Peru, starting a career that would see him make 71 appearances and participate in numerous international tournaments. The stage was set for Claudio Pizzaro to make a real name for himself, and the catalytic moment in his career, a move to the Bundesliga with Werder Bremen, was all but completed.
The Peruvian only spent two seasons with Die Werderaner in his first stint in the north of Germany, but the impact he made was pronounced. His physicality was domineering, and the agility and intelligence of movement was remarkable for a big man. Claudio Pizzaro proceeded to score a fantastic haul of 29 goals in just two seasons, which had the European elite lining up for his signature after Werder Bremen indicated that they would not stand in his way if a bigger team came calling. Real Madrid and Barcelona were reportedly keen on his capture, alongside Serie A giants Inter Milan and Borussia Dortmund, but the Peruvian eventually decided to sign for Bayern Munich after a saga which dominated the interest of the media in Peru. The shining beacon of light for Peruvian football was not just a constant topic of sports discussion in his homeland, but also headlined the news as every transfer rumor was relayed to the people watching on in awe and interest.
Claudio Pizzaro was an instant hit in Munich, and quickly established himself as a key member of the first-team. He was crucial in the three domestic doubles that Bayern Munich won in his first stint with the Bavarians in 2002-2003, 2004-2005 and 2005-2006, with his exploits earning him the nickname the Anden-Bomber, or 'Andes-Bomber', referring to his South-American home country and the legendary German striker, Gerd Müller, who was known as Der Bomber, or 'The Bomber'. It is an indication of how highly he was regarded that his nickname compared him in a way to a Bayern Munich hero, but the love affair began to turn sour after Claudio Pizzaro rejected a contract extension offered by then-Chairman Franz Beckenbauer due to his desire for a steep pay rise. This angered Bayern Munich CEO Karl-Heinz Rummenigge, who was quoted as saying; "Anyone wishing to earn as much as Andriy Shevchenko had better start playing like Andriy Shevchenko". Needless to say, his contract expired at the end of the 2005-2006 season, and the Chilean subsequently joined Chelsea on a Bosman Transfer. Things did not go too well in London for the striker, though, as the departure of Jose Mourinho and the arrival of French striker Nicolas Anelka meant that he was deemed surplus to requirements in a squad filled to the brim with the finest players in Europe at that time. Just two goals in his time at Chelsea had lessened his stock significantly, but a return on loan to Werder Bremen was to be his saving grace.
If ever there was any doubt whether fans of the Grün-Weißen were going to welcome back their former hero with open arms, it was quickly dispelled as an immense amount of Werder Bremen fans immediately started lining up outside of the club shop to get their hands on a new Claudio Pizzaro jersey. The Peruvian was back in his element, and returned to his goal scoring ways almost immediately, with a goal against former (and future) club Bayern Munich in a 5-2 thrashing surely the highlight of his return. The striker played a very big role as Werder Bremen won the DFB Pokal in 2008-2009, and contributed greatly to their memorable run to the final of the 2009 UEFA Cup against Shakhtar Donetsk in which they unfortunately lost against their Ukrainian opposition. A stunning return of seventeen goals in just 26 Bundesliga appearances ensured that Werder Bremen moved to acquire his services permanently once again for an undisclosed fee. The rest of his second stint for Die Werderaner was very fruitful, with the Anden-Bomber routinely seeing his name among the very best of the best at the top of the Bundesliga goalscoring charts, breaking the scoring record for a foreigner in the Bundesliga set by Giovane Elber in the process. However, the likeable Peruvian announced in 2012 that he was going to leave Werder Bremen that summer.
Claudio Pizzaro rejoined Bayern Munich in 2012 on a one-year deal, and quickly established himself as an effective impact player off the bench due to his age limiting starting appearances. The striker remained a prolific scorer whenever he was afforded an opportunity, though, and memorably scored four goals in a single game against Hamburger SV in a 9-2 thrashing of the HSV. The Peruvian also contributed in their successful 2013-2014 UEFA Champions League campaign, scoring a 90th minute goal in the quarter-final victory over Juventus en route to a historic treble under veteran manager Jupp Heynckes. The Anden-Bomber signed a contract extension with the Bavarians for the coming season, and proceeded to score against newly promoted Eintracht Braunschweig, making him the only man to have scored against every Bundesliga club at that time. Currently the South-American still plays for Bayern Munich as a back-up member of the squad, but remains a real weapon for manager Pep Guardiola to turn to whenever a goal is needed or rotation takes place.
There is no doubt that few, if any, other players can boast the achievements that Claudio Pizzaro has attained during a glittering playing career. One really does feel that he is an unassuming assassin, who does not quite get the recognition he deserves. But would he have it any other way? He will continue to score his goals with a smile, an ageless veteran who still has the ice-cold instincts that made him one of the most sought-after strikers in Europe.