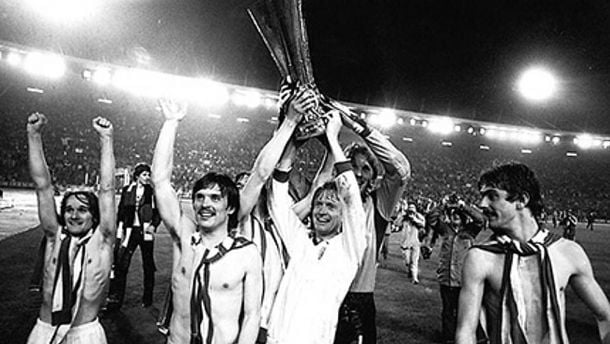 May 1977. Rome. A golden age for German football. West Germany are reigning world champions, and have only just surrendered their European crown. Bayern Munich have just won three European Cups back to back. Now it's the turn of Borussia VfL 1900 Mönchengladbach.
Udo Lattek has just led Die Fohlen (the foals) to their fifth Bundesliga title. It's Lattek's second, and Gladbach's third consecutive championship. Now, having already won the UEFA Cup two years previously, Gladbach, spearhead by a certain Jupp Heynckes, face Bob Paisley's Liverpool in the European Cup final.
It's a step too far, and although Gladbach would win a second UEFA Cup in 1979, the bitter 3-1 defeat in Rome would be their last appearance in Europe's premier cup competition for 38 years.
Now in 2015, Germany's third best supported team are also Germany's third best team and will re-take their place in the Champions League. The name may have changed but the very mention of Borussia Mönchengladbach in conjunction with this competition brings back a flood of memories of a seminal decade in German footballing and social history.
Good or evil? Gladbach or Bayern?
The 1970's was an age of liberalism in Germany. For the first time, an entire generation of young Germans with no lived memory of the Second World War was beginning to exercise its political voice. Theirs was a liberal generation, inspired by the anti-Vietnam and US civil rights movements whose influence had spread across the Atlantic.
They resented the Social Democrat-Christian Democrat coalitions which held their young democracy in a conservative stranglehold. German society became polarised. Liberal or conservative, good or evil, or increasingly just Gladbach or Bayern.
Neither side had been admitted to the Bundesliga in its inaugural season in 1963-64. Originally, both represented exciting, new alternatives to the traditional footballing hegemons of Nuremberg and Schalke, and both won promotion to the Bundesliga in 1965. There the similarities ended.
The Bayern Munich of Sepp Maier, Gerd Müller and Paul Breitner, anchored by sweeper Franz Beckenbauer, were the first of the new upstarts to clinch the title in 1969. Bayern's dominance was, and arguably still is, characterised by a steely, ice-cold determination to win, perceived as an inexorable and almost joyless march to victory after victory.
The dubbing of Beckenbauer as Der Kaiser only furthered the conservative, and indeed almost Prussian efficiency of the team from the wealthier side of Munich.
The birth of Die Fohlenelf
Gladbach, on the other hand, were the working class antidote from the industrial Ruhr. Manager Hennes Weisweiler was an admirer of English football, a trait which manifested itself in explosive, attacking, exciting play.
Whilst Bayern (at least according to popular perception) did the minimum necessary to win, to the young Foals of Günter Netzer, Jupp Heynckes and Allan Simonsen were attributed some of the biggest score lines in Bundesliga history. 7-0 - Schalke in 1971. 12-0 against Dortmund in 1978. And the latter still wasn't enough, as Cologne beat them to the title on the same day by three goals.
But for Germany's new generation of football fans, that was the beauty and attraction of Borussia Mönchengladbach. They struck a chord, and despite shortcomings such as the European Cup defeat to Liverpool, the wave of public good will carried Gladbach to no less than four UEFA Cup finals, winning two. What are the protagonists of those heady days doing now?
When the first leg of the 1975 final - FC Twente finished 0-0 in Düsseldorf (since Gladbach's home Bökelbergstadion was too small), it was a nervous Fohlenelf which headed to Enschede. They need not have worried, as an inspired Jupp Heynckes struck a hat-trick in a 5-1 rout, the largest ever margin of victory in a UEFA Cup final.
A born Gladbacher, Heynckes scored 220 goals in 369 Bundesliga games. He followed up his UEFA Cup heroics with a key role in Gladbach's second UEFA Cup triumph - Red Star Belgrade in 1979, when he was assistant coach to manager Udo Lattek.
Heynckes succeeded Lattek following the final and managed Gladbach until 1987 before the first of three spells at Bayern Munich. Following spells at Athletic Bilbao, Eintracht Frankfurt, Tenerife, Real Madrid (with whom he won his first Champions' League in 1998), Benfica and Schalke, he returned for a second spell with Gladbach in 2006. He famously ended his career by winning the treble with Bayern Munich in 2013.
Heynckes is not the only character in this footballing story in which Gladbach and Bayern seem inextricably linked; the man he succeeded as Gladbach manager in 1979 also played a central role.
Good and evil, Gladbach and Bayern - Udo Lattek
Udo Lattek did not enjoy as distinguished a playing career as Heynckes, but was the first manager to win three consecutive Bundesliga titles, a feat he achieved with Bayern Munich in 1972, 1973 and 1974. His Bayern Munich side then became the first German winners of the European Cup in 1974.
Lattek took over from Hennes Weisweiler at Gladbach in 1975 where he won two more Bundesliga titles and led Die Fohlen to UEFA Cup glory against Red Star Belgrade in 1979. Whereas Weisweiler's teams had set themselves apart from rivals Bayern with their exuberant, almost reckless attacking style, Lattek instilled a Bavarian caution in the team.
Periods at Borussia Dortmund and Barcelona followed, before Lattek once again took the reins at Bayern Munich from 1983-87, adding three more Bundesliga titles and two more DFB Pokals. He officially retired following brief spells with Cologne and Schalke, but made a final comeback at Dortmund in 2000, saving the club from relegation. Lattek passed away in Cologne earlier this year, aged 80.
Gladbach's great Dane
Despite Lattek's more careful style of play, one player whose attacking prowess graced both of Gladbach's UEFA Cup winning sides was the Danish striker Allan Simonsen. He complemented Heynckes' hat-trick with a brace of his own in the 1975 final against FC Twente, and scored a thundering equaliser against Liverpool in Rome in 1977. He became the first ever Danish winner of the Ballon D'or that season, and remained a stalwart of Lattek's side up until the 1979 UEFA Cup final, scoring the winner against Red Star.
Simonsen moved to Barcelona in 1979 where his goals helped the Catalans to the Copa del Rey in 1981 and the European Cup Winners' Cup in 1982. He ended his career with a less glamorous season with Charlton in England's 2nd tier before returning to his native Vejle BK in Denmark. Simonsen is the only player to have found the net in the European Cup, UEFA Cup, and Cup Winners' Cup finals. He now owns a factory which produces sports equipment.
And so what happened to Hennes Weisweiler, the man who started it all? The great Gladbach innovator, the man who raised Die Fohlen, also moved to Barcelona. Weisweiler was determined to implement his youth policy and attacking football in Catalonia, but found himself at loggerheads with established Dutch stars Johann Cruyff and Johan Neesken, who resented the lack of freedom afforded to them under the new manager. Weisweiler's contract was terminated after only one year.
Weisweiler's misfortune in Barcelona had no effect on his reputation back home in Germany, where he took over his home-town Cologne, winning the cup in 1977 and the double in 1978. He moved to New York in 1980 where he managed the likes of Beckenbauer and Neeskens with the Cosmos.
He finished his career with Grasshoppers Zürich, winning the league and cup double in 1983. He died of a heart attack three weeks later. His body lay in state in front of Cologne cathedral, an honour traditionally reserved only for heads of state or bishops.
Hennes Weisweiler was the embodiment of the youthful exuberance which made his Borussia Mönchengladbach side the most popular in Germany in the 1970s. "Better to lose 6-5 than 1-0!" he once proclaimed. It was very much an attitude which reflected the youthful liberalism of the age. The extent to which the Fohlen myth really holds water is debatable, but they represented the idea of a style of football, and indeed a society, where the end result, the overriding meta-narrative wasn't the be all and end all.
Society moves on and so does football. The baton now passes Lucien Favre to write the next chapter in Borussia Mönchengladbach's European story.