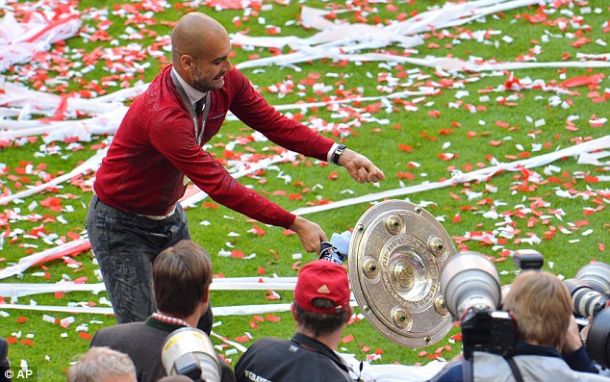 Tiki-taka is dead. That was the conclusion many came to when Bayern Munich were thrashed in the UEFA Champions League semi-final last season against eventual winners Real Madrid. And how could it not be? Only a year earlier, ironically, Bayern Munich did exactly to Barcelona what Los Blancos did to them; smash the patient, possession based approach with a stronger, faster and more efficient counter-attacking system. Many were highly critical of possession-based football, and ridiculed it, indicating that the times have clearly changed, and that it was out-dated, over-used and teams have figured out how to effectively counter this style of play. However, if one looks closely, it is not possession based football, per se, which has been proven vulnerable, but rather much more individual error and stubbornness.
Barcelona, when they fell against their German foes, were nearing the end of a cycle with ageing players and inadequate coverage in defence, which very much tells a story in itself. However, in the case of Bayern Munich, their faults can be traced to one source; not possession-based football, but Pep Guardiola. Very much the man who refined the concept of retaining possession and patiently building an attack, his Barcelona side from about 2009 to 2011 was peerless. It is a fact that one cannot win a football match if one never has the ball, and that was proven true as the Catalan giants swept all before them. Thus, when the Spaniard chose to join Bayern Munich after his year-long sabbatical from football, it was seen as a huge coup for not only Die Roten, but the Bundesliga as a whole. Fears that the Catalan would try and replicate Barcelona in Munich was soon salved by the ever charismatic manager assertively claiming that he would adapt to German football and the traditional style and ethos of Bayern Munich rather than the other way around.
Initially, this was certainly the case. After early-season teething problems, Pep Guardiola seemed to have gotten it all perfectly right. He instilled patience in build-up play, and taught his troops how to starve the opposition of possession for long periods of the game. Also, crucially, he retained the ability to athletically counter-attack with pace through the likes of Arjen Robben, Thomas Müller and Franck Ribery. It really seemed to be bringing the best out of everybody at the club, as the likes of Toni Kroos and Mario Götze to take to this system like fish to water. The Catalan manager was also hailed for the masterstroke of playing captain Philipp Lahm, arguably not only the best right-back of his generation, but in history, in midfield. However, it was intriguingly apparent how the flowing, fast paced counter-attacks became fewer and further between as the progressed, and was replaced by an almost laboured battle to try and break teams down who decided to very much set up shop and look to frustrate Die Roten. Also, glaring vulnerabilities in defence began to emerge, particularly against counter-attacks. As Bayern Munich continued to win, these shortcomings were almost ignored. At that stage there was no indication that anybody could beat the Bavarians, so why worry unduly about small issues?
The first real danger signs started to emerge in the Champions League round-of-sixteen and quarter-final clashes against Arsenal and Manchester United, respectively, where the Bayern Munich defence was, at times, put under huge pressure in counter-attack situations. It became clearly apparent that the high defensive line employed by Pep Guardiola was not a good idea, with both Dante and Jerome Boateng being caught out for pace time after time. Both these centre-backs, as we saw under Jupp Heynckes, are fantastic defenders, capable of being rock solid when employed correctly, and crucially, with a legitimate defensive midfielder in front, just not when exposed completely thanks to a suicidal high defensive line. Unfortunately for them, Javi Martinez was played in defence all too regularly, which did not work out well at all, given the lack of positional nous the Spaniard possesses in that position. In theory, Javi Martinez is a perfect centre-back given his physical gifts, but put in practice against Europe's elite this has not proved to be so. Compounding this problem has been the manager's insistence on playing Philipp Lahm as defensive midfielder. While the player himself has excelled in the role, the widespread repercussions of this positional shift threw the balance of the team off-kilter, forcing Brazilian right-back Rafinha to become a starting component to the Bayern Munich machine. For all his passion and hard work, the fact of the matter remains that he is a liability in defence, which in turn greatly increases the strain on already pressurized centre-backs, resulting in a negative cycle which could have very easily been avoided by simply playing the best players in their best possible positions, rather than trying to fit square pegs into round holes.
After a few uninspiring outings in the Bundesliga, everything fell apart against Real Madrid. Die Roten were ripped to shreds by Los Blancos, who employed a simple game-plan aimed at exposing the German Champions' weaknesses while optimizing their own, significant strengths on attack. The likes of Toni Kroos and Dante, who are not the most mobile of players, suffered under constant duress, while the Bavarians could also not break down the two disciplined banks of four employed by Carlo Ancelotti defensively over the two legs. Fans, predictably, were outraged not necessarily by the defeat, but the humiliating manner in which it was inflicted. The aura of invincibility that surrounded Bayern Munich during the all-conquering spell under Jupp Heynckes had come crashing down, and questions were being asked in the Südkurve. Possession football bore the brunt of the blame among casual observers, but many tend to forget that this approach, albeit in a significantly lessened capacity, had been part of the Bayern Munich DNA for a number of years, ever since the Luis Van Gaal era. Those iconic games against Barcelona in 2012/2013 where Die Roten actively conceded possession was an exception to the rule, specifically utilized to do what they ultimately accomplished; beating Barcelona through ruthlessly exposing their shortcomings. The difference is that this version of possession football has become almost an obsession for Pep Guardiola, leading to short-sighted decisions to play midfielders in defence and full-backs in midfield, all in the name of fluidity and tactical beauty, at the expense of efficiency and the most important thing; results.
This tactical naivety bred by stubbornness on the part of Pep Guardiola looks set to continue, worryingly, at Bayern Munich. Trusted news outlets such as BILD and kicker have speculated that the likes of Bastian Schweinsteiger and Arjen Robben will not be starting regulars for Die Roten next season, and if pre-season has been anything to go by, this might be proven accurate. A new 3-4-3 formation has been put in use, with David Alaba allegedly set to be employed as a left-sided centre-back alongside the previously discussed Javi Martinez. Philipp Lahm, in midfield, would be joined by Thiago, while new signing Juan Bernat and Rafinha would be the wing-backs. Although this is only speculation at this stage, it is more than possible, looking at how the team has been adapted over the past season under the Catalan manager. This could well all end up being a tactical masterstroke, but the old saying of not fixing something if it is not broken could not possibly have been more apt than for Die Roten over the past season.
Sometimes the search for perfection ends up doing more damage than good, and there really is a fine line between genius and insanity. This coming season will be extremely intriguing to look unfold, and despite Karl-Heinz Rummenigge promising that Pep Guardiola will never be fired by Bayern Munich, it could all change if things go pear-shaped in Europe once again.