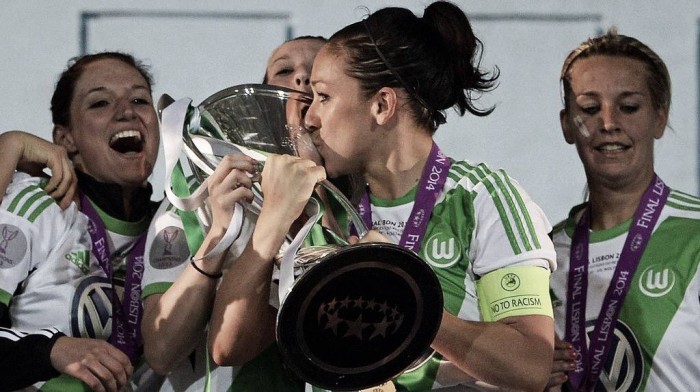 After over 18 months out injured, Nadine Keßler has retired from football.
The 2014 FIFA Women's World Player of the Year has struggled with knee injuries for the last two years, with her last competitive appearance coming all the way back in September 2014.
Keßler has been sidelined since featuring in that 3-0 win for VfL Wolfsburg over Bayer Leverkusen and, despite undergoing numerous knee operations, she has been forced to call time on her short but illustrious career.
The highs...
The exciting attacking midfielder looked to have the world at her feet after being named the best player in the world two years ago, beating Marta and Abby Wambach to the award.
Having worked her way to the top, the midfielder picked up the trophy after leading her Wolfsburg team to a league and cup double; with them retaining the Frauen-Bundesliga and UEFA Women's Champions League crowns in that 2013-14 season that they had also clinched the campaign prior.
With the Algarve Cup coming earlier that year for Keßler with Germany too, following their victory at the UEFA Women's Championship in 2013; she, club and country were all at the very peak of their talents, making the injuries to come even tougher for them and fans alike to take.
... And the lows
Keßler's substitute appearance against Leverkusen was her only involvement in Wolfsburg's 2014-15 season. The rest of the campaign was spent dealing with injuries and, when she signed a one-year extension in May 2015 with the Wolves, there was a sense of optimism that her return was near and that it would come in the 2015-16 season.
However, with the player herself now sensing that a comeback is no longer possible, she and Wolfsburg have decided not to renew her current contract when it comes up next month, with Keßler instead announcing that she is hanging up her boots.
Speaking about her decision to do so, the 28-year-old said, via UEFA, that it is certainly "very difficult for [her] to accept the fact that [she has] to retire."
"I'd like to thank Wolfsburg for some fantastic years with lots of success and countless unforgettable memories," she added.
What lies ahead for Keßler now is unclear, but she did express her "profound love for the game" and that she is "looking forward to new challenges and prospects."
Having occupied a media role in Germany during her time out injured, that may be something we see her in more regularly now after this announcement.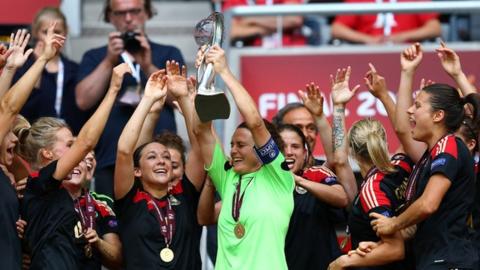 Football reacts
It's a sad day for women's football and many of those who worked with Keßler have expressed their own thoughts on the news.
Silvia Neid, coach of Germany, described her retirement as "a huge loss" for the game. She spoke of Keßler as someone with "outstanding footballing ability" but also as someone with "an incredible personality," making her "a role model both on and off the pitch."
Neid added that she is "very sorry" to see her retire.
Wolfsburg coach Ralf Kellermann also had his say, describing his former captain as "a true leader" who "more than played her part" in establishing the Wolves as "a top international side."
"It's sad to see her end her so promising career at such a young age," he continued, albeit adding that he "fully respect[s] her decision" and "wish[es] her the best of luck for her future endeavours."
Just 28 she might be, but Nadine Keßler certainly bows out as one of the greatest to ever play the game.