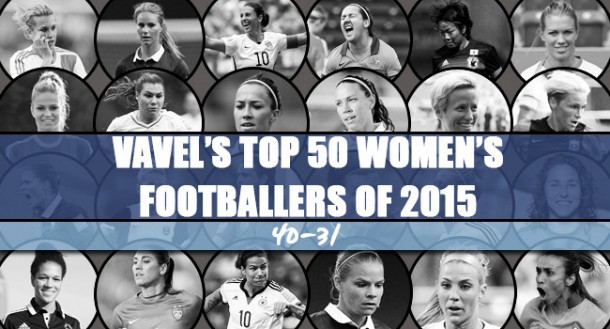 It's been a terrific year for women's football. The 2015 FIFA Women's World Cup captured more attention than the sport has ever enjoyed and now, as we look ahead to 2016, there is hope that the game can capitalise on this sudden spike in interest to help it grow and improve.
However, as the New Year beckons, it is also time for us to look back at the last 12 months and the players who really shone in this time.
So, without further ado, based on their form and achievements this year, here is the second installment of VAVEL's Top 50 Women's Footballers of 2015, introducing those ranked 40 to 31. If you missed the players who made it in from 50-41, you can find them here.
40 - Hedvig Lindahl (Chelsea/Sweden)
This year, at the tender age of 32, Hedvig Lindahl has emerged as one of the game's best goalkeepers.
Having moved to England with Chelsea at the beginning of 2015, the Swedish international has made the most of the switch, keeping eight clean sheets in 14 FA WSL 1 games to lead the Blues to their first ever league title. On top of that, the Swede played a crucial role in the clinching of the club's first ever piece of silverware, keeping another clean sheet as they defeated Notts County 1-0 at Wembley to win the FA Women's Cup.
Things did not go as well for Lindahl at the World Cup as Sweden were eliminated in the last 16, though she did manage a clean sheet in the group stages against eventual World Champions, the USA. Nonetheless, her commanding presence and incredible experience has been priceless for Chelsea in 2015, filling that void in between the sticks that was missing last season as they let the title slip on the final day. Emma Hayes' side will hope that Lindahl sticks around for some time in London as they look to build on this momentum for years to come, with the 'keeper an integral part of their incredible season.
39 - Ji So-yun (Chelsea/South Korea)
The player who really makes Chelsea tick though ranks just above Lindahl, Ji So-yun having been at it again this year as she helped her side win the double.
Last season, her contributions were fantastic, helping her win the PFA Player of the Year for WSL 1, but this campaign they have been even more important as they have helped the team to some wonderful success. The South Korean playmaker bagged the crucial goal at Wembley that gave the Blues the FA Women's Cup, whilst her five goals in the league helped them finish at the top of the standings come October.
Unfortunately, she could not make things happen at the World Cup for her country, with South Korea scraping through to the last 16 but falling 3-0 to France once they got there. The side were missing Ji's creative spark all throughout Canada, with her netting only once in four games, meaning she falls down the rankings having failed to light up the world stage.
However, her contributions at domestic level have been second-to-none and she is certainly a player who can go on to produce even bigger things yet as well, aged just 24.
38 - Melanie Leupolz (Bayern Munich/Germany)
This year, Bayern Munich emulated the men's team's success as they lifted their first league title since 1976. The team were a model of consistency throughout 2014-15 as they beat VfL Wolfsburg to the crown on the final day, and few players epitomised this better than Melanie Leupolz.
An absolute engine in the centre of the park, Bayern's number eight was an example for all midfielders in the game and has continued that form into the new season too, with her displays helping the reigning champions sit top by a healthy 12-point margin at the winter break.
Leupolz's work rate is exemplary, whilst her contributions on the ball, in terms of her ability to pick a pass and add the odd goal or two, are priceless to the team. Bayern dominate most opponents in Germany, if not all, and the 21-year-old is crucial in this too, dictating the tempo of the game from the centre of the park and getting stuck in to win the ball back when her side lose it.
An almost complete footballer already at a very young age, Leupolz is one of the unsung heroines in a fantastic side, with her an integral cog in what has proven to be one of the most efficient units in Europe in the past 12 months.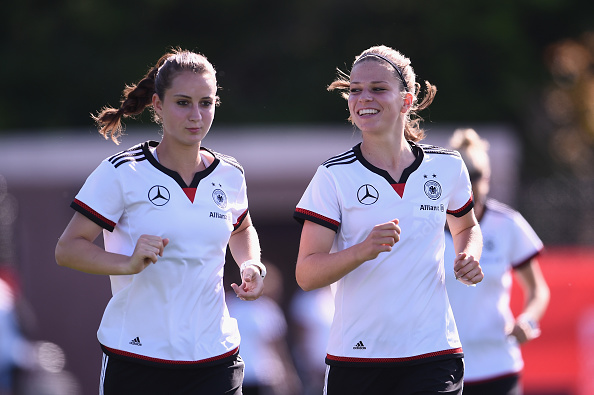 37 - Sara Däbritz (Bayern Munich/Germany)
It would be unfair to have Leupolz and not have her main partner in crime, Sara Däbritz, right there with her. Since joining from SC Freiburg in the summer, the talented attacker has taken to life in Bavaria like a duck to water and continued her great partnership with Leupolz, both on and off the pitch.
The 20-year-old wasn't exactly a regular goalscorer at Freiburg, having scored six in her last two seasons at the Schwarzwald side, though she has managed to notch up the same amount in just 12 games this term. Happy anywhere across the front line, she is bursting with energy and a never-say-die attitude which was summed up with a series of goals in the last fifteen minutes of matches - Däbritz's stamina is almost like having a fourth substitute.
Aside from her hard-work and determination, she is incredibly talented and skillful. One of the trickiest players in Europe, she has the inate ability to glide past players with ease and has the finish to boot. As previously mentioned, she has been a major part in Bayern's resounding success this season and will be just as important heading into the coming weeks, years and months.
36 - Sophie Schmidt (1. FFC Frankfurt/Canada)
In the NWSL this season, there was a large Sophie Schmidt-shaped hole in the Sky Blue team. The New Jersey-based club finished eight points off the play-offs as a result, second from bottom with 22 points from 20 games. The Canadian midfielder had taken the decision to sit out the 2015 season as she looked to focus on her country's home World Cup, and this paid dividends as she was one of the stand-out players for her nation this summer.
With an incredible range of passing, a distinguished dash of skill and flair and the ability to work the 'keeper from distance, Schmidt was key to a Canada side who battled through some tough games to make the quarter-finals. They were never at their best during the tournament, but it was players like the 27-year-old who helped motivate and inspire them to the last eight, where they eventually bowed out to surprise package England.
Schmidt is now plying her trade with 1. FFC Frankfurt in the Frauen-Bundesliga, where her talent shines through even more alongside world-class stars like Dzsenifer Marozsan and Simeone Laudehr, and where she is making an impact in Europe's best league, as well as amongst the elite in the Champions League.
35 - Christine Sinclair (Portland Thorns/Canada)
Following Schmidt's inclusion on the list, it was Christine Sinclair who stood at the forefront of the Canadian team this summer, the captain dragging her team through two rounds at the World Cup despite them underperforming.
The 32-year-old took her scoring tally for her country to 155 in 228 games during that tournament too, with the first of her two goals scored showing how valuable she is to the team as she coolly slotted home a dubious penalty in the 92nd minute to give her team a dramatic 1-0 win over China in front of a home crowd expecting more on the opening night.
It was Sinclair who gave her team hope in the quarter-finals as well, the striker pulling a goal back just before half time for Canada, with them trailing 2-0 after 14 minutes. It was the Lionesses who emerged victorious in the end in front of those 54,000 fans, but it was the captain's incredible character and leadership that kept those in the stands believing, not to mention her wonderful ability to finish under pressure.
Again, the World Cup limited the amount she could help her club, Portland Thorns, with them finishing sixth, two places and seven points off the play-offs - Sinclair only able to contribute with two goals in between international duties. However, the veteran remains one of the deadliest finishers on the planet as she continues to rack up the goals at all levels - with her now only 26 behind retired Abby Wambach's record tally at international level.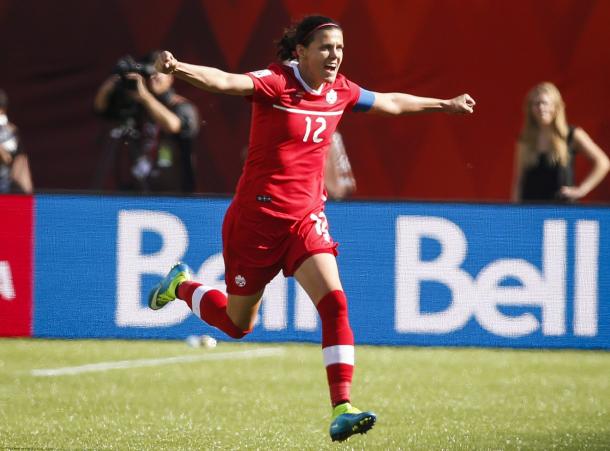 34 - Shirley Trana Cruz (Paris Saint-Germain/Costa Rica)
Shirley Trana Cruz fits into that ever-growing list of players whose individual talent surpasses that of their national team, with her star quality and status in the game always turned to when her country need some inspiration in a match. It's a tough burden to carry - just ask Ji or Jessica Fishlock - but Cruz did better than most this year as her Costa Rica team put up a real fight at the World Cup.
The Central Americans took points off Spain and Ji's South Korea in Group E, with only Brazil managing to beat them as they finished third in the group, just missing out on a last 16 tie. The unity and team spirit that captain Cruz managed to inspire into their performances was tremendous to see though, with them surprising many after being expected to be the whipping boys of the group.
At club level, Cruz's magnificent qualities helped Paris Saint-Germain have an incredible 2014-15 season too, the Costa Rican's battling in midfield, ability to control a game single-handedly and fierce strike all on show as the French side finished runners-up in the Division 1 Feminine and in the Champions League.
A player who exudes natural talent, Cruz is a joy to watch and an asset to any team in the game with her jinking runs and moments of magic.
33 - Lara Dickenmann (VfL Wolfsburg/Switzerland)
Lara Dickenmann has had a fantastic year with Wolfsburg, and previously with Olympique Lyonnais. She claimed her seventh consecutive Division 1 Feminine title, where the Swiss winger notched up an impressive 10 goals in 20 games. Cup success also followed, although arch-rivals Paris-Saint Germain knocked them out of the Champions League at the round of 16 stage. A move to Lower Saxony came about before the World Cup, where she helped the Swiss reach the knock-out rounds.
Quick, wonderful on the ball and capable of a powerful shot, Dickenmann's goal return from out wide is nothing short of superb. Despite Wolfsburg not firing on all cylinders, the 30-year-old certainly has and is currently their top-scorer with four goals. While club form is of the usual consistency that everyone has come to expect of her, it was on the international stage where perhaps the most important achievement came.
The final goal in an 8-1 thrashing of Northern Ireland may not have meant much to an onlooker, although it meant so much more to Dickenmann. Not only was it a goal on her birthday, but it meant she had overtaken Alexander Frei as the leading Swiss goalscorer. Her 43rd strike was taken with aplomb, and was a cool, calm finish befitting of the player and the record that had just been broken.
32 - Hope Solo (Seattle Reign/USA)
No matter how poor an understanding that someone possesses of the women's game, they are still likely to have heard of Hope Solo. There is very little that the experienced stopper has yet to achieve, and this year was another in which she claimed more personal and team glory - on the biggest stage of all, no less.
A goalkeeper of the highest calibre for the US national side for a decade and a half, the 34-year-old was finally able to add a World Cup winners medal to her double Olympic gold this summer. Some stunning saves helped them to claim the greatest prize in football, while she also helped Seattle Reign to a second consecutive NWSL Supporters Shield but couldn't prevent a second successive play-off final loss.
Solo set an incredible record during the tournament, going 540 minutes without conceding during the World Cup. After conceding against Australia in the opener, it took until Japan's goal in the 27th minute of the final before the US defence was breached. Commanding, controlling and confident in her box, her aerial dominance and shot-stopping abilities leave no doubt as to why the defenders in front of her feel so at ease.
31 - Ada Hegerberg (Olympique Lyon/Norway)
It's almost scary to think that the player ranked 31st on this list is only 20-years-old and is one of the most promising young talents in the women's game.
Ada Hegerberg's move to Lyon in the summer of 2014 caused some stir, the Norwegian looking to have disrupted her progress as she left 1. FFC Turbine Potsdam having just started to find her feet, scoring 11 goals in 25 games over two seasons for the Frauen-Bundesliga outfit. However, now we are looking at stats that read 57 goals in 43 games for the French giants and those initial fears could not have been more wrongly misplaced.
Despite her young age, Hegerberg is almost the complete package already, boasting so many great qualities so early in her career. As well as possessing the pace and skill to beat any defender, the striker has another dimension to her game with the strength and power to hold up the ball as her team get forward to support her.
Also confident in trying more than the odd cheeky trick or finish, the 20-year-old was a player who stood out at summer too in a Norway team that promises so much. If she can continue to grow and develop at this rate, then there is no doubt that she can go on to become one of the world's best and inspire her nation to even bigger and better things in the future.