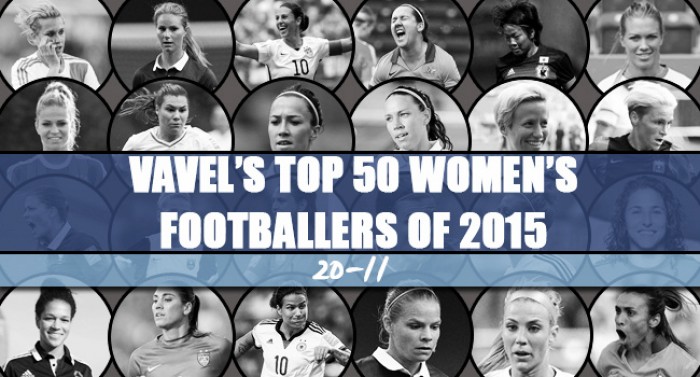 It's been a terrific year for women's football. The 2015 FIFA Women's World Cup captured more attention than the sport has ever enjoyed and now, as we look ahead to 2016, there is hope that the game can capitalise on this sudden spike in interest to help it grow and improve.
However, as the New Year beckons, it is also time for us to look back at the last 12 months and the players who really shone in this time.
So, without further ado, based on their form and achievements this year, here is the fourth installment of VAVEL's Top 50 Women's Footballers of 2015, with those ranked 20 to 11. If you missed the players who made it in from 30-21, 40-31 or 50-41 you can find them here.
20. Lucy Bronze (Manchester City/England)
It has been quite the year for Lucy Bronze, who made the breakthrough moment for women's football in England this year. A squad that promised much very nearly didn't make it past the group stages, but from there on it was a fairytale. Bronze scored the second goal in the last 16 and quarter-finals, as the Lionesses made it past the quarter-finals for the first time in history. It wasn't just any old goal against Norway either, rifling the ball into the top corner from outside the area.
For someone not renown for their goalscoring exploits, Bronze's heroics were straight from Roy of the Rovers. It is not exaggeration to say that her performances, as well as the rest of the England squad, will have undoubtedly inspired a generation of kids to play football after what they seen in Canada this summer.
To top it all off, she had earned a nomination for the Golden Ball. Even though there was no placing in the top three, to be recognised alongside some of the game's greats is no small feat.
The 24-year-old began the 2015 season with Manchester City, having swapped Merseyside and Liverpool for the rapidly rising Citizens. Bronze was an important part of the Reds' last two WSL triumphs, and so a move could easily have backfired; it didn't.
Her solid defending and tough tackling helped City finish second, just two points behind champions, Chelsea. They also reached the latter rounds of both cup competitions, and both player and club will hope to kick on from a solid season.
It is not just the defensive side alone that makes Bronze one of the best defenders in the WSL, but her lung-busting runs and all-round ability to zip about the pitch for 90 minutes. An incredibly energetic player, she is never one to rest until the job is done and can keep it up across the entire game - a massive asset for club and country. Of course, as was obvious from the World Cup, Bronze is more than capable of doing some damage when going forward too.
A stellar year was capped off with a nomination for BBC's Sports Personality of the Year awards, and while she didn't win, Bronze would have been worthy of a spot in the top three. As David Beckham said in the VT on the evening, it isn't Beckham his daughter wants on her England shirt - it is Bronze.
19. Alexandra Popp (VfL Wolfsburg/Germany)
Alexandra Popp has achieved just about everything that is possible as a footballer, aside from that elusive World Cup triumph. Given that she is just 24 years old, Popp could go on to become one of the most successful players of all-time; with a decent goalscoring record to boot.
The forward has averaged over a goal every other game throughout her career, whether that be with Germany or VfL Wolfsburg, and previously at Duisburg. Her power and ruthlessness are to be both admired and feared in equal quantities, making her an absolute handful for opposition defenders. Comfortable playing through the middle or running the channels, her versatility to pick the ball up in various positions only causes further problems for the player tasked with marking her.
Despite scoring just one league goal this season, as well as failing to find the net in the Champions League; injuries have hampered her form, in fairness. In the cup and internationally there has been a better return, scoring seven times in just four matches.
In spite of a mixed bag this term, Popp did manage to score her first ever World Cup goal. After wiping the floor at the under-20 World Cup awards in 2010, she'll be hoping to make a real impact at the upcoming European Championships in Holland and show what she has proven she can do on the world stage; it's just a matter of translating it from junior to senior level.
Aside from the pace and power in her general and physical game, her finishing is fairly similar. Never one to mess around in front of goal, Popp would be more favourable to brute force and ignorance before finesse. It just so happens that the shots are usually well-placed, making for a deadly combination.
There was only one piece of silverware for Popp to celebrate in the calendar year, the DFB-Pokal. For Wolfsburg and one of their star forwards, who claimed the top spot in Germany and Europe a campaign previous, they will be hoping to turn things around after the Winter break and fight back on all fronts.
It is perhaps unfair to expect so much of a 24-year-old, although it is hard to look past her immense consistency and fighting spirit. She is most certainly keen to continue her progress and become one of the world's elite in the months and years to come.
18. Veronica Boquete (Bayern Munich/Spain)
Undoubtedly one of the most gifted footballers on the planet, Veronica Boquete finally got her hands on that Champions League trophy this year after heartbreak with Tyresö just 12 months ago. The Spaniard was part of the team fell to Wolfsburg in the final in 2013-14, losing 4-3 after Martina Müller bagged an 80th minute winner for the German outfit, shortly before the Swedish club as a whole folded. However, Boquete avenged her personal disappointment back in May, being part of the 1. FFC Frankfurt side that conquered Paris Saint-Germain by a slender 2-1 scoreline to be crowned champions of Europe.
The diminutive midfielder also helped them to a third placed finish in the league, being one of the Frauen-Bundesliga's stand-out performers, with seven goals from 21 games just part of the story of her super season.
Boquete's main strength lies in her creativity though, with her high self-belief seeing her drive forward confidently on the ball, waiting for the right moment to release it as she assesses her options and watches for the runs of her teammates. The Spanish international always plays with her head up and her awareness is spectacular as a result, with her able to play perfectly weighted through balls and pinpoint passes to allow her side to move forward.
An energetic player, the 28-year-old loves to press high too and really puts a shift in for her team, not resting until they have that ball back in their possession.
Unfortunately, all of Boquete's qualities could not drive her country further in the summer's World Cup though, with Spain crashing out in the group stages, finishing their campaign with just one point from three games which left them bottom of Group E. Admittedly, the game in Spain is on the rise and so she could yet be allowed to light up the world stage as she deserves to, but one must concede that her own individual performances in Canada were not her very best either and so hopefully another opportunity does come along at international level for her to put this right.
Now plying her trade with reigning German champions Bayern Munich, Boquete has recently returned from injury to shine in the division once more and will surely do exactly that as she promises to go on to become a shrewd signing as the team pursue a second successive league title.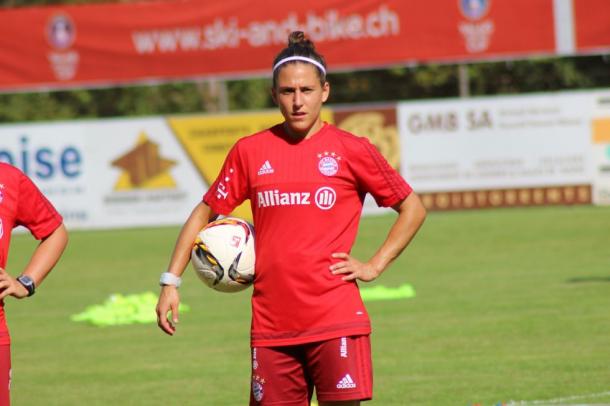 17. Élodie Thomis (Olympique Lyonnais/France)
Élodie Thomis and Louisa Nécib seem to go hand in hand like bread and butter, David Beckham and Ryan Giggs. In the case of these two, Thierry Henry and Zinedine Zidane. Arguably two of the greatest wingers to have ever played the game, Lyon have reaped the rewards of having two world class wide players bombing down the flanks and causing damage every time they do so.
However, in what was meant to be the World Cup in which the latter supposedly showed the world her true talents, it was Thomis who stole the limelight. The OL forward was unrelenting in her torture of opposition defences, to the point that she claimed a place in the All-star team of the tournament.
That was the highlight in an otherwise quiet year for Thomis, who has just one goal to her name this season. The 29-year-old usually averages a goal in every other game, which is extremely impressive. Recent years have seen more injuries creep onto the scene, but there is no doubting that she is still one of the world elite.
Just like her main partner in crime, Thomis possesses pace in abundance and the trickery and guile to go past players with relative ease. With her stellar goal to game ratio, a clinical finish is needed and it is no surprise to see the experienced forward slotting the ball past the opposition stopper.
Equally adept on the wing or through the middle, these attributes are what makes her the feared force that she is when charging forward.
2016 will be another important year for France, Lyon and Thomis. European Championship qualifiers, the French Cup, the Division 1 Feminine and the Champions League all provide ample opportunity for her to get back to her best and rekindle the devastating form that was showcased in the World Cup and seasons previous.
To think that a double winner and a star performer of the World Cup is having a poor year stands testament to just how good Thomis is, and why she is so high on the list.
16. Lena Goeßling (VfL Wolfsburg/Germany)
It has been a difficult season for Wolfsburg, some of their new signings and even those more established players at the club. One of the stars that has continued to impress throughout the campaign is Lena Goeßling. Undeterred by a difficult start, their midfield general has shone and looks set to guide them through the tough spell.
The 29-year-old maestro has been pulling the strings at the base of the Wolves' midfield for five seasons now and has helped lead them to a treble triumph in 2012-13, before following that up with a Champions League and Frauen-Bundesliga double a year later.
Patient and excellent in possession, picking the right pass at the right time is one of Goeßling's major strengths. That, coupled with her ability to drive the team forward at the right time and chip in with the odd goal, helps the Wolves seamlessly link defence and attack. The Germany international is a important part of their defensive plan.
A strong tackle and great anticipation help shield the Wolfsburg back-line to great effect, and also allows her to win the ball back further up the pitch and turn the game on its head. Her work isn't too dissimilar to that of what Nuri Sahin did so well for Borussia Dortmund, on the men's side of things, during their double-winning campaign.
A DFB-Pokal winners medal and a semi-final with Germany represents another successful year for Goeßling, and she most definitely played her part in both. The league was so cruelly stolen from their grasp by Bayern Munich on a dramatic final day, and the Bavarians seem set to walk away with the crown again this year.
There is, however, hope that Wolfsburg and their midfield star can still capture two trophies. They are in the latter stages of both domestic and European cup competitions, meaning the chance is still there to capture a more than impressive cup double.
So, in conclusion, another consistent campaign for Goeßling. She'll be desperate to add to her trophy hall as she enters her thirties, but is showing no signs of slowing while entering her prime. With an upcoming European Championship and plenty at stake domestically, her performances will be vital to any success that her club or country enjoy.
15. Nahomi Kawasumi (INAC Kobe Leonessa/Japan)
Japan were 90 minutes away from a second successive World Cup victory this summer, and it comes as little surprise too with the talent they have in their ranks and the incredible style of football they play - the fast tempo and sharp passing simply unstoppable at times, regardless of the opponent.
Nahomi Kawasumi is integral to all of this, her incredibly incisive play and fast decision-making helping them move forward with pace, whilst her movement off the ball is second-to-none. With a superb eye for a pass, only Goeßling managed more assists than the 30-year-old this summer as her team grew and grew as the tournament went on, quietly impressing with their consistency as they managed to win all of their games on the road to the final.
They were the only team to top their group with maximum points, beating Switzerland, Cameroon and Ecuador to do so, all by one goal margins. This was down to the hard-working and tightly marshalled unit they operated in, with each player aware of their role and also of those around them, with Kawasumi one of many whose great awareness allowed Japan to make their way to the final so flawlessly.
They were overpowered by a dominant USA side at the final hurdle, but one cannot fault their great route there, even if they were aided by luck at times.
In her homeland, Kawasumi has been impressing this year too, the creative midfielder helping INAC Kobe Leonessa to a second placed finish in the regular season of the L. League and to third in the race for the season-ending Championship. Women's football fans all over the globe will hope that the former Seattle Reign loanee lends her talents to a club in one of the world's most exciting leagues again sooner rather than later, with her exemplary displays hidden away in the under-covered country of Japan.
However, out there she is continuing to turn heads even if it is not as high-profile, finding the back of the net on a regular basis as she sneaks into fantastic goal-scoring positions with minimal fuss before finishing in the same manner.
She might not have caught the attention on the world stage this summer like she did in the previous World Cup, scoring a 35-yard lob in the semi-finals against Sweden as Japan went on to lift the trophy, but Kawasumi was still one of the hottest talents on show in Canada and remains one of the game's best players even as she nears her twilight years.
14. Julie Johnston (Chicago Red Stars/USA)
Coming into the World Cup as a promising player and one whose stock was beginning to rise, Julie Johnston showed just why she was so highly thought of on the grandest stage of all. The only real blip in the tournament was an own goal in the final; her partnership with Becky Sauerbrunn was the envy of all other nations.
Johnston claimed a spot in both the All-star and Dream Team squads in the tournament, highlighting her impressive performances on the way to winning the trophy. Such was her defending and ball-playing abilities, she earned a nomination for the Golden Ball; while she didn't win, it wasn't a bad showing for a 23-year-old in her first major tournament.
The Arizona-born defender is only going to grow in stature, and will be targeting domestic accolades in the coming years. Her Chicago Red Stars claimed second spot in the NWSL last season, but were 10 points off pace-setters Seattle Reign.
They did, however, have a very similar defensive record and were sturdy during Johnston's 12 games in the side.
As previously mentioned, she is most definitely a centre-back that is comfortable on the ball. Calm, collected and having the ability to pick a pass, Johnston's attacking element is as important when it comes to starting attacks as it is to stopping them.
Her ability to cause havoc at set-pieces, despite being five-foot-seven, shows just how impressive she is as a natural athlete too. Of course, the pace to cover her fellow defenders is another important aspect of her game.
Aside from the attacking threat she possesses, Johnston is a great defender. Tough in the tackle and a determined head on her shoulders, all the attributes are there to see a rise to the very top of her field. 2015 is the year that she really announced herself to the world, and looks like just the beginning of a reign at the top for her and the US.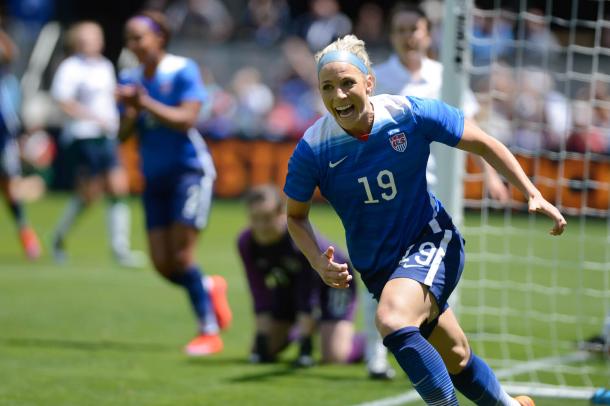 13. Becky Sauerbrunn (Kansas City/USA)
If there were any doubts about Becky Sauerbrunn being the best defender in world football, they were put to rest this summer as she and the USA stormed to the 2015 FIFA Women's World Cup title, destroying Japan in a thrilling final.
Carli Lloyd was the face of the operation, with Abby Wambach gaining more than enough attention in her final appearance at the tournament, whilst Megan Rapinoe also lit up the world stage. In defence, Julie Johnston won plenty of admirers in her first senior World Cup, but it was the woman alongside her who was to thank for that, as well as for the team's solidity at the back.
Sauerbrunn's wise and experienced head guided Johnston through the summer's exploits and ensured she had the guidance she needed to catch the eye, but the 30-year-old didn't just offer the team that. She herself was undoubtedly the best defender at the competition and her exclusion from the squad of the tournament, never mind team of the tournament, was absolutely outrageous.
However, the stalwart is almost used to being overlooked in her career, but is unmoved as she continues to do her job for her team and put in a shift. Always in the right place at the right time to save the day with a goalline clearance or last ditch tackle, Sauerbrunn is a reliable figure in the centre of defence and a dream teammate for anyone – especially a goalkeeper.
Her cool head means she's sensible at the back too, never risking anything silly in front of her own goal but looking to play the ball out and keep possession for her side. She knows when the time is right to try this, but also when the danger is there and a no nonsense clearance is required.
A natural leader without the need for an armband to recognise this, Sauerbrunn's fans will hope that she starts to get the recognition she deserves as she edges towards her century of caps for the world champions – now just four appearances away from that.
After playing every minute of her country's successful campaign this summer, it won't be long until she hits that landmark either, and with her sharing her experience with the likes of Johnston around her – as well as the relatively inexperienced but talented Meghan Klingenberg at left-back – this is a defence that will remain sturdy for some time as she continues to marshall it like the pro she is.
12. Kim Little (Seattle Reign/Scotland)
The highest ranked player on this list not to feature in the summer's World Cup, many will hope to see Kim Little at the showcase event in four year's time as Scotland continue to grow as a women's footballing nation, key players moving to some of the world's best leagues and their choices paying off at international level.
However, that is not to say that the attacking midfielder did not catch the eye in 2015.
Having conquered the English domestic game, Little moved out to the USA in 2014 to do the same out there, and has done exactly that. In her first season, she bagged 18 goals in 25 games - all from midfield one must stress - as Seattle Reign clinched the regular season title and were finalists in the Championship.
The team achieved the same this year, with Little managing 10 goals in 22 games, despite the World Cup disruptions, whilst she also led the assists chart with seven. Player of the Month for June, Player of the Week for matchday 19 and again named in the NWSL Best XI, there is no limit for the 25-year-old's potential as she continues to develop alongside such talented club teammates and such promising international teammates too.
Her stand-out quality has got to be her incredible skill, with the Scot almost taking on entire teams before finding the back of the net with great composure – just see her highlights reel for countless examples. There are few players who round the 'keeper more than Little, with her fantastic agility, skill and general movement on the ball making her too quick to catch and too hot to handle.
However, it is her relationship with Jessica Fishlock - ranked 26th in this list - that makes Seattle tick, the two Brits having combined superbly this year and last to drive their team to successive regular season titles. When one is on the ball, the other makes a run which is found by an almost telepathic pass, and vice versa, with their link-up play arguably the best in the world given its effectiveness and all round consistency in one of the best leagues in the world.
With Little in their side, there is no doubt that Scotland can make an impact on the international stage too, with her just one of several talented players who are up-and-coming in the game.
A hard-worker with incredible intelligence both on and off the ball, the goal-scoring midfielder makes any team tick and is already taking the W-League by storm in America's off-season, with five goals in seven games on loan at Melbourne City surely just the start of another sublime campaign in another country.
11. Laure Boulleau (Paris Saint-Germain/France)
Laure Boulleau has, undoubtedly, been one of the most consistent performers of 2015 and has excelled for both France and Paris-Saint Germain at left-back.
The 29-year-old enjoyed an impressive World Cup, and was perhaps unfortunate to not earn higher acclaim for her efforts. Comfortable in possession and a threat going forward, Boulleau has all the attacking attributes associated with being a successive modern day full-back.
Her defensive efforts did not go unnoticed either, putting in an impressive shift through-out the tournament. Had it not been for some debatable goalkeeping from Sarah Bouhaddi, at various stages, the rest of the France defence may have be held in higher regard.
An injury kept her out of the quarter-final against Germany after another stellar showing against South Korea, where the valiant French were knocked out on penalties. Would they have advanced to the semis had Boulleau been there? It's hard to say. Her replacement, Amel Majri, gave away the penalty that leveled the game but even that was a harsh call.
On the domestic scene, consistency has continued with PSG. She was unfortunate to miss out on a Champions League winners medal in the run up to the World Cup, as 1. FFC Frankfurt came out 2-1 winners in the final. That hasn't effected the capital club however, and they are back fighting on all fronts.
The Champions League and Division 1 Feminine are still within sight and Boulleau's experience and expertise at the back will be vital to any success they have in both competitions. The chance to break Lyon's dominance is a massive incentive to go the extra mile and claim the league title for the first time; it is a similar story in Europe.
It would be a shame for such a sturdy, technically able and physically impressive player to go an entire career lifting just one major trophy. However, with the Euros coming up and PSG only getting stronger and closer to Lyon, it maybe not be too long until we see one of France's best defenders finally claim one of the bigger titles up for grabs.