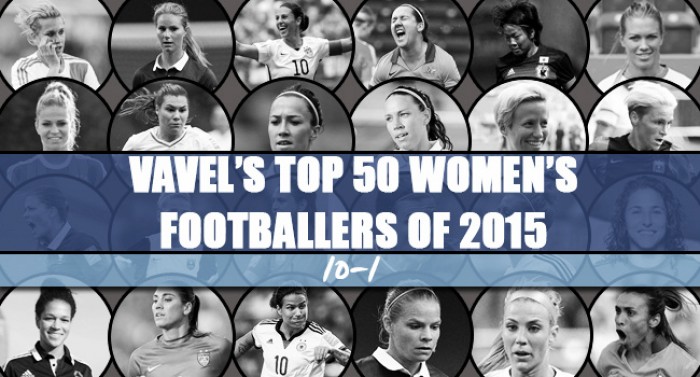 It's been a terrific year for women's football. The 2015 FIFA Women's World Cup captured more attention than the sport has ever enjoyed and now, as we look ahead to 2016, there is hope that the game can capitalise on this sudden spike in interest to help it grow and improve.
However, as we meet the New Year, it is also time for us to look back at the last 12 months and the players who really shone in this time.
So, without further ado, based on their form and achievements this year, here is the fifth and final installment of VAVEL's Top 50 Women's Footballers of 2015, as we reveal our top 10 players of the year. If you missed the players who made it in from 20-11, you can find them here.
10. Nadine Angerer (Portland Thorns/Germany)
When it comes to the greatest goalkeeper of all time, it is nearly impossible to look past Nadine Angerer. The former Germany, Bayern Munich, Turbine Potsdam, Djurgårdens IF, 1. FFC Frankfurt, Brisbane Roar and Portland Thorns stopper had been playing as consistently as ever up until her retirement this summer.
A career spanning 20 years - since she first started out with 1. FC Nürnberg - there is very little that she didn't achieve. The only trophies that eluded Angerer's grasp were titles in America and Australia, although that is a minor point in an otherwise impeccable playing time.
Angerer will now focus on imparting her wisdom on Portland's goalkeepers - Adrianna Franch and Michelle Betos - as she continues her career within football. If they turn out to become half the stopper that their German tutor was, the Thorns' fans are in for a treat.
2015 was a year in which Angerer never really had any joy with her club, making just six appearances as they missed on the NWSL play-offs. With Germany there was also no fairytale ending, but she did earn erhself a spot in the World Cup's all-star Team of the Tournament.
The Germans finished fourth, in what seemed to be team that had their fate decided from 12 yards. Against France, Celia Sasic converted a controversial spot-kick to level the match before Angerer turned into the hero by denying Claire Lavogez in the shoot-out.
That is where things went down hill, however. Carli Lloyd scored a penalty in the semi-final before Kelly O'Hara added a second, meaning there was no chance for Angerer to become a two-time world champion. Another penalty, this time from Fara Williams, proved the difference when Germany lost their first-ever match to England in the 3rd/4th play-off.
Despite this, it is impossible to ignore the individual class of Angerer. The only goalkeeper to win the FIFA World Player of the Year award, she was commanding, controlling and a calming influence to those in front of her. Along with that, she had an excellent reputation for saving penalties and - even at 37 - was an equally adept shot-stopper.
9. Dzsenifer Marozsan (1. FFC Frankfurt/Germany)
Looking at all the bright young talents in the women's game coming up, it would definitely not be far-fetched to say that Dzsenifer Marozsan is a future FIFA World Player of the Year and a player who will top lists like these in a few years' time.
2015 was an incredible success for women's football, yet it was a shame that those who were won over by the game weren't able to see the 23-year-old at her very best on the world stage as she limped through an injury-plagued Women's World Cup – playing only 266 minutes and scoring just the one goal, that in Germany's 4-1 win over Sweden in the last 16.
However, with Euro 2017 on the horizon, it just means that she has a greater opportunity to light up the world stage as she prepares to shine in front of a suddenly larger audience with her country in 18 month's time.
A troubled World Cup might mean that she falls down this list a little bit, but the top 10 was always a given for arguably the most talented player in Europe, especially with her having achieved plenty of success domestically this year. The small matter of leading 1. FFC Frankfurt to Champions League glory was one of her many highlights in 2015, with her integral to that success as she bagged six goals in nine games from midfield to guide them to the title.
Meanwhile, in the Frauen-Bundesliga, Marozsan has got off to a flyer this season too, with four goals already in just five games - the fact that she missed the opening handful of matches due to injury hardly affecting her form. She's on track for her best goal-scoring season too with this, having only managed a best of eight in the top flight so far but improving in this area as she develops.
She might have lost her two fellow midfielders from last season - Jessica Fishlock now on loan in Australia whilst and Veronica Boquete joined rivals Bayern Munich - but the potential of a partnership with Sophie Schmidt is another magical prospect in itself and one that can certainly help Frankfurt recover from an out-of-sorts start to the campaign.
Mesmerising footwork, incredible vision and the awareness and distribution to complement it, Marozsan makes magic happen with the ball at her feet and is an incredibly special talent. She has the confidence to make this shine even brighter too, not shy in trying something cheeky – be that a speculative shot from range, a strike from a tight angle or a trick that leaves the defender simply dazzled.
Speculation is circulating regarding her future in Frankfurt at the moment, with the team underperforming as of late, and the likes of Bayern Munich, Paris Saint-Germain and Olympique Lyonnais linked amongst others. However, even if her future isn't, one thing is certain in that Marozsan, a joy to watch with an endless highlights reel, would be an asset to any team in world football.
8. Eugenie Le Sommer (Olympique Lyonnais/France)
Eugenie Le Sommer is one of the most complete strikers on the planet. The pint-sized pocket-rocket has enjoyed another fruitful goalscoring year for both club and country, as she continues to find the back of the net for fun.
It's hard to believe that Le Sommer is only 26 years old, but her goal to start record is something else. In the 140 games she has started with Lyon and Guingamp, a staggering 169 goals have been scored; those are numbers that trouble what Celia Sasic has been doing. Adding in her 30 starts and 33 goals for France, that all adds up to 170 matches and 202 goals - simply incredible.
Le Sommer's build-up play is a massive factor in how she gets her goals. Comfortable enough to drop into the attacking midfield role, almost like a false nine, superb dribbling and passing skills enable her to link the play between midfield and attack to great effect. This normally allows other players to get more space and time on the ball, giving them a better opportunity to pick the key pass needed to get through on goal.
Nine times out of 10, it is Le Sommer who is getting on the end of the crosses and through balls. She has incredible movement and anticipation, which gives her the ability to arrive at the right time to slot the ball home. It is an aspect that comes naturally to only the best forwards, and one that can not be taught.
Perhaps the most impressive part of her game is the finishing. Once in the area to shoot, very rarely does she make a mistake. Clinical and composed, the diminutive forward usually finds the spot that is out of the 'keeper's reach. Unlike the innate movement and knack of being in the right place, Le Sommer's finishing has come with years of practice.
It seems that Lyon and France failing to get to the nitty, gritty end of their respective major tournaments prevented Le Sommer from making even more of an impact on this list. She did earn a spot in the all-star team of the World Cup, along with three other French players, and score three times in the finals - an excellent effort.
Le Sommer dominated domestically, picking up her second Feminine Division 1 Player of the Year gong, and also the league and cup double. Only the Champions League eluded her in the quest for a treble; had she managed to secure that trophy for Lyon, a place in the top five wouldn't have been out of the question.
As she just comes into her prime, 2015 could only set the stage for what could be an incredible 2016 for Le Sommer. In truth, it would be no surprise to be talking about a 50 goal calendar year, should all go to plan.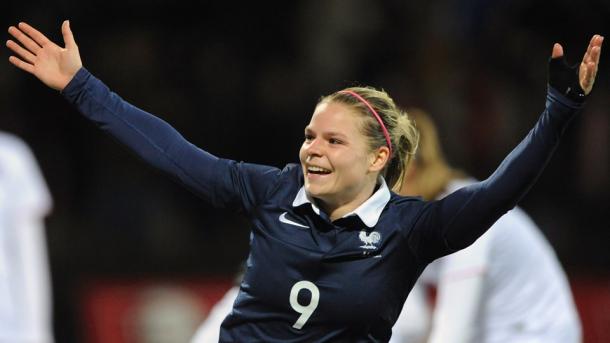 7. Anja Mittag (Paris Saint-Germain/Germany)
Few moments actually epitomise a player's career, but when Anja Mittag became the all-time leading scorer in the Champions League earlier this year, it perfect summed up the footballer she is. Scoring in the big games and scoring plenty is what Mittag does, and when the statistics show she's bagged 49 goals in 58 European games, this is something you can hardly disagree with.
Following Celia Sasic's retirement earlier this year, the Paris Saint-Germain striker has got to be the deadliest striker on the planet. There is no one else who possessing the poaching instincts like she does at such a high level, and so consistently, with her always in the right place at the right time to find the back of the net.
It's her marvellous positioning that makes her the player she is, with her always in the right spaces for chances to fall to her or always making the runs for players to pick her out. Mittag never stays still, constantly a nuisance for defenders, because she just wants to make things happen even when she isn't actually on the ball.
On top of this, her composure is just sublime. The 30-year-old is as clinical as anyone on the planet, and that's both from standard chances inside the box and with low and powerful drives from the edge of it too. It's the latter which makes her so great – an added bit of flair that makes her more than just a goal-scorer.
Mittag can make things happen more than just any normal striker. She's got great skill, the ability to deceive and beat opponents, and can create things when she drops deep to make space for others or is dragged out wide. As a natural goal-scorer herself, she knows what the player running ahead of her wants and can give them that type of ball just as well.
All in all, it's the German international's footballing brain that makes her such a special talent. She knows when it's the right time to shoot, but also when it's better to be unselfish and pass. She also knows when to drop deep to collect the ball, when to move out of her normal centre forward position to allow others in and when to get back involved. On top of it all though, she knows that she can try a cheeky flick or trick and it will come off, with some delightful goals scored so far in her illustrious career.
This year, Mittag has taken on a new challenge, signing for PSG from Rosengård as the French side look to challenge rivals Olympique Lyonnais more for the Division 1 Feminine title. With 10 goals in her 12 league games so far this season, she's certainly doing her bit for the cause and will hope to contribute similarly in Europe in the New Year, with her team looking to go one better than last year – when they finished runners-up – but first having to deal with Barcelona in the semi-finals.
Her personal bit of business, on the other hand, is the search for a 50th Champions League goal – something no woman has ever achieved – and that is the calibre of player that Mittag is.
6. Aya Miyama (Okayama Yunogo Belle/Japan)
Like compatriot Nahomi Kawasumi, Japan captain Aya Miyama is currently plying her trade in her homeland, which is more than disappointing for women's football fans across the globe. The L. League is one of the most difficult women's leagues to watch and so when the World Cup came around this summer, it's no surprise so many were keen to watch the reigning world champions, with them boasting so many world class stars who aren't seen on the regular.
Having been in Asia with Okayama Yunogo Belle since 2010, Miyama reminded everyone just what they've been missing, putting on performances that helped her to the Bronze Ball and AFC Women's Player of the Year awards.
The 30-year-old bagged two goals in her seven games in Canada, both crucial ones too – the first the only goal of the game in Japan's narrow 1-0 victory over Switzerland and the latter a strike in their semi-final clash with England, which they won 2-1. It was these big showings on the biggest stage that fuelled her bid for personal achievements in 2015 and also helped her team to the final, where they would lose 5-2 to the USA.
There's no doubt that Miyama is the best playmaker in the world right now, and her contributions to the national team are crucial in them being one of the most attractive teams to watch. It's her incredible technical ability that first catches the eye, her confidence in flicking the ball over the head of an opponent or using a quick change of pace and lightning footwork to take them on and leave them for dead.
However, it's her vision and distribution that make her the player she is. Miyama makes her own time, she doesn't rush things, waiting for the right moment to play that pass. When she does play it, it's perfectly weighted and elegantly placed, matching her teammate's run to a tee. She's one of those players who plays the ball into space, not to feet, as she's looking to be one step ahead of her opposition at all times.
Furthermore, Miyama loves to get in on the goals herself too. She is more than capable of making those darting runs forward to be found by a teammate and her composure in front of goal is up there with that of the world's best strikers.
One of her deadliest party tricks is when she stands over dead balls, with the diminutive midfielder able to generate incredible power behind a shot, making her a danger from free-kicks from even the most unlikely of distances. From closer range, she's got the ability to lift the ball up and over the wall with lovely precision too, whilst her penalties perfectly sum up her coolness on the pitch.
Creative, prolific, skilful – Miyama is one of the most feared footballers in world football, and for all the right reasons. Defenders can't get near her and teams can't keep up with how far ahead she and her side can imagine the game. She's simply magical with the ball at her feet and absolutely delightful to watch, something which was showed once more in a sublime 2015.
5. Marta (Rosengard/Brazil)
Marta is the name people think of when people think of women's football, and I think that says enough about her greatness. Dubbed the female Pele by the man himself, expectation is always high, but she never disappoints. This rang true once more in 2015.
2014 was extremely disappointing for the Brazilian, not because of her individual displays, but because of the poor fortunes of her former club Tyresö, who collapsed due to debt midway through the Damallsvenskan season. Marta subsequently joined Rosengård but her troubles meant that she hit just eight goals all season – albeit in only 11 games, still showing her class.
This year has been an entirely different story. The Brazilian legend has bagged 18 goals for her club in 2015, seven of those in the Champions League where she is edging closer and closer to the top of the all-time scoring list. Mittag currently leads the way with 49, but Marta has managed 46 – in an incredible 48 games – and is not far behind the German.
These contributions mean Rosengård have reached the quarter-finals for two successive seasons now, their best ever finish in the competition, and they will be counting on her goals to help them go one better in the New Year when they face reigning champions Frankfurt in the last eight.
It's been a well-decorated year for Marta and her club too, with a total of three titles coming their way in Sweden. Her eight goals in the league, in between World Cup exploits with Brazil, helped Rosengård to a second successive Damallsvenskan title, whilst she also played her part as they clinched the Svenska Cupen and the Super Cup in a treble winning campaign.
It's not just goals Marta brings to the table though. The 29-year-old is a magician with the ball at her feet and is the type of player who can inspire her team even when they are in the toughest of situations – be that physically on the ball or with her great leadership qualities.
The ability to bamboozle even the world's best defenders, her unquestionable skill is absolutely unbelievable at times. She doesn't just score the goals you expect her to, but produces some brilliant attempts from range and has the ability to score those fabulous individual efforts, taking on a number of defenders - and the goalkeeper – before finding the back of the net. It's these special moments that make her so valuable to her team and such an exciting footballer.
She may not have lit up the world stage like many expected this summer - Brazil bowing out in the last 16 in Canada to a determined Australia side - but Marta remains one of the most incredible talents in world football. The way she led Rosengård to a superb treble this year showed this, and if the Swedes are to surpass that quarter final stage that they have found so tricky in the Champions League, then they will need Marta at her very best in the New Year.
4. Megan Rapinoe (Seattle Reign/USA)
Megan Rapinoe was arguably the most eye-catching performer at this summer's World Cup. Whilst others may have grabbed the limelight, and there are three people ranked above her on this list, she was the most exciting to watch in a sublime tournament.
However, not only did her two goals in six games in Canada help the USA become the world champions, her six goals in 12 NWSL games helped Seattle Reign become regular season champions for the second season running, even with the interruption of the summer's big event. Her club may have succumbed to defeat in the Championship final at the hands of Kansas City once again, but they had another splendid season nonetheless as they dominated the US.
Rapinoe is one of the most likeable players in the women's game, and the same can be said for her playing style. Always smiling, the enthusiastic American's enjoyment of football is channeled on the pitch, as she performs in an expressive and free manner that is simply brilliant to watch.
Contributing to this is the fact that the 30-year-old just wants to attack. She wants her team to get on the ball and move forward, making her perfect for Laura Harvey and Seattle Reign's style as she presses high and gives them the high energy they need to succeed as a group.
A pacey winger, Rapinoe boasts a distinct positiveness that sees her get the ball at her feet and just run at players. She's confident in taking opponents on, either by out-running them or by using a perfectly-executed piece of skill, and once she is in the final third she is devastating.
Able to deliver a telling cross or fire powerfully at goal, she is so difficult to mark not just because of her pace and skill, but because of her ability to use both feet too. An opponent never knows if she's going to cross the ball, cut back inside and shoot, or even cut back inside and put the ball in the box with her other foot. She is mesmerising on the ball and incredibly talented in a technical sense.
On top of this, Rapinoe is a real team player. She works hard to get back and defend and is always encouraging her teammates on the pitch, urging them to keep going and especially to get forward and show what they can do. A character both on and off the pitch, her contributions to her country's cause this summer were more than telling as they went all the way to lift that World Cup trophy.
Next summer, the US will be looking to assert themselves in world football once more as they ready themselves for the Olympics in Rio - with qualification beginning in February. However, they will be without Rapinoe for that stage, the winger having suffered a well-documented anterior cruciate ligament rupture in Hawaii in early December due to a poor artificial surface.
They will be desperate to have her back for the summer, however, as there are few players in the world as good as the Reign attacker on the wing, with her looking to add to her 113 caps and 31 goals.
Fans around the world will want her to return in time too as such a high-profile event will not be the same without one of the world's greatest players - a status she reaffirmed this summer on her way to World Cup glory.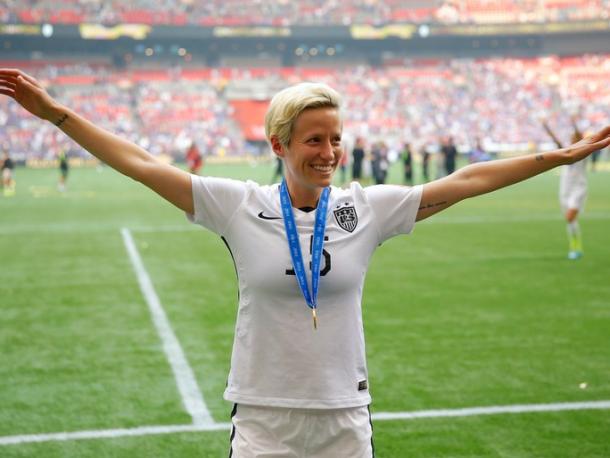 3. Amandine Henry (Olympique Lyonnais/France)
It seems incredibly harsh for Amandine Henry to miss out on one of the final three nominees for World Player of the Year, in what was a simply stunning and exemplary year from the French midfielder. There is very little Henry can not do, and very little she did not do when it came to 2015.
The personal accolades she did recieve were richly deserved. A second placed finish in UEFA's Best Women's Player in Europe Award and the Silver Ball for her exploits in Canada means it is quite a curious decision to see Aya Miyama make it into the trio with Celia Sasic and Carli Lloyd for the highest personal award of all.
The 26-year-old didn't have the World Cup medal that Lloyd earned or Sasic's Champions League trophy, but her individual brilliance is of such a high level she can not be ignored.
Henry can do just about everything on a football pitch. Her defensive game is extremely impressive, a given for a defensive midfielder, but it is how she transfers the ball and the play on from there that is one of her biggest assets. The ability to break up the play in dangerous areas, both in her half and that of the opponent, is superb.
When it comes to tackling and intercepting, very few players can do it like Henry. Given the strength of Lyon's midfield, it is an achievement for most sides to get that far but their number six normally deals with any threat that gets to her area of the pitch. She is a major reason as to why the reigning Feminine Division 1 champions have conceded just once this year.
Of course, it is not just the defensive side of the game that Henry excels at. Her knack of scoring goals, especially the spectacular from range, is another dimension to her play that very few can cope with. The added threat from outside the area only adds to the chaos created in the opposition defence.
Between defending and attacking is probably Henry's best attribute; her incredible passing range. Able to move the ball across the pitch in any manner, at any distance, pin-point passing doesn't really do justice to what the talismanic midfielder can do on the ball.
Perhaps it wasn't individual displays but more the team trophies that prevented her from claiming a spot within the world's top three. While Lyon ran away with the league title and claimed a cup to boot, it wasn't on a level with the world and continental titles achieved by others.
So it will come of no surprise to see Henry put in such a strong shift, although there will be no Champions League title. The midfielder looks set to join up with Portland Thorns, taking her across the Atlantic to try her hand at claiming a NWSL title.
Should she claim the highest honor abroad, then there may be a bigger claim to stake at top spot as the world's best. At just 26, there is plenty of time and one would think at least two more major international tournaments to strut her stuff. One thing is for sure, it is always a pleasure to watch Henry play and that was definitely the case in 2015.
2. Celia Sasic (1. FFC Frankfurt/Germany)
Last season, there was no doubt that Celia Sasic was the hottest striker in world football. The years before had been impressive, although it was the 2014-15 campaign that really saw the 27-year-old find the back of the net for fun.
Many have drawn comparisons between Sasic and Thomas Müller for their work inside the box, and it's a likeness that quickly apparent as time went on. The 1. FFC Frankfurt forward scored goals at a frightening rate throughout her career, and her swansong was the best of all.
46 goals in the 2014/15 season is nothing short of unbelievable. The fact that Sasic managed that tally in 39 games adds to the almost perfect way to end a career. However, the personal glory wasn't matched by as many team honours.
Missing out on the domestic trophies was a disappointing season for Frankfurt, especially given the talent within their side. They were part of the drama towards the end of the campaign that saw themselves and Wolfsburg narrowly lose out to Bayern Munich in the race for the league title.
Sasic and her team-mates more than made up for league disappointment, as they claimed a record fourth UEFA Women's Champions League title. She scored 14 times in 8 matches to lead them to glory, including the opening goal in the final and a hat-trick in each leg of the semi-final.
After claiming continental success, the stage was set for Sasic to do it at the World Cup. Germany, however, couldn't secure the crown. Their star striker managed to score six times and claim the golden boot ahead of Carli Lloyd, but they couldn't find a way past the USA and were knocked out at the semi-final stage.
A real fox in the box forward, she will be sorely missed by football fans across the world. Never one to score particularly appealing goals, Sasic was never really bothered so long as she found the back of the net.
Her movement, aerial ability, knack of forcing the ball home from all angles and a composed finish to boot, Sasic could be described as a centre-half's worst nightmare. She's just missed out on the number one spot, it was a matter of splitting hairs, but the fact that she sits in second shows just how impressive the number one has been..
1. Carli Lloyd (Houston Dash/USA)
Sunday 5 July, 2015. BC Place, Vancouver, Canada. The time, date and scene of a historic football match as the USA claimed their third World Cup title, defeating reigning champions Japan to avenge their defeat to them in the 2011 final.
However, it was also the scene of arguably the greatest individual displays by a footballer in the history of the game as Carli Lloyd captained the Americans to glory with a hat-trick in a 5-2 win, her third and final goal seeing her nutmeg an opponent before lobbing the goalkeeper from beyond the halfway line in the biggest game of her career.
It wasn't just the hat-trick that made it such a special performance, but also the stage it was on. To rise to an occasion like that is almost unheard of, with her the first woman to score a treble on the grand occasion and just the second player to do so in football in general - with only Sir Geoff Hurst doing so in the men's game, as England clinched the 1966 World Cup trophy.
To put the cherry on top of it all, it was the manner of the third goal that sealed her performance's place in history as one of the greatest. The sheer audacity to even try your luck from such a range - never mind having the ability to look up, see the goalkeeper off her line and then execute the finish - especially in a World Cup final, is simply outrageous.
Lloyd's third goal summed up the day that USA were having on that sunny Sunday in Canada, with it coming in the 16th minute, in such incredible fashion, and making it 4-0 to the Americans as they simply dominated the reigning champions in what would go on to be a 5-2 result.
The captain's performance won her the Golden Ball for the tournament, helped her to the Silver Boot - Sasic only beating her to the Golden Boot by playing fewer minutes - and, probably, the Ballon d'Or, with her nominated and the front-runner for the FIFA Women's World Player of the Year award, for which the winner will be announced later this month.
It's not just that single performance that makes Lloyd the best player in the world in 2015 though. She was incredible for her team for the entire tournament, with her scoring three times as her country made their way to the final too, all three goals coming in the crucial knockout rounds.
Her leadership was similarly key as she led the team all the way to World Cup glory, with them coming out on top of the Group of Death and through some tough tasks after that - particularly Germany, who were the favourites for the tournament, in the semi-finals.
She couldn't have the most significant impact at club level this year because of the summer's big event interrupting her NWSL season, but the fact that the Houston Dash failed to secure a play-off spot perhaps says enough about her quality and significance to that team.
Six points off fourth, it would not be far-fetched to say that the Dash could have clinched a spot in the end of season competition had Lloyd been about - and her midfield partner Morgan Brian - with her having managed four goals in just 12 appearances alone.
Easy her selection as the world's number one in 2015 it might seem, but there is little one can say to argue against it, such was the significance of her performances in the last 12 months. Lloyd quite simply carved her name in the history books this year, with her contributions for her country absolutely unforgettable - and absolutely unbelievable.