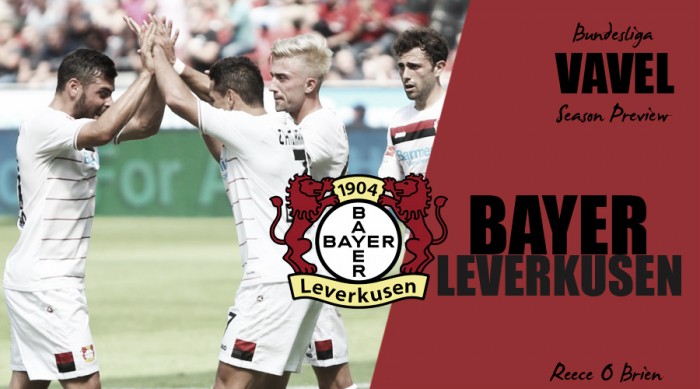 Die Werkself enjoyed a fairly successful year last season. A third place finish, the arrival of Javier Hernandez and the emergence of young talent, Julian Brandt; the season proved to be an excited one for all fans and players involved.
Last season wasn't all plain sailing however. Whether it was the abundance of injuries Leverkusen suffered, a pitiful display in a Europa League tie, or even the all but expected decline of club legend, Stefan Kießling.
Objectives
With everything being said about last season, this term's objectives are pretty clear. Put pressure on Borussia Dortmund in pushing for second place, make a push on European form and ultimately stay in the Champions League as far as possible.
For too long has the club had their "Neverkusen" reputation, sustained for always falling short at that final hurdle - whether it be the 2001 DFB Pokal final and of course the 2002 Champions League final.
Many firmly believe Michael Schade and Roger Schmidt alike, want to diminish this reputation and start to make winning silverware a constant theme at the club.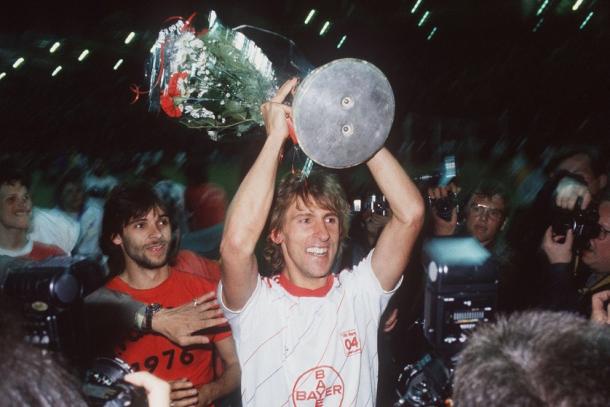 Transfers
To date, one transfer alone stands out to be a superb move. Bringing Kevin Volland from TSG 1899 Hoffenheim for reportedly £17m is great business.
Leverkusen have also brought in Austrian international, Julian Baumgartlinger from 1. FSV Mainz 05. Already, this looks like a potential signing of the summer, paying £3.4m for a player in the thick of his prime; the 28-year-old looks to be a solid purchase for the Werkself.
With Baumgartlinger and Volland being the two main signings the club have made, they have also indulged in some smart business elsewhere. Having activated a clause in his contract, Leverkusen have brought back Danny da Costa from FC Ingolstadt 04, who comes as welcomed competition for Roberto Hilbert and Tin Jedvaj.
As far as outgoings for the club, the only notable departure is that of world champion, Christoph Kramer. With midfield options at the club congested with Baumgartlinger, Charles Aranguiz and Lars Bender around Kramer looked for a move elsewhere, and that he did with a £12.75m move back to his loan home, Borussia Mönchengladbach.
Leverkusen also let the contract of Sebastian Boenisch run out, following his four-year spell at the club.
Pre-season
Leverkusen started their pre-season campaign travelling away to, SC Verl, which ended 1-1 with both goals coming in the final minutes of the game. It wasn't the greatest start to their pre-season, however, it was a good opportunity for the players to stretch their legs and work themselves back into fitness.
Die Werkself then went on to play Delbrücker SC, in a much more exciting match. The game finished 4-0 and saw Volland net his first hat-trick for Leverkusen. Kevin Kampl was also on the score sheet.
Leverkusen faced TuS Koblenz in their third pre-season friendly, and once again Volland impressed. The 23 year-old bagged a brace this time, as well as an own-goal from Ricardo Antonaci and a late goal from Brandt.
Schmidt's men then hosted Portuguese giants, FC Porto. The match ended 1-1 following goals from, Andre Silva and Chicharito.
Goals from Levin Öztunali, Admir Mehmedi and Kampl seen Leverkusen cruise to a 3-1 victory over Italian side, Fiorentina.
In Leverkusen's penultimate pre-season friendly they faced Kickers Offenbach - beating them 2-1.
In their final friendly they beat Real Sociedad 2-0, thanks to Kevin Volland and Chicharito. Something Leverkusen fans already seem accustomed to hearing.
Squad
In terms of Bayer's squad for next season, there are very few worries they should have. After a season ridiculed with injuries all over the show, the board have done pretty well to target areas we were lacking in depth. The arrival of Baumgartlinger highlighted this most, as on numerous occasions Kevin Kampl and even Hakan Calhanoglu found themselves playing as defensive midfielders.
The only one worry in terms of squad depth is at left-back. Wendell was great last season, however, allowing Boenisch to leave has left them very short at that position.
Wendell is fast picking up a reputation for being a bit of a 'hot head' and last season he picked up many suspensions, which meant Leverkusen had to call upon Benjamin Henrichs from the youth squad. Henrichs, who has recently picked up the Gold Fritz Walter Medal for his age group, was excellent whenever he featured, but there is something about relying on a 19-year-old centre-mid to play left-back, that many don't feel comfortable about.
Key players
As ever, Hernandez will be key to any success we are to have next season. The Mexican superstar netted 26 times in all competitions, and a similar season statistically will be needed if Leverkusen are to challenge the best.
As well as Hernandez, Karim Bellarabi will need to yet again have another top year for Leverkusen. Sometimes frustrating to watch - and to play with - his defensive support that he offers on the right-hand side is hugely underrated by fans and spectators.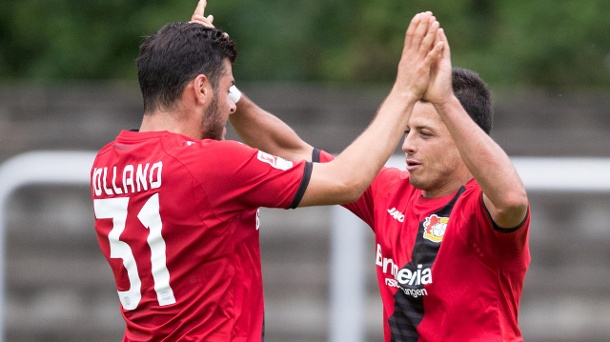 Manager
This will be Schmidt's third season in charge of die Werkself, and so far his time spent at the club hasn't been the greatest. However, towards the second half of last season we really seen his system come to fruition.
High intensity pressing and quick counter attacking football is exactly what you're going to get from any of his sides, the only thing missing now is a trophy or two to show for the tremendous amount of effort his players put in.
Season predictions
After talking about pretty much everything I've wanted to so far, the only thing missing now is a few season predictions. Firstly, I strongly believe this will be the strongest season under Schmidt's reign, having made smart moves in the transfer window - especially the acquisition of Kevin Volland. He has also managed to hold onto key players, such as Omer Toprak and ​Bernd Leno.
A top three finish at this point looks more of a certainty than a maybe, however, I'm predicting a second place finish. The departures of Ilkay Gundogan, Mats Hummels and Henrikh Mkhitaryan in my opinion make Dortmund considerably weaker. Replacing three world-class players with frankly lesser quality players, won't fair-well in a competitive Bundesliga top four.
If Leverkusen want to win silverware this year, I believe it will come in a domestic cup. If Schmidt treats the DFB-Pokal with the respect it does deserve then they will certainly have a good chance. Especially if Dortmund or Bayern Munich find themselves in the latter stages of the Champions League.
In terms of European success, I predict Leverkusen reaching the quarter-finals, as long as the draw is kind to them. However, if they are to be eliminated earlier into the Europa League I would be fairly confident of reaching the final.
How do the Werkself think this season will pan out?
After having my say on Leverkusen's upcoming season, I decided to get the opinion of a huge Leverkusen fan. Thomus Telhabt is an avid follower of the club, and has attended numerous amounts of their matches.
What are your expectations for the upcoming season?
My expectations are high, because we are progressing as a team now. I think the players understand this too because we haven't had any transfer speculation about players leaving.
In the Bundesliga I think we will finish second. I think that Dortmund are a team that have lost a lot of players and I think we can catch them out with that. We must be consistent because last season we dropped lots of silly points but luckily we showed our strength and that one day we can hopefully challenge for the Bundesliga title.
So do you think silverware is a realistic target?
Of course, I think we can win the DFB Pokal, because it is a tournament that is very open for any team to win. Yes, Munich will be favourites but with the Champions League and Bundesliga as well, it will not be their priority so I hope we can catch them and finally bring some trophies to Leverkusen.
I don't want to be negative but if the Champions League is not successful then I think we can have a really good chance of winning the Europa League this time. But I don't wish to talk negatively.
What are your thought's on pre-season so far?
I think our pre-season has been very encouraging. We started slow but we have regained our strength especially with players like Chicharito returning - the partnership of Volland and Chicharito is really exciting, and I cannot wait to see them in action. I do wonder if Schmidt will change the formation so they can both play as strikers together.
How do you think Leverkusen have performed in the transfer window so far?
Very well, I think Schmidt knew where we were weak last season, so he has fixed those areas. I am glad that we now almost have a squad with two players for each position. It's good depth and it's good competition for the players. I have said before that I am so happy with the signing of Volland, he was great for TSG last season and he looks like he suits Leverkusen well!