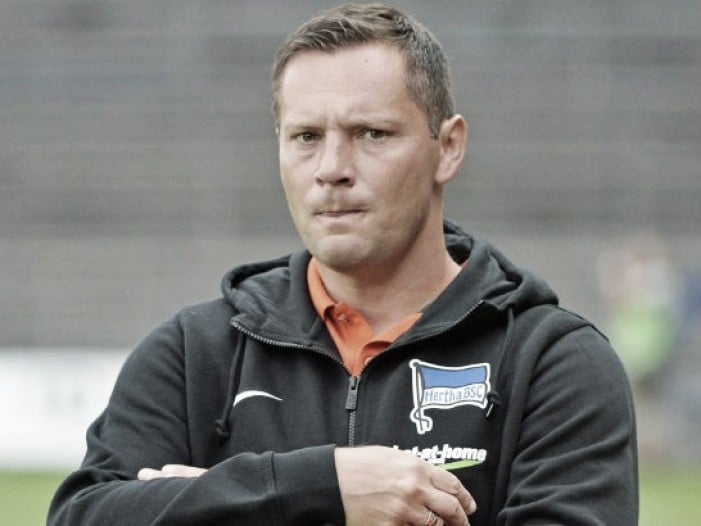 Pal Dardai's Berliners have rightly received effusive praise over the last twelve months for their performances that saw the captial club go from a relagation fight the year before to on the cusp of Champions League qualification. However, a simply rotten six months of form culminated in their impotent exit from the Europa League at the hands of Brondby IF, and with the season just over the horizon, several questions need to be answered if they are to get anywhere near to last season's form.
Hertha's form continues to concern
Only five months ago, Hertha BSC had just defeated FC Ingoldtsadt for their fourth win in five matches and the Berliners were miraculously sitting third in the Bundesliga. In those seemingly now halcyon days, praise was pouring in from all angles for Dardai's charges, who looked destined for Champions League football.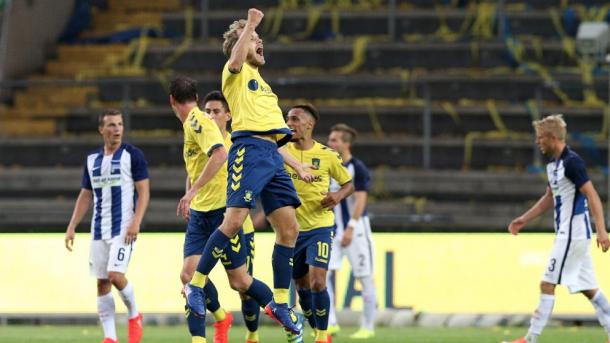 However, if this was the peak, last night was the ultimate low. When Teemu Pukki, a man who was rightly deemed not good enough to keep his place in Celtic's side during his two years in Glasgow, scores a comfortable hattrick against you, can you really have any complaints about being dumped out? The defeat, Hertha's seventh in their last ten competitive matches going back to last March, was perhaps the most devastating of all.
Certainly, praise must be reserved for Brondby who played beyond their mediocrity and could count themselves unlucky to only score three.
The switch of goalkeepers seemed unneeded
But, right from the off when Thomas Kraft surprisingly took the place of the ever dependable Rune Jarstein in goal, only to conced within five minutes, Hertha looked ravaged of ideas and stability. Perhaps it was a moment of naivety from Dardai, or perhaps Jarstein had some ailment which remains unkown to us, but to replace a man who had not only been excellent in last week's first-leg but also throughout last year is puzzling at best. Admittedly, Kraft really didn't do anything wrong and did produce one or two excellent saves to keep Hertha in the tie, but given the uncharacteristically poor defending throughout, his appearance may have unsettled a steady back four.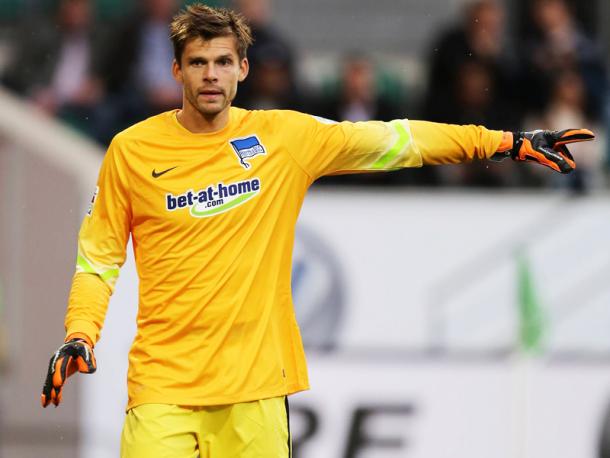 In this respect, one area where Kraft's game is noticably weaker than Jarstein's is in his distribution of the ball, with the latter mentioned Norwegian generally superb at finding his man with either foot. At times the lack of a decent delivery from the goalkeeper was noticable, with the ball more often than not being lost in the midfield and coming straight back towards Kraft's threatened goal.
But, it would be simply wrong of me to focus all of the questions on Kraft, when he was woefully exposed a number of times by those in front of him.
The midfield was badly off the pace and at times non-existent
Per Ciljan Skjelbred and captain Fabian Lustenberger were deployed in the holding midfield role where they produced consistent displays last season to offer Hertha a solid foundation. However, last night the two were so incompetent that Brondby's midfield passed them with ease. This was only summed up when Skjelbred dallied on the ball outside of his box before gifting it to Brondby who went on to score the third and curcial goal. Even when Niklas Stark was thrown on for the miserable Norwegian, he himself struggled to play a five yard pass consistently to a teammate, a problem which plagued Hertha throughout the match.
Pal Dardai had spoken of doing the easy things in the build up to the match, but his charges certainly failed to take heed of his words.
That is not to say that the Hungarian is himself without questions or even blame, as from the off he seemed to be simply outfoxed by Brondby's German manager Alexander Zorniger. Having produced a rugid 4-2-3-1 in the first leg, Zorniger switched to a far more offensive 4-3-3 and reaped the rewards as Dardai's refusal to try anything other than a 4-2-3-1 or a 4-4-2 seemed to backfire.
This instantly put Hertha on the backfoot and left John Anthony Brooks and Sebastian Langkamp too easily exposed; although, for their part, Brooks was oddly off the pace throughout.
The substitutes offered nothing and perhaps only hindered the team
Most odd about Dardai's decisions from last night was his substitutes. Sami Allagui had not played a competitive match for Hertha since May 2015, and yet, despite having the likes of Valentin Stocker on the bench, Allagui was the man chosen to try and turn Hertha's fortunes around with time running out. Of course, Allagui gave Hertha a lot in the past, but with two goals in two seasons he was never going to be the man needed; his lack of match sharpness was painfully apparent.
The aforementioned Stocker, a man with over 30 caps for his native Switzerland, is a man who seems to have fallen out of favour completely with Dardai. Yet, when he was finally given ten minutes to produce, he played Hertha's best pass of the second half to send Salomon Kalou clean through. The Ivorian tamely attempted to prod the ball over the goalkeeper but he stood tall.
Where has the real Kalou gone?
The Ivorian's performances over both legs raise serious questions over his form. So often last season did the enigmatic winger produce the bit of quality to breakdown an opposition defence when Hertha needed it most. However, over the two legs, he cut a frustrated figure, rarely getting on the ball and mustering very few chances. It is only natural for Dardai to persist with Kalou, given he has the most quality in the whole team. However, how long can he if he can't snap out of this poor form?
Lack of signings is hurting the squad
Yet, perhaps this is the biggest issue raised by the two-legged defeat for Hertha. Their lack of quality signings over the summer has left a stagnant squad who instead of looking fresh and ready for the season ahead still look to be suffering the wretched hangover that has blighted them since March.
The only signing so far has been Ondrej Duda, the Slovakian number 10 who scored against Wales at the Euros, but having joined from Legia Warsaw it remains to be seen if his qualities can usurp those already within the squad.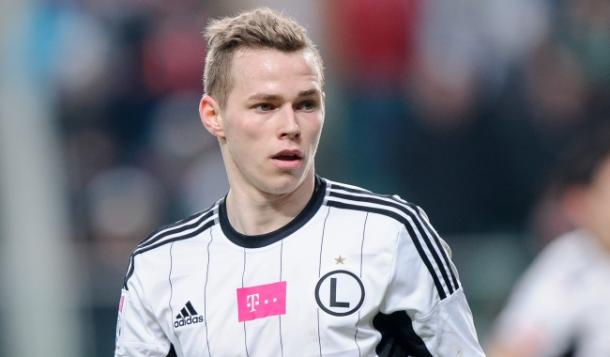 Perhaps many more questions could be asked about last night's display, however the important thing now is for Hertha to move on and to do it quickly.
If Pal Dardai cannot find a way to rouse his troops to rediscover even a fraction of their form from last season, or he fails to add significant quality to key areas, there is a very real worry that instead of going again for the European places, Hertha could find themselves once again dragged towards the depths of the Bundesliga table.