 Racing Club de Lens, in the words of their captain, are in big trouble.
Their exploits on the field have left them winless, pointless and without a prayer just six weeks into the Ligue 2 season.
Six consecutive league defeats have culminated in Racing's worst start to a season in their entire 111-year history.
"We are in big trouble." - Lens' Dušan Cvetinović
In fact, Lens are enduring the worst start by any Ligue 2 side since the new 20-team era began in 1998.
Such a catastrophic opening has lead to managerial sackings, boardroom battles and fan protests. That's without mentioning the inquiry concerning a former owner's financial irregularities at the club.
One of French football's biggest institutions are currently undergoing a crisis and it's hard to see when it will end.
Fans restless for a while now:
Patience at the Stade Bollaert-Delelis has been wearing thin for a decade now. The club expects to be dining at the top tier of their domestic game but have heavily disappointed in that regard of late.
Despite having the biggest budget in the division - with an estimated €41m - Sang et Or have spent just three seasons in Ligue 1 over the last 10 years.
Their last promotion came in 2014 but they did come close last term, missing out by a solitary point on a frantic final day of the season.
Individual performances from Ligue 2 Player of the Year John Bostock and top scorer Christian Lopez looked as though it might have guided RC Lens to another promotion. It was not meant to be, though, as Strasbourg, Amines and Troyes pipped RCL to promotion.
After retaining the aforementioned duo's services this summer, it seems odd that the club could have endured such a terrible transfer window.
Not quick enough in the market:
While not completely overwhelming, the quality of Lens' new recruits has still been overshadowed by a severe lack of organisation from the club's hierarchy.
They were unable to keep hold of full-back Kenny Lala, who joined Strasbourg on a free transfer, and the promising Benjamin Bourigeaud - who has three goal contributions in five league games for Rennes.
Although Lens signed a number of players, these arrivals came too late and have yet proven capable enough to replace those who opted to leave.
President Gervais Martel himself revealed that the last four deals to be done - which including the £900,000 addition of Moussa Maazou - were not planned and were a reaction to the awful start.
The loan deal for Clément Chantôme took place four weeks into the season as did the signing of Filip Markovic, who grabbed one goal and one assist on his first start in France.
To make matters worse, Chantôme picked up an injury in training which could rule the defensive midfielder out until October.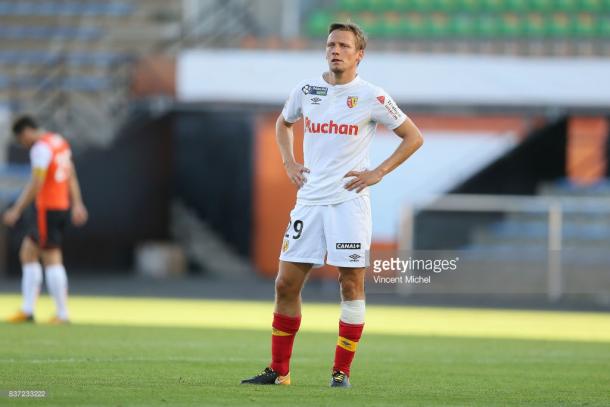 Christian Lopez, meanwhile, is also struggling with a knock that left the Spaniard sidelined for the defeat to Lorient. Souleymane Diarra, another new recruit, is now suspended.
Mouaad Madri and Christos Tasoulis have also missed a large portion of the season so far due to injury. Dankler seems not worth exercising Lens' option to buy while fellow defender Karim Hafez has just returned from the treatment table.
Issues at boardroom level:
The issues on the pitch and in the transfer market draw parallel to the mess occurring at boardroom level.
RC Lens are currently undergoing a series of changes courtesy of a large amount of internal reorganisation at the very top of the club.
President since 1988 (With the exception of the 2012/13 season), Gervais Martel's influence over RC Lens is weakening after majority shareholders Solferino appointed Arnaud Pouille as a General Manager.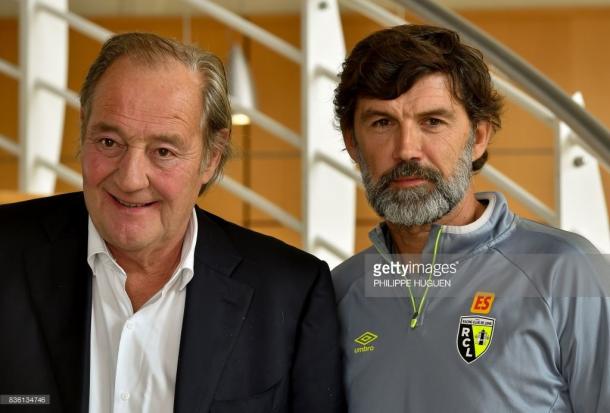 This has lead to numerous staff members leaving the club - including the Head of Relations and Head of Ticketing - while plenty of Martel's followers lost their powers.
Resentment is strife in the ranks of Lens which has been exacerbated further by disappointments on the field.
The one-time Ligue 1 winners have already dealt with their fair share of boardroom problems after building up a copious amount of debt and attempting to oust former owner Hafiz Mammadov for the financial security of the club.
Eventually, after the liquidation of RCL Holding, Mammadov left and would be replaced by Solferino - who reportedly ensured Martel of his position as President.
Mammadov's reign is still casting clouds over the club a year after his departure with it being discovered that RC Lens may have received $2m of laundered money in September 2014.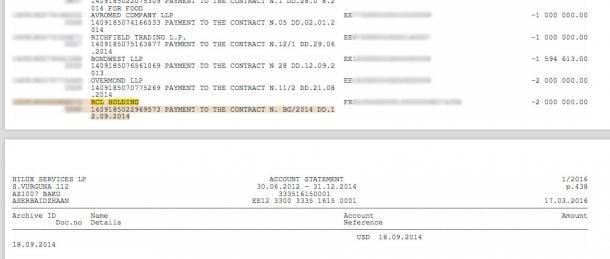 Hardly ideal for Éric Sikora:
After a 4-2 defeat to Brest was interrupted by a fan protest, Alain Casanova was relieved of his duties as first-team manager.
In an attempt to appease their critics, the club announced that former player and manager Éric Sikora would return to the helm for the remainder of the 2017/18 campaign.
"Such a start to the season is unheard of since the post-war period," - Martel.
Sikora is idolised in the city of Lens. The Frenchman has spent his entire career at the club either as a player, youth coach or manager.
The 49-year-old won Lens' only Ligue 1 title in 1998 and has played the most first-division games for Racing during his 19-year playing career.
'Siko' has failed to stop the rot. A Coupe de la Ligue defeat to Lorient was followed by a frustrating loss to US Orléans and a 3-2 defeat to Lorient in the league.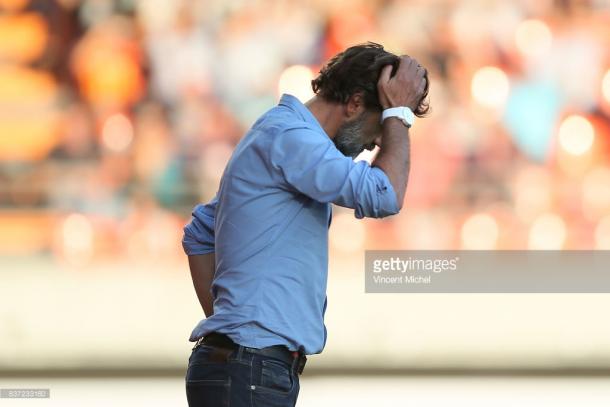 Sikora has quite some task on his hands and he should, despite a lack of experience, be given time to implement his ideas. The manager said he was happy with what he saw against Lorient and that his side deserved at least a point.
There were indeed promising signs on show and Sikora has taken positive steps in trying to improve his side's form and unite the dressing room.
He has rightly replaced goalkeeper Jérémy Vachoux with veteran Nicolas Douchez and called up more reliable full-backs to strengthen the back four. Clément Chantôme's injury is a big blow to Sikora, who will likely play the Rennes man just in front of the the defence.
Local derby could provide relief or heap further misery:
Next up for Lens is the visit of local rivals Valenciennes on Friday evening.
A win could kick-start their season and relinquish the club from the dire situation they find themselves in. Alternatively, another defeat could heap further misery upon them.
RC Lens are in the eye of a self-induced storm and it will require a serious upturn in results to see the clouds part again.