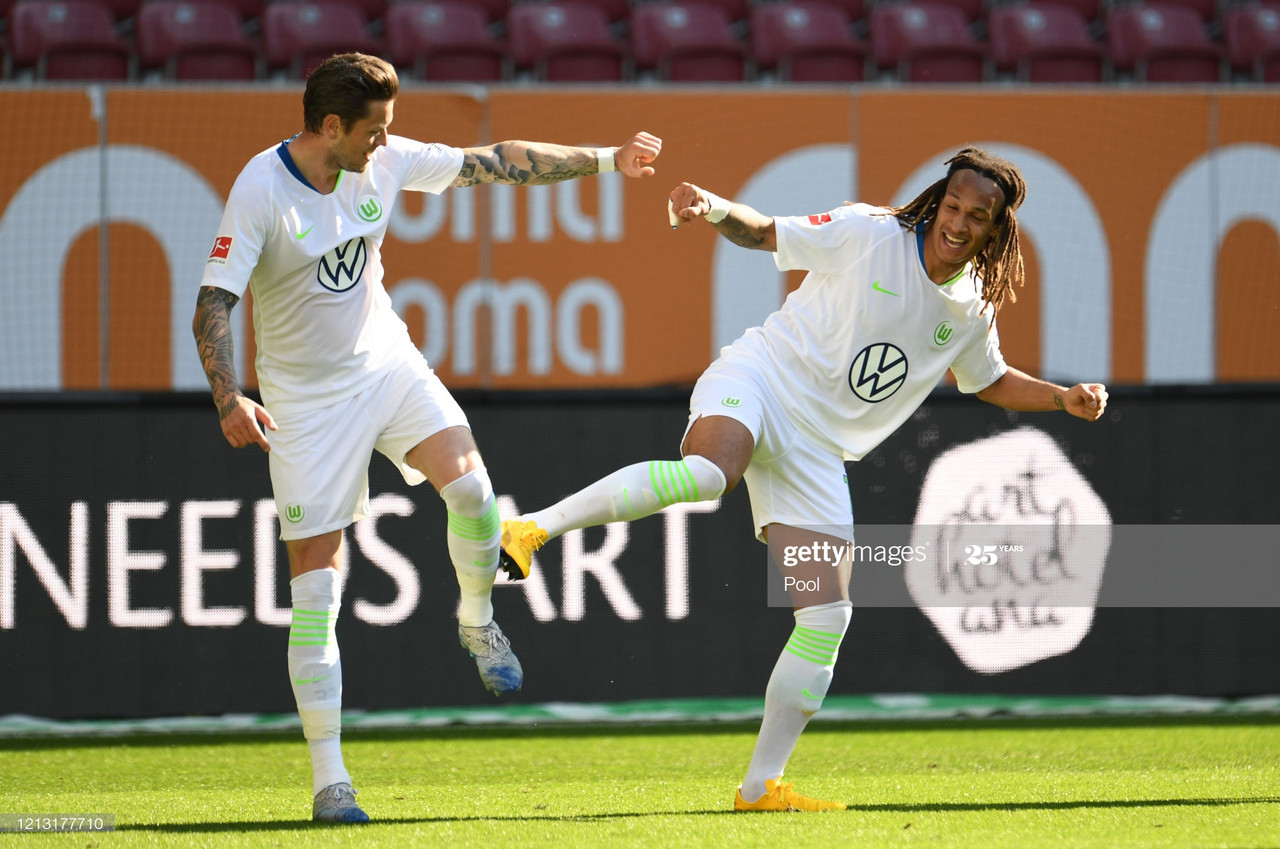 Daniel Ginczek's dramatic stoppage time strike earned VFL Wolfsburg three points upon the return of the Bundesliga.
Renato Steffens put the away side ahead inside the first half with a neat header, amidst the absence of top scorer Wout Weghorst, showcasing the Wolves' strength in depth.
Less than ten minutes into the second half, and FC Augsburg finally arrived at the party. Tin Jedvaj equalised for the home side with a dubious effort. However, Ginczek's late strike rescued three points for the visiting side and the sixth away win of the season.
Fed to the Wolves
The Wolves began the game on the front foot and dominated possession in the opening minutes.
Kevin Mbabu proved to be a key threat down the right flank for the away side. His pace and drive forward from right back partnered with impressive deliveries gave Augsburg problems.
Augsburg defended bravely, holding onto a draw amidst their relegation battle, and continued to clear numerous long balls and crosses into the box.
However, the pressure was building and the balloons were about to pop. Water began to seep through the rigid Augsburg defence.
Moments before half-time, Otavio's superb cross was met by the hurling head of Steffen. At just 5'5, the Swiss striker headed the ball from 14 yards out past the helpless Andreas Luthe who was left scrambling.
A quick reply and late finish
Having gone into the break 1-0 at home, Augsburg flew out the blocks in the second half looking for vengeance.
Phillip Max's dangerous delivery from a free-kick caused pandemonium in the Wolves penalty area before Jedvaj nodded the ball in from close range to level the score.
Wolfsburg continued to showcase their powers down the wings with delightful deliveries from either pair of fullback and winger. Mbabu, once again, was central to Wolves' strike force after a sublime run and cross found Ginczek at the back post.
The German striker proved his lethal eye for goal with a neat finish as Wolfsburg continued their pursuit of European football.
What does this result mean?
Three points for Wolfsburg keeps them in the race for a Europa League place, however, they remain eight points off of sixth placed Bayer Leverkusen.
Augsburg sit 14th in the Bundesliga and are just one point above Mainz who, with a win over Köln, could move the home side down to 15th.
Man of the match
The VAVEL man of the match was Mbabu. The Swiss right-back excelled down the right flank and posed a constant threat to the Augsburg defence. With 103 touches, which was more than any other player, an assist and 74.5% pass accuracy, Mbabu most certainly earned the award.