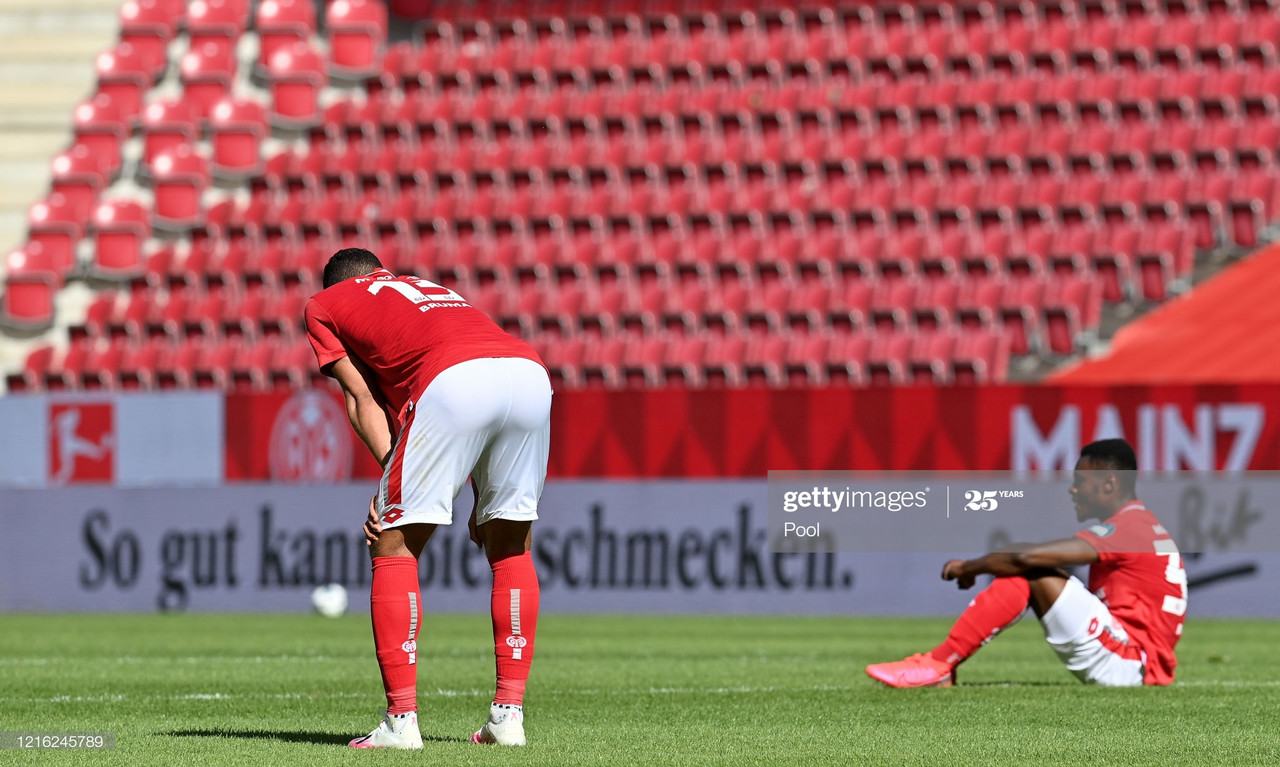 The battle to stay in Germany's top flight is likely to go down to the wire this season with just five games left to play. Paderborn are increasingly likely to finish in last place, and could be relegated in two weeks time if results do not fall their way. But who is going to join them in the 2.Bundesliga next season? The leading contenders are Werder Bremen, Fortuna Düsseldorf, Mainz and Union Berlin. Here we'll run through each team's chances.
Since the return of the Bundesliga three weeks ago, Mainz have lost their breathing space between themselves and the relegation play-off position and now sit just one point above Fortuna Düsseldorf. A heavy 5-0 defeat at home to RB Leipzig exposed the frailties in the Mainz defence a fortnight ago and their troubles upfront were compounded against Hoffenheim last time out when they dominated going forward but lost to another defensive blunder.
The facts are grim for Mainz, having conceded their record amount of goals in a single Bundesliga season - 62 - with still five games remaining. In 2007 they were relegated having conceded 57. Mainz have been thrashed on numerous occasions this season, with that 5-0 loss against Leipzig three goals better than the away match in Saxony, where they were beaten 8-0. They were also beaten 6-0 at Bayern Munich, as well as 4-0 by Wolfsburg and Dortmund. Going forward, Die Nüllfunfer have scored 37 goals, which is amongst the lowest rates in the league. Moreover, ten of those came in two matches - freak results away at Hoffenheim and Werder Bremen when they won 5-0 and 5-1 respectively. Removing those matches, their tally of 27 goals in 27 matches makes miserable reading. Some Mainz fans have questioned the appointment of former Köln boss Achim Beierlorzer when Sandro Schwarz departed. He has yet to prove to the home faithful that he is the right man for the job, and survival or not, he will remain under fire.
Mainz really face a test of their mettle in their final five matches, with their local derby against Eintracht Frankfurt first up on Saturday. They actually travel across the state border into Hesse unbeaten away since the league's return, having picked up two draws, while their home form continues to be worrying.
After that they have a huge home game against Augsburg. A win on home turf could drag Augsburg into the mix - they're currently four points above the drop zone. That is a game they must win, especially with a trip to Borussia Dortmund following that, where they are unlikely to pick up any points.
In an interesting twist, Mainz's season may hang on their penultimate game of the season. It is Werder Bremen who make the trip to the Opel Arena, and it is a game where it could be make or break for both sides. Depending on results in previous rounds, one - or even both - could be relegated, but it is very much a case of wait and see. They end the season at Bayer Leverkusen, a side they have lost to in their four.
VAVEL writer and Werder Bremen fan Adnan Bašić takes you through the Green-White's hopes of survival.
Werder Bremen have done pretty well since the Bundesliga restarted a few weeks ago, but there's still plenty of work left to be done. They currently sit two points back of 16th place Fortuna Dusseldorf in the fight for the relegation playoff spot, and are three points behind Mainz, who sit in the final automatic survival spot.
Bremen's biggest problem is their inconsistency. At times, they look like a quality team that can go up against any other team in the league. However, those times don't come around too often, as the Green-Whites are oftentimes underperforming. Toothless going forward and abhorrent at the back, it's a mix that has cost the team points time and time again.
Things seemed to be looking up after they beat Schalke at the weekend, but normal services were resumed as Bremen lost 3-0 against Eintracht Frankfurt. It was an even contest early on, and the Green-Whites even had a few chances to take the lead. However, they conceded yet another headed goal at the hour mark, and that opened up the floodgates as Frankfurt added two more before full time.
The good news is that Bremen's remaining schedule isn't too brutal. Two of the remaining five games will be very tough, as they still have to take on Wolfsburg and champions-elect Bayern Munich. However, Bremen do have a game left against the side on the opposite end of the table, as they take on bottom dwelling Paderborn in a few weeks time.
The biggest game they have left comes on the second-to-last matchweek, as Bremen go on the road to play Mainz in a true relegation six pointer. It seems increasingly likely that the contest will ultimately decide who stays up and who goes down, so plenty of pressure will be put on both sets of players. Bremen ends the campaign at home to FC Koln, which will be a tricky matchup for sure.
The Green-Whites have plenty of talent on their roster, but they need to start making the most of that ability soon if they want to stay in the Bundesliga for another season. If not, they'll have no one else to blame except themselves.
Fortuna have lost just twice in their last ten Bundesliga matches, so the fact they are still in the relegation play-off zone is somewhat perplexing to the standard outsider. Losing isn't Fortuna's issue - moreso it's the fact they rarely win.
The Niederrhein side love a draw, having drawn six of those ten and winning two. It is these points that have left the side in this position, with rivals often picking up three and pulling ahead of the relegation pack. Last weekend's 5-0 defeat at Bayern Munich - somewhat expected, ended a five match unbeaten run. Previously they'd beaten a terribly out of form Schalke side to give themselves a chance.
Problems for Düsseldorf stem from their inability to hold onto a lead. In May, they gave up a 2-0 lead against Köln by conceding in the 88th and 90th minutes, and in February they were 3-0 up at half time against Hertha Berlin, only to finish 3-3. Indeed, nine times this season F95 have scored the opening goal of the game and gone on not to win.
The final five matches are huge for Fortuna, who are no strangers to the 2.Bundesliga, having not had three consecutive top flight seasons since 1992 and they have a real test on their hands to change the record. After this weekend's home match with Hoffenheim, Düsseldorf have a horrible duo of RB Leipzig and Borussia Dortmund in their next two matches before two crunch clashes with Augsburg and Union Berlin to end the season.
They defied the odds to stay up last season. They may well do so again.
Union Berlin's debut Bundesliga season was always going to be a baptism of fire, and it has indeed proved to be that as Union fight to stay in the top tier. After six matches without a win, Eisernen have been dragged into the mire and are now just three points above Mainz and four above Fortuna Düsseldorf. After a mixed start the season which included wins over Borussia Dortmund and city rivals Hertha Berlin, Union were comfortably mid table but they have now let that slip and face a battle to stay up.
Of all the clubs in the relegation battle, Union arguably have the most favourable fixture list. They have three home games of the remaining five and face an out of form Schalke side this weekend, where a win could make things look a whole lot rosier. They then face Köln and all but relegated Paderborn, before a trip to Hoffenheim. The final day clash with Düsseldorf could be the decider, and at the moment is the most exciting final day fixture.
Who do you think will stay up?
Let us know over on Twitter @VAVELBundesliga.