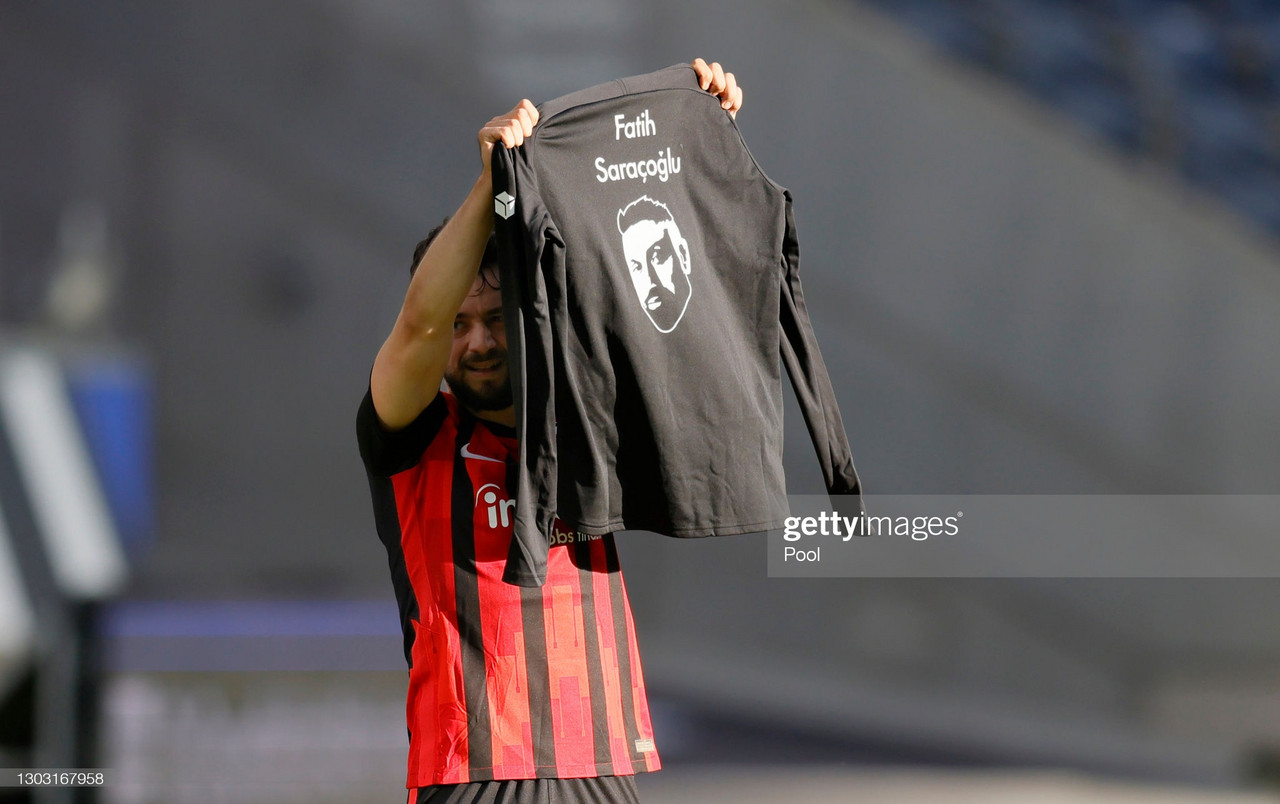 Matchday 22 in the Bundesliga had just about everything. From a demolition in the Revierderby, a big upset in Mӧnchengladbach, and even a few contenders for goal of the season thrown in for good measure, this weekend's action leaves us with plenty to digest.
How did your team do this weekend?

👍 or 👎#BLMatchday pic.twitter.com/Ek1PncWsKm

— Bundesliga English (@Bundesliga_EN) February 21, 2021
The Bundesliga has a genuine title race on its hands
Despite fears for much of the season that Bayern Munich could end up running away with a 9th straight title, the Rekordmeister's loss away to Eintracht Frankfurt coupled with RB Leipzig's comfortable win against Hertha Berlin means there is only two points separating the top two sides in Germany with 12 games remaining.
Bayern's result on Saturday came as little surprise for a few reasons. Suffering with the consequences of not adding sufficient depth to their squad in the summer, Hansi Flick had very limited options to choose from with a number of key players missing through injury. The warning signs had certainly been there for Bayern, who managed only a calamitous 3-3 draw at home to newly promoted Arminia Bielefeld last Monday.
Their opponents in Frankfurt seem unstoppable at the moment as they helped themselves to a fifth consecutive league win. The question for Die Adler coming into this game was whether they would be able to continue their run without talisman Andre Silva, who found himself sidelined. They picked up exactly where they left off, though, with Daichi Kamada and Filip Kostic contributing with impressive showings. However, it was Amin Younes who stole the show with a world-class goal to accompany a performance of the highest degree. Younes then showed an equally classy touch after the goal by raising a T-shirt in remembrance of one of the victims of the shooting in Hanau last year.
All eyes then turned to the capital to see if Leipzig could pounce on Bayern's loss. There was a sense that the pressure of inciting a full blown title race may have gotten to Julian Naglesmann's youthful but exuberant side. The previous two times Bayern had lost this season, Die Roten Bullen had failed to snatch the opportunity presented to them, dropping points on both occasions. History did not repeat itself this time around, though, as they eased to victory by a three-goal margin, with Marcel Sabitzer's long range effort being the pick of the bunch.
After this weekend, make no mistake: the Bundesliga has a genuine title race on its hands.
Problems at Gladbach run deeper than the news of Rose's departure
"It's clear that every bad result causes more restlessness and brings more questions - I have to live with that and take responsibility for it, as I'm the one who caused the unrest with my decision [to leave for Borussia Dortmund in summer]." These words from Marco Rose after their defeat to second-bottom Mainz 05, though respectfully honest, only tell half the story when it comes to the present woes of Borussia Mӧnchengladbach.
Of course the news is untimely, and it may have indeed caused unrest. However, even before the move was announced last week, Die Fohlen had drawn with Union Berlin and Wolfsburg while also losing to a lowly 1. FC Kӧln side in the derby. Then there's the fact that Rose's departure hardly comes as a surprise, with the potential move to Dortmund being brought up in almost every single press conference the 44-year-old has featured in this season. It is not enough to attribute this loss, nor their general drop in form, just to Rose's decision.
They seem to have lost much of their attacking verve and clinical edge which had previously led them to resounding victories over both Bayern and Dortmund. They also look much more vulnerable defensively than they had done earlier in the season. It has become clear that they have a problem when being the favourites in matches, and they only thrive as underdogs. For a team chasing Champions League qualification, that is simply not good enough.
This will need to create some sort of hope for Gladbach, as in their next four games they face Manchester City before travelling away to Leipzig, hosting Dortmund in the DFB-Pokal and then hosting Bayer Leverkusen in Bundesliga play. It can't be understated just how important these next few games are for Gladbach as they could easily see themselves dumped out of two competitions and the race for Champions League qualification if all goes poorly.
They will need to put Rose's future to one side and focus on addressing the issues that run much deeper at the club if they want things to turn around before it's too late.
Schalke will be playing in the 2. Bundesliga next season
If it wasn't clear enough already, Saturday evening's 4-0 derby humiliation seemed to represent the resignation of Germany's second biggest club (in terms of members) to the 2. Bundesliga, and with it, the last Revierderby for at least a season if not longer. From a team who finished runners-up in 2018 and was playing in the Champions League only two seasons ago to a team with just nine points and 15 goals after 22 matches this campaign, it's difficult to see exactly how it went so wrong so quickly. With an aggregate scoreline of 0:26 against Bayern, Leipzig, and Dortmund combined this season, the fall from grace has been undoubtedly been a dramatic one.
Although Die Königsblauen held on for much of the first half before conceding two goals before the break, including Erling Haaland's contender for goal of the season, they never looked like coming close to troubling a Dortmund side with plenty of troubles of their own. As has been the case throughout Schalke's season, when it rains it pours: this defeat was the ninth game they have lost by a three (or more) goal margin this season.
This loss, the latest in a line of emphatic routs this campaign, will of course be made even worse by the fact that it came against their arch-rivals Dortmund. It really was quite the historic loss too: it was the first time since 1967 that BVB have scored four goals away at Schalke, it was the first time Dortmund did the double over the Royal Blues for nine years, and it was the first time in this fixture's 98 game Bundesliga history that Dortmund have won both matches without conceding a goal.
As it continues to go from bad to worse for Schalke, it becomes more and more clear where they will be playing their football next season: the 2. Bundesliga.