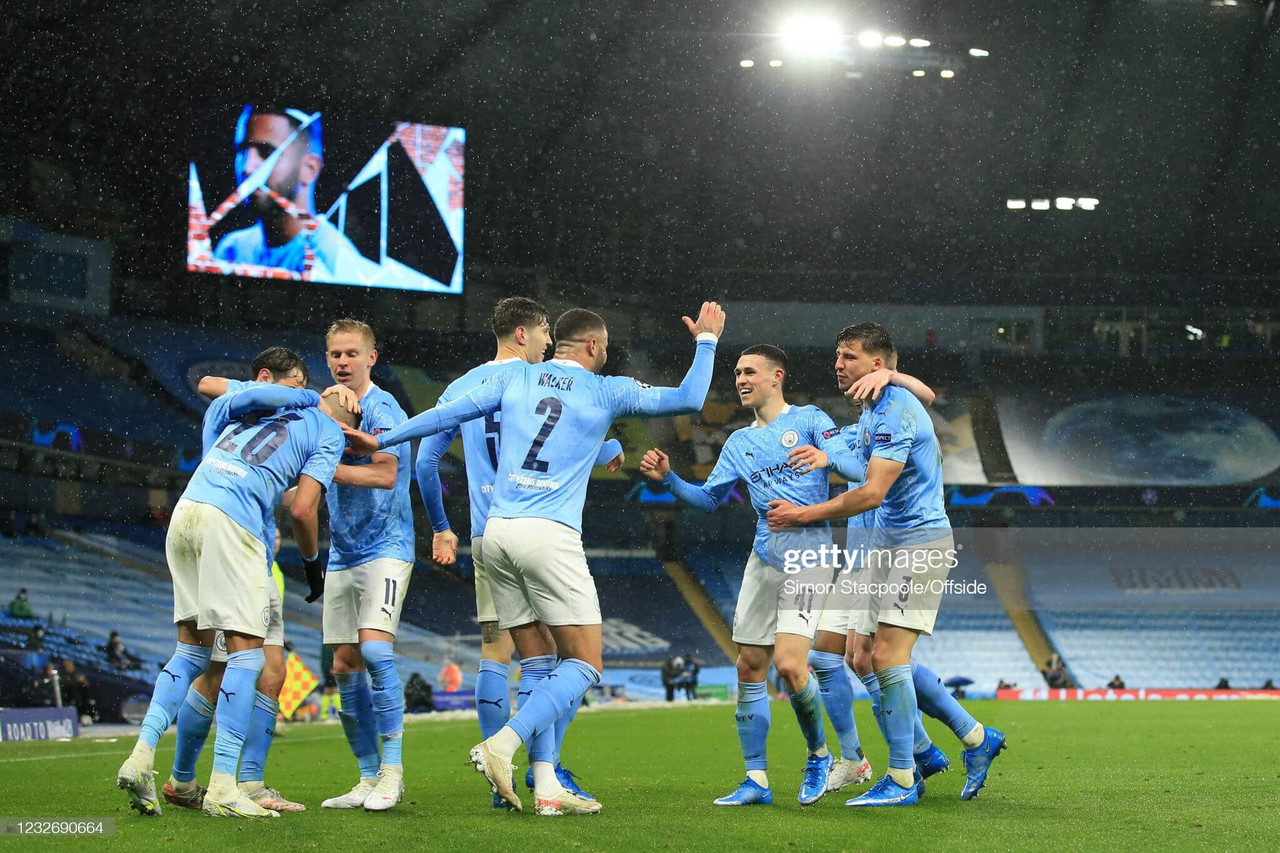 The long and winding road that Manchester City have taken in the Champions League has finally brought them to a final. There have been dead-ends, roadworks and a few bad turns during the years but at last City can say they are finalists in Europe's greatest club competition.
This was one giant step for City, who have only appeared in one European final previously - the 1970 Cup Winners' Cup final which they won 2-1 - but the job is not yet done. The biggest achievement of all would not be to reach the Champions League final but to win it.
If they perform like they did here against Paris Saint-Germain, then they will have more than a chance, irrespective of whether it is Chelsea or Real Madrid who they meet in Istanbul at the end of the month. The determination of advancing past the semi-finals was clear from everyone, this was a team performance in every aspect.
The second half of the first leg in Paris was good fare from City, and set them up nicely for this return game, but this level of performance was of another level entirely. They not only contained PSG, who were without Kylian Mbappe in attack, and in tandem kept their eighth clean sheet of this season's competition, but they provided sucker-punches on the counter. It was masterful.
The will to win and book a plane ticket to Turkey was evident across the pitch. Phil Foden, still just 20-years-old, was exceptional with both his touches and his key runs beyond PSG's defensive line. Kevin De Bruyne somehow orchestrated proceedings despite playing as the focal point of a false No 9 system.
The ageless Fernandinho impressed on his 36th birthday and the entire backline were superb; whether it was Ederson's pin-point balls or the countless blocks and interceptions that John Stones and Ruben Dias continuously managed to prevent Neymar and Co. getting a sniff. Everyone played their part.
Of course, it was Riyad Mahrez's two goals, to add to his winner in the first leg, which rightly grabbed the headlines as they catapulted City past their French opponents. But there was so much more to the Algerian's display than just the strikes, and equally there was more to the goals than just Mahrez's finishes. They were crafted just as the City manager would have wanted them.
As for Pep Guardiola, after four excruciating exits from this competition with City, he was finally able to raise his hands in delight having guided them to their first Champions League final. This means a lot to City, and to Guardiola, who has suffered so many last-four disappointments since his last final with Barcelona 10 years ago.
PSG, meanwhile, will not make it back-to-back finals. In the end, they wilted - or, given the inclement Manchester weather of sleet and howling winds, they froze. Mauricio Pochettino will have been a mixture of anger and frustration when watching on as his team imploded in terms of discipline after conceding the second goal of the evening. For the second time in this tie a PSG player was sent off, on this occurrence it was Angel Di Maria for a kick-out on Fernandinho.
Is it too simple to conclude that PSG are not used to losing and so whenever such a possibility arises, frustrations boil over? It would certainly explain why the serial French champions are accustomed at collapsing on the European stage when the heat is on and the quality of the opposition are high.
Nevertheless, there is certainly a feeling that PSG do not do themselves justice on the big stage, especially when it comes to class.
Story of the game
Pochettino's side did, however, achieve victories away to Barcelona and Bayern Munich in the two previous rounds and thus laced this second leg with the potential for a turnaround. But the absence of Mbappe, due to a calf injury picked up at the weekend, damaged the visitors's cause. They, like City, took time adjusting to the pitch which had been greeted by a light dusting of hail from on high.
An early City scare arrived in the form of Abdou Diallo's cross striking the arm of Oleksandr Zinchenko, according to referee Bjorn Kuipers, who pointed to the penalty spot. However, it was clear from the replays, which the referee then consulted, that the ball topped Dias's head before glancing the top of Zinchenko's shoulder: no penalty.
With that disturbance out of the way, City made hay in taking the tie fully away from PSG. It was in the 11th minute that Ederson launched an accurate up-field pass into the path of Zinchenko. The space was there on the left flank for the Ukrainian to exploit. He did so before squaring for De Bruyne, whose shot was blocked but fell for Mahrez. The low shot that he deployed, through Keylor Navas's legs, set City on their way.
A PSG response had to come. Two goals without reply would have taken the game to extra time and an instant equaliser on the night almost came when Marquinhos rose highest to meet a deep cross but his header hit the crossbar, unlike last week when the Brazilian's attempt went in.
Apart from that, City's defence coped well - and by defence, it means the entire team who became compact when necessary to force PSG down blind alleyways, along with pressing as a unit when the time was right.
The visitors did see more of the ball as the first half ended and on both sides of half time, Dias, Stones and Zinchenko were required to put their bodies on the line to block shots and intercept passes. One such block by Zinchenko on Neymar resulted in the trio hugging as if they had scored a goal. The determination was clear.
But holding firm allowed City to counter and take the chance to clinch the tie midway through the second half. A stunning break, which is rarely executed by Guardiola's men given their penchant for possession, began with De Bruyne laying the ball off for Foden.
A dribble and another one-two carried them to the edge of the area, streets ahead of PSG's retreating defence, who had ignored Mahrez's runs to the far post. Foden picked him out for the simple finish. Game, set and match, one suspected.
So did PSG who then started to lose their composure. There were heavy challenges and late tackles which brought yellow cards for Marco Verratti, Presnel Kimpembe and Danilo. However, it was a stamp by Di Maria on Fernandinho, while the City captain retrieved the ball for a throw-in, that resulted in a straight red and spoke of a side losing their heads.
A crowning moment for City might have been Foden finishing one of his couple of goalscoring chances late on, one struck the base of the post.
But there was an uplifting moment when Guardiola sent on Sergio Aguero for his final appearance in a Champions League match at this stadium. City's record goalscorer has seen most things during his decade at the club, but he's never seen City in a Champions League final. Fittingly, he will now.
Teams
Man City: Ederson; Walker, Stones, Dias, Zinchenko; Silva (Sterling 82), Fernandinho, Gundogan, Mahrez, De Bruyne (Jesus 82), Foden (Aguero 85).
Subs (not used): Steffen, Carson, Ake, Mendy, Cancelo, Laporte, Rodri, Torres.
PSG: Navas; Florenzi (Dagba 75), Maquinhos, Kimpembe, Diallo (Bakker 82); Herrera (Draxler 62), Paredes (Danilo 75); Di Maria, Verratti, Neymar; Icardi (Kean 62).
Subs (not used): Rico, Randriamamy, Kehrer, Kurzawa, Rafinha, Sarabia, Mbappe.
Referee: Bjorn Kuipers (Netherlands).