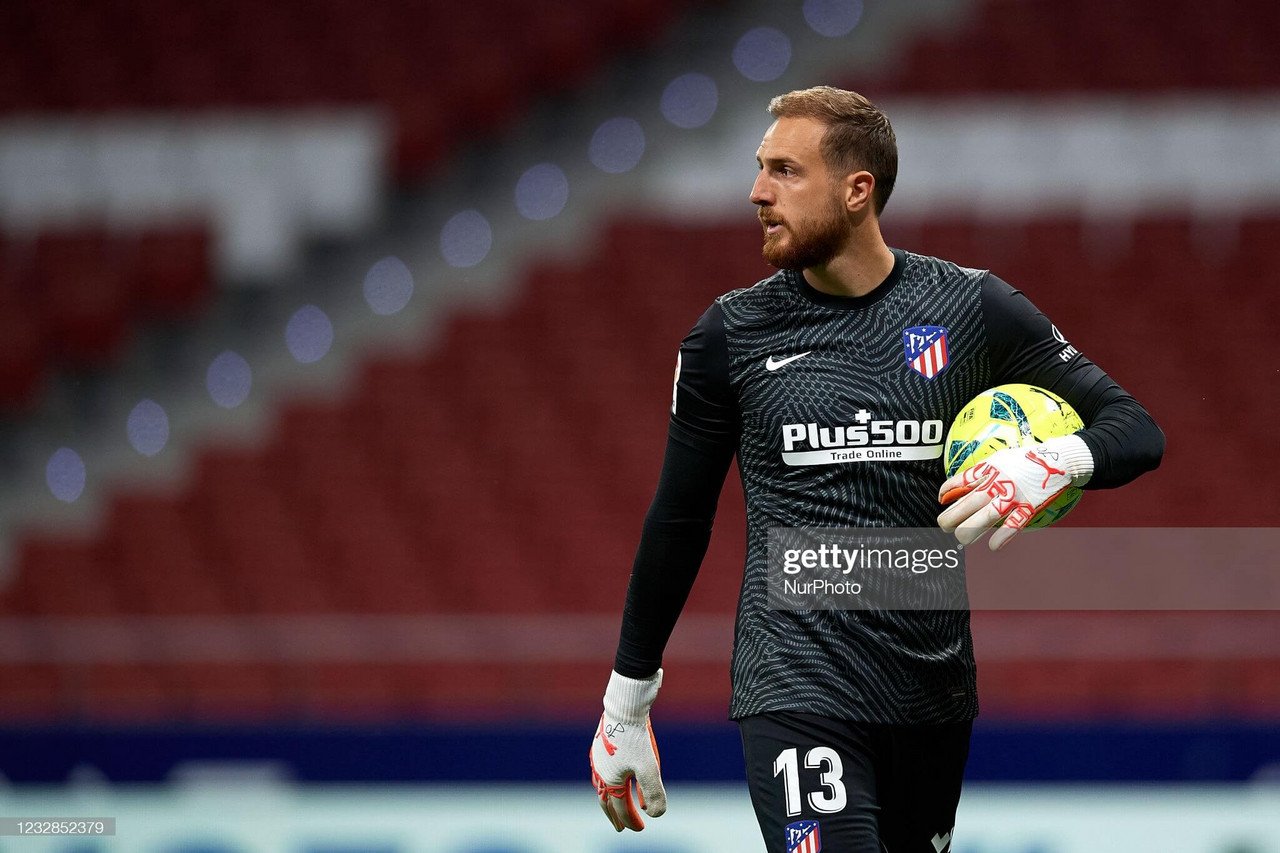 Diego Simeone could barely watch on as Atletico Madrid attempted to hang on to yet another narrow lead on Wednesday evening. They had seen their two-goal advantage reduced to a single goal and Real Sociedad were on the attack once more as time seemed to pass ever slower.
Simeone's solace could be taken in that it was Jan Oblak who was in goal, the calm head guiding the home side towards a vital three points. The Atletico goalkeeper is normally up to the occasion and in stoppage time, with the clock approaching midnight, he once again ensured his team saw it through, taking a step towards the title.
Atletico are now just two games away from seeing it through; their first title success since 2014, that is. The win which they managed to hang onto against Real Sociedad means Simeone's men have their destiny in their own hands.
Atletico lead Real Madrid by two points with two games to play. The penultimate day of the run-in is Sunday and should Zinedine Zidane's team drop points against Athletic Bilbao, then their city rivals can claim the title with victory over Osasuna at the Estadio Metropolitano. Atletico's home record this season is good: only losing once in the league, drawing three and thus gaining 45 of their 80 points on home turf.
Some stadiums in Spain will allow limited numbers of fans in this month for the final couple of games of the campaign. But the matches which count towards the title race will all be played in empty stadiums. Supporters will gather outside the Metropolitano, singing and lighting flares just as they did for the Osasuna game, in the hope that their team could be crowned Spanish champions for the first time in seven seasons this weekend.
Two games from title
If Atletico do see it through, then the approach will have been far from comfortable. At the beginning of February they were 11 points clear at the top of the table. They have led the table after 24 matchdays of the 36 played, but the pattern of their last two games, shifting from bullish Atletico into anxious Atletico tells the story of their season as a whole.
Their first 20 matches of the campaign included just one loss and two draws. In the last eight games they have dropped 10 points. It set up a title race for the ages, with four teams all in title contention with four games to go. Subsequently, Sevilla lost to Real and Barcelona's week featuring two draws - against Atletico and Levante - have all but ended their hopes.
That means that Atletico have only Real to see off now. In these tense times, Simeone looks to old allies. Koke will be vital in midfield for the final two games, leading from the centre. Goals would also be nice from Luis Suarez, who may be new to the club but is more than familiar with a La Liga title run-in.
But, perhaps more than most, it will be Oblak who Simeone will be relying on most to steady the team and help them over the final hurdle. The Slovenian has established himself as one of – arguably the – best goalkeepers in the world during his seven years in the Spanish capital. It was his finger-tip save to deny Leo Messi in last weekend's goalless draw that ensured the leaders didn't lose more ground to a title hopeful.
Oblak conceded the fewest goals in La Liga for four successive seasons between 2015 and 2019 and, despite being overtaken by Real's Thibaut Courtois last season, he has been even more instrumental in this campaign.
Remarkably, the Atletico goalkeeper has made 99 saves from 129 shots faced in this league season, which is a save percentage of 80.7 per cent. That is not only the best numbers for La Liga but also across the top five European leagues. It's his efficiency that has formed the backbone of Atletico's title challenge.
Simeone's side are rarely going to be the top-scorers of the division, although they have managed 63 so far this season, one behind Real, so thwarting opposition attempts and keeping clean sheets are always welcomed. It is what's defined Simeone's decade in charge. Oblak has played his part.
Atletico's defensive acumen is not down to their goalkeeper alone, however. The team defend as a whole; it's a principle - it can be restrictive but it can be effective too. It has led to Atletico being the arbiters of their own destiny. The title is their's to lose.