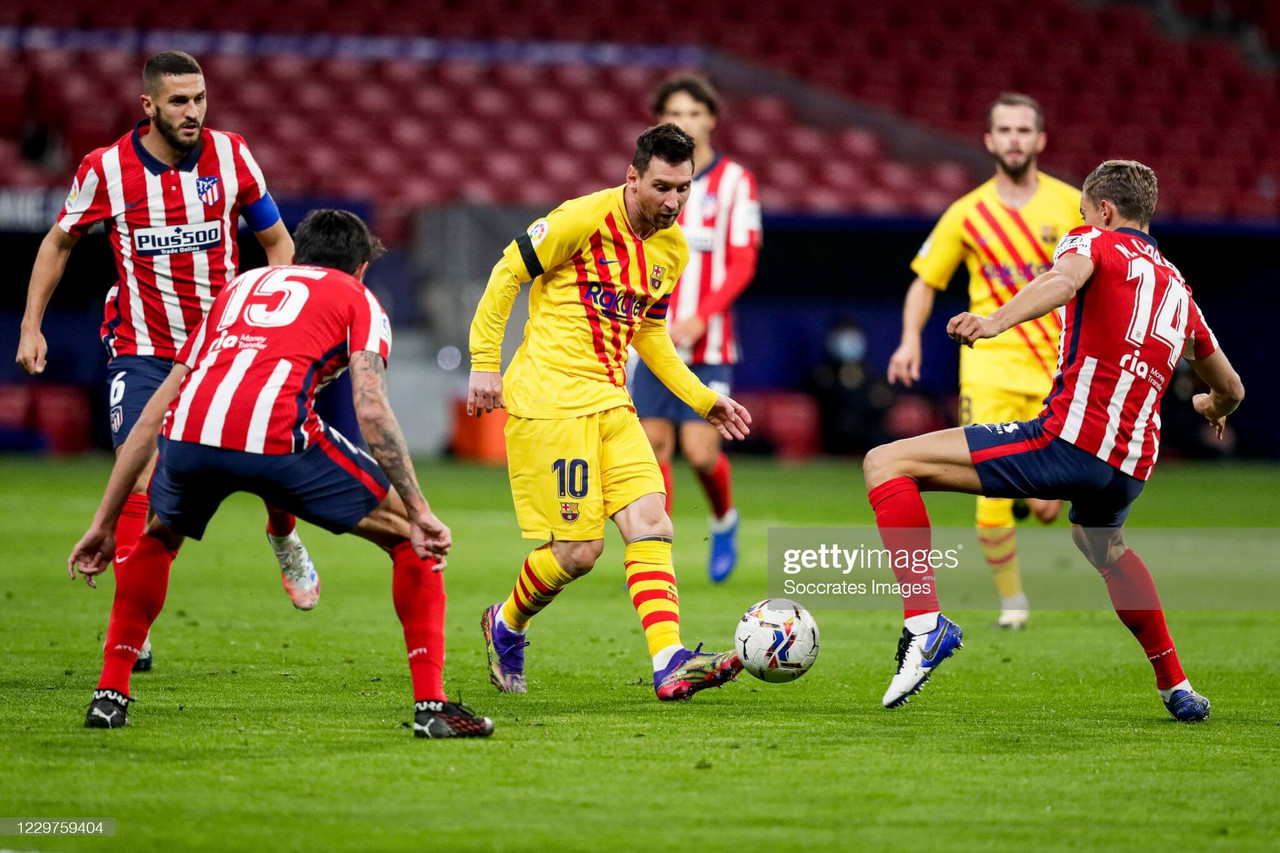 A La Liga weekend featuring Atletico Madrid -v- Barcelona and Real Madrid -v- Sevilla would be recommendable at the best of times, but this weekend even more so. For it's these four teams that are currently vying for the league title with four games remaining. As the finishing line comes into sight, all the favourites are approaching it together, all nervy of slipping at the last.
Quite simply, this is the tightest and most competitive La Liga title race in living memory. Not in almost 50 years has it mathematically been so close with only four games to play. What makes this upcoming weekend so pivotal is that the top four, all separated by six points, play each other.
Atletico Madrid (first on 76 points), Real Madrid (second on 74 points) and Barcelona (third on 74 points but with an inferior head-to-head) all won last weekend to keep the suspense alive and everything still a bit too close for comfort. Sevilla (fourth on 70 points) lost to Athletic Bilbao on Monday and with that their serious title challenge ebbed away somewhat.
Nevertheless, these are the top four teams in Spain - there is a 17 point gap down to fifth - and they will finish as the top four, but the order of which is yet to be decided.
Barcelona host Atletico
Atletico's trip to Barcelona on Saturday afternoon is a potential title decider and represents a massive game in the respective careers of coaches Ronald Koeman and Diego Simeone. Barcelona have a shot at the Liga-Copa double whereas Atletico could claim their second title of the Simeone era which has spanned a decade.
After a slow start, Barcelona have hit form, the best in the division, and confidence is rising in Koeman's approach. There was apprehension in the sheer number of youngsters the Dutch manager was throwing into the fray, now there is a positive belief that it was and is the right thing to do - albeit reinforcements are needed.
Pedri, Riqui Puig and Junior Firpo have all been given games, as have Ousmane Dembele and Ilaix Moriba, but still the spotlight naturally focuses on Leo Messi, who has enjoyed the latter part of this season so much that he is understood to be close to agreeing a new contract. Meanwhile, Frenkie de Jong has come into his own in midfield.
Two defeats in their past five games, against Real and Granada, have checked la Blaugrana's progress but victory over Atletico would see Barcelona not only leapfrog their opponents but also gain an upper-hand on that particular head-to-head, which is used for deciding places in Spain when teams finish on the same points.
For Atletico, this season seemed to be the one in which their title ambitions would finally come true having not won the league since 2014. This is very much a new-look Atletico and is a slight variant of the type of teams that one would normally associate with Simeone.
It is a team in need of the goals of Luis Suarez (19) and the creativity and versatility of Marcos Llorente, who has managed 22 goals or assists this season. Kieran Trippier is influential at left back along with Yannick Carrasco further ahead.
The sizeable lead that Atletico held at the top of the table only a few weeks ago has now gone, their form since the turn of the year has been inconsistent: draws against Levante, Getafe, Celta Vigo and Real Betis may prove costly, but those dropped points also showed that Atletico are not as good as they seemed earlier in the campaign. They have only won by more than two goals on four occasions this year. Trying to hang on to one-goal leads has proven troublesome and anxious too.
So much so that Simeone's stock is in decline, irrespective of Atletico's position in the table and the fact the title is their's to lose. Their anaemic display over two legs against Chelsea in the Champions League quarter-finals raised questions on a bigger stage as to whether Simeone still has the same touch as he once did.
A result against Barcelona is required for the Argentine and his players. "A duel with fear" was how newspaper Mundo Deportivo labelled it on Friday morning given the weight of the fixture on both clubs. A draw will not be a bad result for Atletico but a defeat would most likely be curtains.
Sevilla travel to Real Madrid
When it comes to Real, they were knocked out of the Champions League by Chelsea this week too. But despite some labelling Zinedine Zidane's side as "past it" and "short" in squad depth, they remain many aficionados' favourites to get the job done in La Liga - even though the manager has admitted that his players are at the "limit physically". The experience that los Blancos have could be instrumental.
Sergio Ramos is back, although he hasn't been missed too badly given the performances of Eder Militao and Nacho, but there will no doubt be a boost with his return. The Real captain, more than anyone else, epitomises Real's ability to rise to the occasion just in the nick of time.
Real's season looked doomed at the start of January but their defeat to Chelsea on Wednesday was their first since January 30; an improved run has brought them to where they now find themselves: in a position to salvage at least something.
Falling short in the Champions League will hurt, and it is yet to be seen if that will affect them in the league. Yet Zidane's team always seem to thrive just as the finishing line comes into sight.
They are the reigning La Liga champions and have beaten Barcelona, twice, defeated Sevilla, and won and drawn against Atletico. They have the best head-to-head record and those results also speak of how Real often get the job done. Nevertheless, it is hard not to agree that had it not been for Casemiro, who's held the team together, and Karim Benzema, the scorer of 21 league goals this season, they would be nowhere near this title race.
They will fancy their chances at home against Sevilla on Sunday evening. Sevilla's ambitions of claiming a first league title since 1946, which is their only triumph, are growing fainter. A run of seven wins from their last eight games brought hope but was stifled by Athletic and, given they face the toughest final three games of all the contenders, it will be some achievement if they do manage to pull it off.
Still, this is already historic for them, they're on course for their best season ever. "The players deserve huge credit," Julen Lopetegui, the manager, said last week. They have qualified for next season's Champions League earlier than ever before too. Maybe that sense of free rein will allow them to let themselves go and continue to believe until it is mathematically over.
It is still all to play for as all four take the final turn. The permutations are numerous, but the amount of games isn't. From now on, every detail is seemingly decisive, any moment is enough to dash title hopes. "Decision time" ran the headline in Marca on Friday. Anyone can make their move, anyone can take that step forwards, or backwards. Anyone can win it.