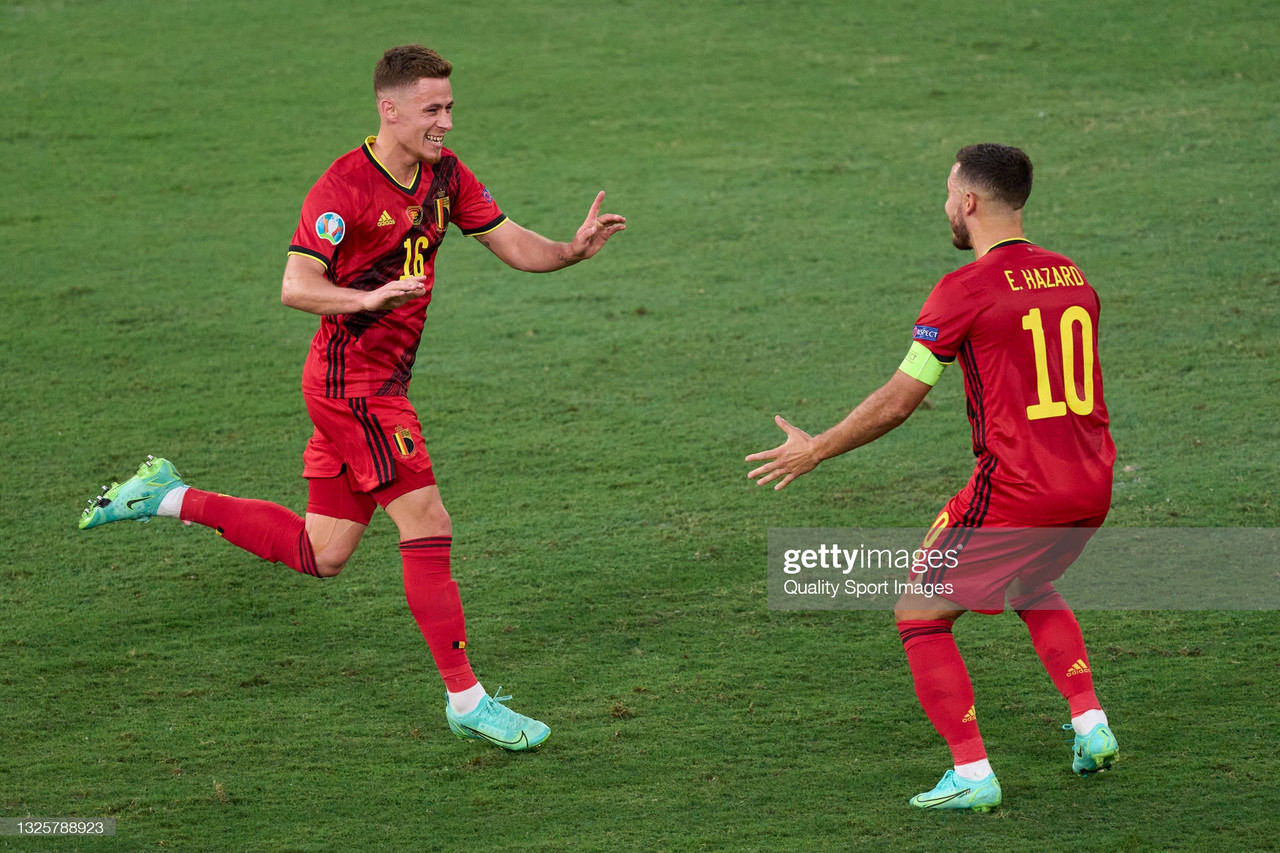 Belgium's golden generation finally fulfilled their potential as they dumped Portugal out of Euro 2020 with an assured and confident performance to move onto the quarter-finals.
Thorgan Hazard's goal shortly before half time was enough to decide a hard-fought encounter which saw both defences kept busy throughout.
All the pre-match talk surrounded Cristiano Ronaldo needing one goal to take the all-time men's international goalscoring record outright, but he simply did not receive the service he needed.
Story of the match
With both sides fielding star-studded line ups, the match was billed by far and away the best Round of 16 fixture, but it didn't live up to the hype until the second half.
Bruno Fernandes, who has transformed Manchester United since arriving in English football, was left on the bench and his absence was felt until he and João Félix entered the fray shortly before the hour mark.
Their emergence not only enhanced their team's showing, but the game as a whole and the final ten to fifteen minutes saw end-to-end football, but there was not enough quality in the final third to warrant the net bulging a second time.
Neither side created clear-cut opportunities in the entire match, so it took a moment of first-half inspiration from Thorgan Hazard to open the scoring.
As the interval approached, the diminutive midfielder took control of the ball, shifted it out of his feet and unleashed a rocket of a shot beyond Rui Patrício and into the back of the net.
At first glance it looked as though Hazard bagged one of the goals of the tournament but, after further viewing, Patrício should have done much better with the effort. The Wolves 'keeper took a step to his right as the shot took off and was unable to recover.
The reigning European champions failed to impress for large parts of the game, with two under-par Ronaldo free kicks summing up their frustrations before Raphaël Guerreiro came within inches of an equaliser - sending a brilliant side-footed effort onto the base of the right-hand post.
Belgium held on for a famous win. There was a down side for Roberto Martinez's men, however, when Kevin de Bruyne left the field injured.
The Manchester City playmaker, who is largely considered the best midfielder in the world, would be a huge miss for the quarter-final against Italy, but his comrades stood tall in this one. They can do it again.
Portugal should have started Fernandes
When the team news was announced, the whole footballing world stopped still when Bruno Fernandes' name wasn't amongst Portugal's starting 11.
As they failed to open up Belgium's defence all game, the national press won't be best happy with the decision. Tactics are important, of course, but you've got to start your most creative player.
Could this be Belgium's time?
Euro 2016 and World Cup 2018 were both supposed to be the tournament when Belgium's golden generation came of age, but they've never been able to put a run of consistent performances together to claim glory.
This summer, however, there is a real team feel about them - not just a group of world class individuals - so maybe this is when we see a new name on the Henri Delaunay trophy.
MOTM: Eden Hazard is getting back to his best
His brother's goal will take the headlines, but Eden Hazard was the man of the match. His trickery and low centre of gravity caused Ruben Dias and others no end of problems and, although he didn't get on the scoresheet himself, was instrumental throughout. Has he re-found his world-beating best? Let's find out against the Azzurri.