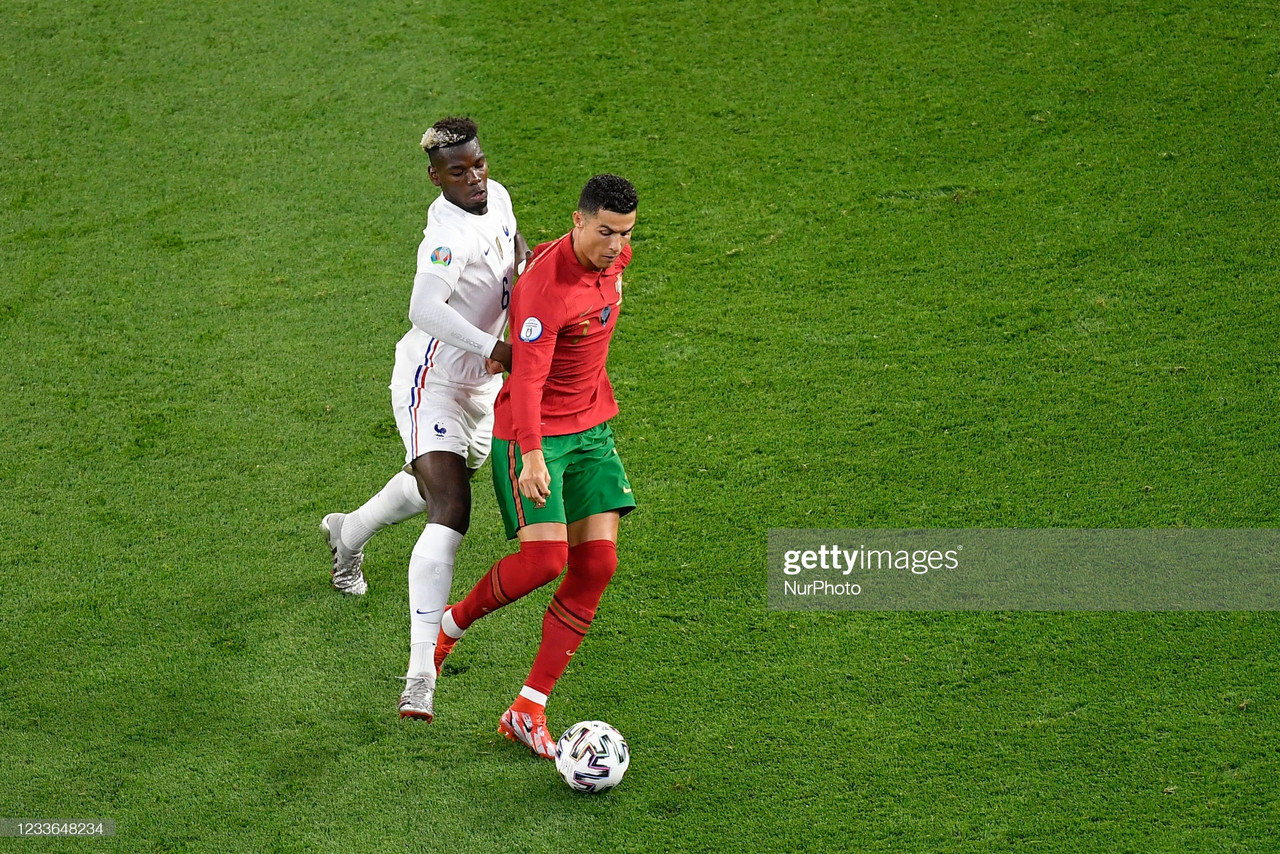 Goalkeeper – Thibaut Courtois
Two clean sheets against Finland and Russia is nothing to be scoffed at, despite the dominating nature of the performances. Despite just one save in both games, Courtois' excellent passing kept Belgium's high intensity meanwhile, his best performance came against Denmark. Despite conceding early on, Courtois' four saves kept Belgium in the game before a second half comeback lead by Kevin de Bruyne.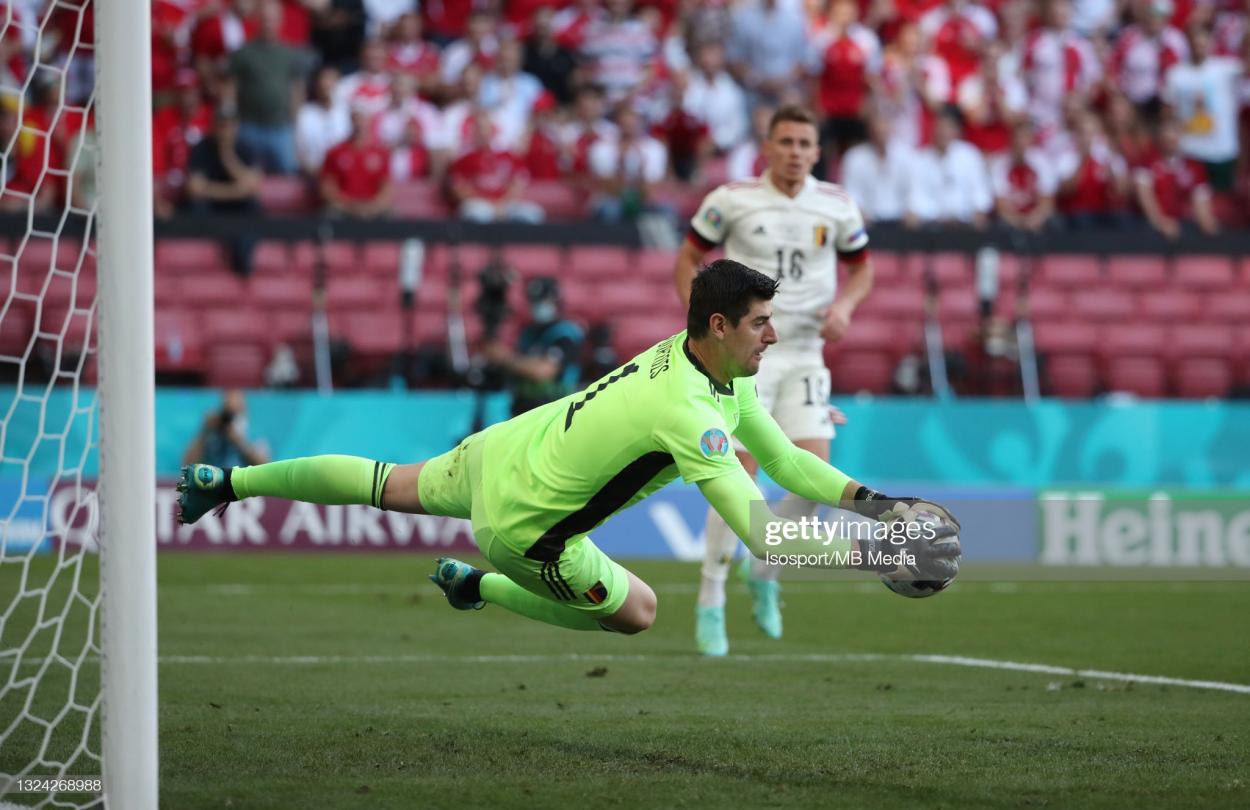 Right back – Denzel Dumfries
Key to an exciting Dutch team bombing down the right-hand flank. Holland manager Frank de Boer's decision to play a back three has relieved the PSV captain of much of his defensive responsibilities as centre back Stefan de Vrij would frequently push up behind him. His four key passes in the first two games show his creative influence on the game while, his winner against Ukraine helped his side acquire all nine points. Vital to the Dutch counter attacks, Dumfries would look to break as soon as possession was won being a constant out ball on the right-hand side.
Centre back – Raphael Varane
Solid at the back throughout France's three games, Varane's performances have placed him firmly in the shop window for a possible summer move away from Real Madrid. Cruical both defensively and in terms of progressing the ball, Varane held the defence firm against Germany in a backs to the wall performance although, in the other games the more adventurous Presnel Kimpembe pushes forward against low defensive blocks. Against more conservative sides Varane sees an awful lot of the ball with his passing able break the first line of low blocks.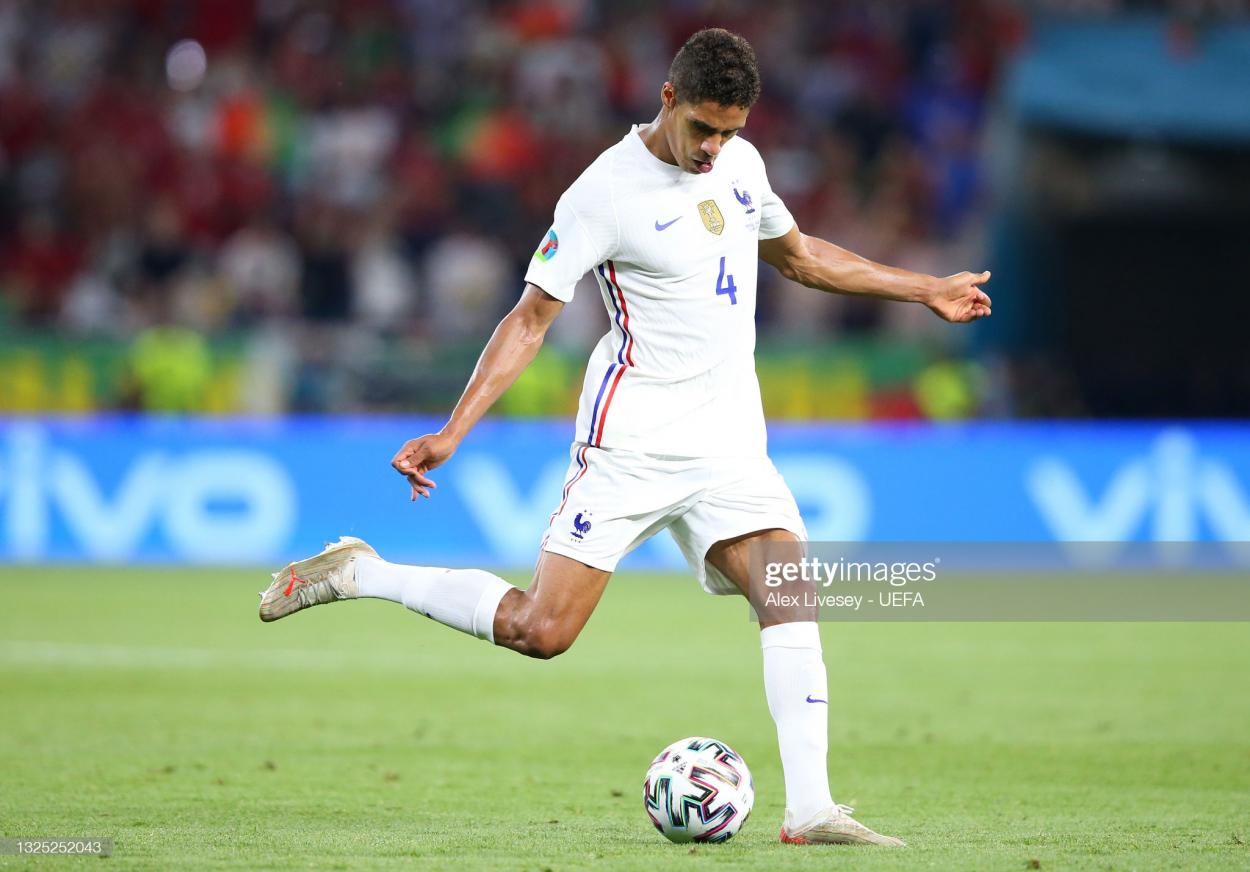 Centre back – Leonardo Bonucci
Vital to the first defence to win all three games while keeping a clean sheet. Despite being 34, the defender has appeared much younger being able to thank both his experience and the presence of his long-term partner, Giorgio Chiellini. Despite being a central defender, he has had far more of an impact offensively. Due to the Italy's preference to defend high up, Bonucci has been protected by his midfield while he takes up high positions even creating chances with his incisive passing.
Left back – Jordi Alba
Crucial in a Spanish team which has struggled to score while remaining solid defensively, the Barcelona full back was important down the left-hand side in a slow Spain side that often-lacked creativity. Six key passes (including an assist) across the first three games coming both from crosses and accurate long balls show Alba's creativity meanwhile, his defensive output allows Spain to keep possession high up the pitch.
Midfield – Paul Pogba
Arguably the player of the tournament so far, Pogba has shown how brilliant he can be in a system built around him, something Manchester United have so far failed at. Operating further up the pitch as France's key creator due to N'golo Kante's ability to cover so much of the pitch. Producing his best performance against Portugal when France reverted to their old 4-2-3-1 system Pogba was excellent in deep positions creating chances with penetrative long balls creating four chances across the tournament while, a superb Rui Patrico save prevented the midfielder from scoring a wonder goal.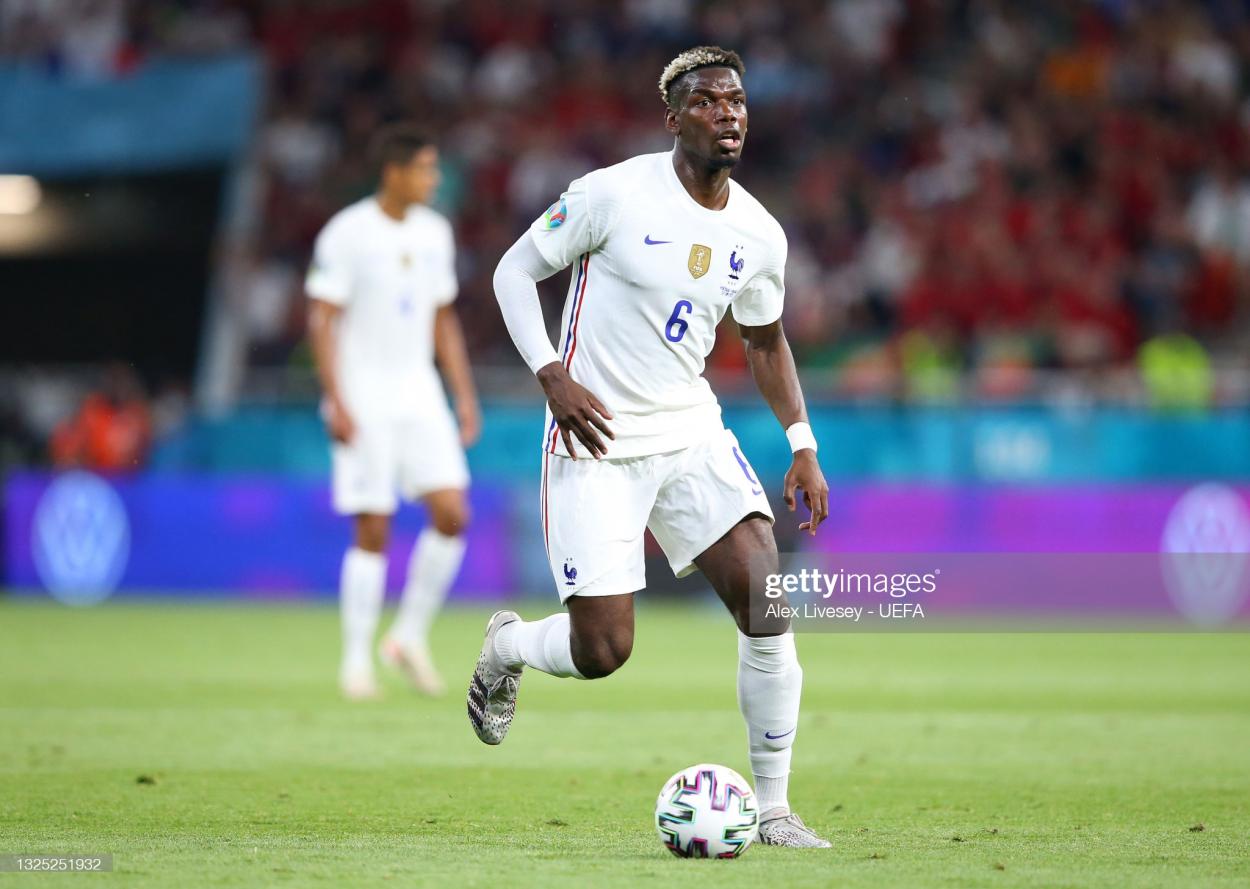 Midfield – Manuel Locatelli
Despite only being a stand in for the injured Marco Verratti, Locatelli has given manager Roberto Mancini a serious selection headache. The Sassuolo midfielder played on both the right and left of the midfield three in his two appearances, operating in wide areas relatively deep. Locatelli's superb passing ability is why he takes up these withdrawn positions where he is afforded space against deep blocks. The Italian preference of defending high up the pitch means that his three tackles allow Italy to both continue dominating possession and keep their opponents hemmed into their own defensive third.
Midfield – Georginio Wijnaldum
Playing in a far more advanced role during international duty than when playing for Jurgen Klopp's Liverpool, a new number ten role has brought out a more aggressive, interesting and creative player. The midfielder's aggressive role sees him play off the right of the two forwards often arriving late into the box looking for cuts backs or crosses. Defensively, despite playing further up the field, Wijnaldum still utilises his high work rate when off the ball. When the Dutch are out of possession the Liverpool man will drop back into midfield with the initial press is beaten, he frequently would cover for Dumfries on the right as well.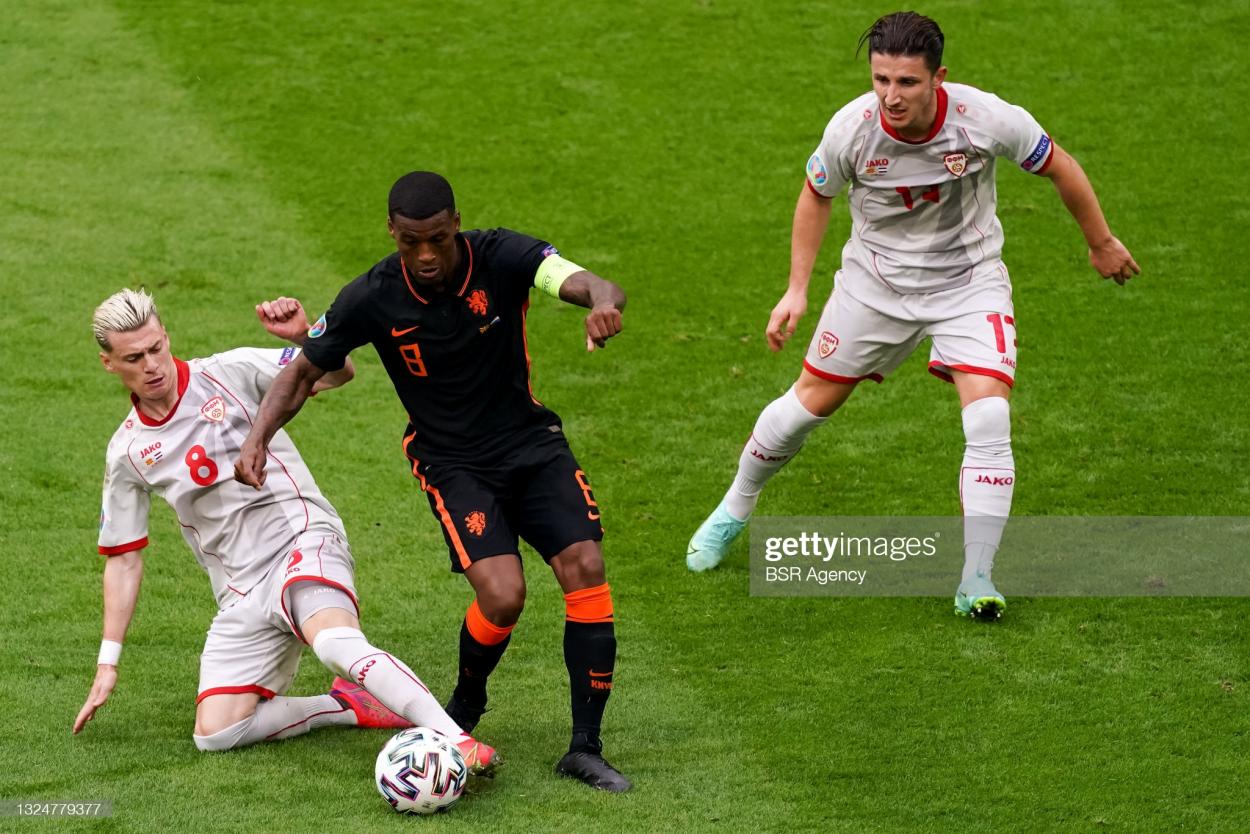 Right wing – Daniel James
A key cog to a surprising Wales side, being used mostly on the left. The Manchester United winger has been instrumental both on and off the ball so far. The speedster has been used to stretch defences with constant runs in behind on the left flank although, his final balls can sometimes fail, they have much improved with his left foot especially. Despite not having an assist he has created the most chances of the competition many of which coming from crosses on the left. Off the ball James' work rate means he relentlessly presses and harasses the opposition before looking to immediately break on the transition.
Striker – Romelu Lukaku
The Inter Milan striker has carried on the best season his career with a solid start to the Euros. The striker has provided not just a goal scoring threat for the Red Devils but a creative force too. The strikers large frame made him an obvious target for out balls which he kept relatively well however, at times there was often too big a gap between him and the rest of the midfield meaning the opposition would gobble up flick ons. Lukaku is not merely a target man though, his dribbling has been seen when balls have been put in behind defences completing six dribbles so far showing he is a threat both with his back to goal and facing it.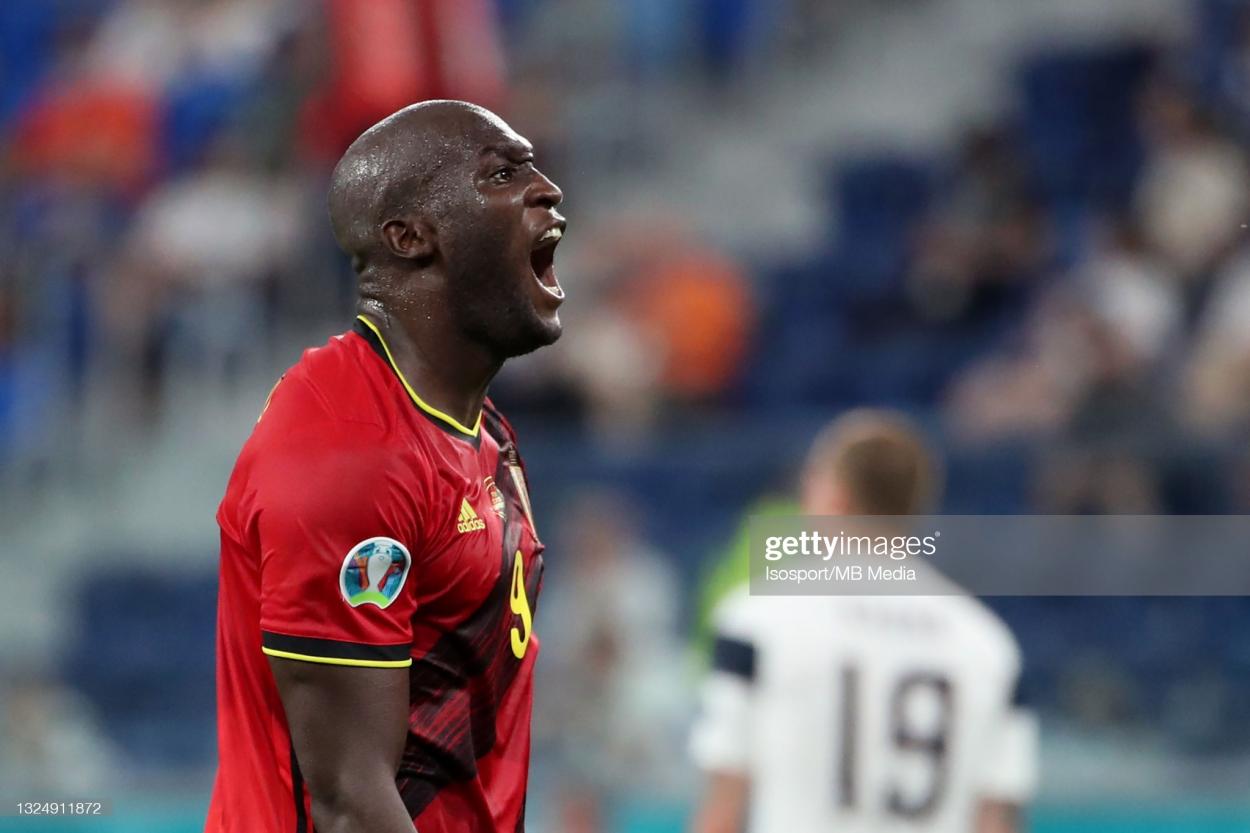 ​
Left wing – Cristiano Ronaldo
Playing in his fifth consecutive European Championship (a record) the all-time top goal scorer is having his most prolific tournament already with five goals in his first three games at the ripe age of 36. Unsurprisingly playing at the front of the Portuguese attack, Ronaldo's luxury status means he is relieved of defensive work whilst the likes of Diogo Jota and Bruno Fernandes pick it up. Ronaldo has become a poacher for a pragmatic Portuguese side left isolated for large parts of games although, Ronaldo's instincts and reliability means he can be trusted to score when the opportunity arrives.