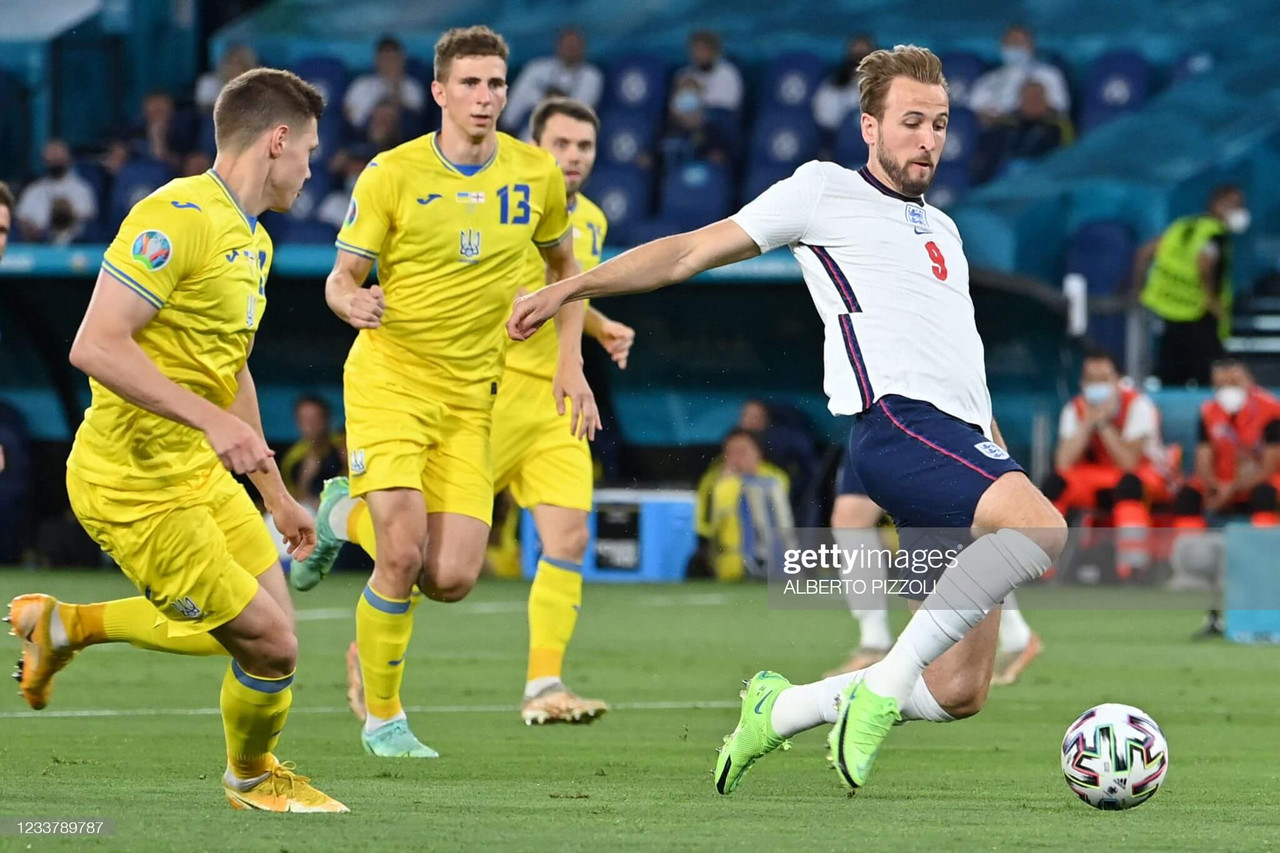 Those who were up in arms that Harry Kane hadn't got off the mark after three group games of Euro 2020 may now be using those same arms to applaud England's captain. He has scored three goals in England's past two victories over Germany and Ukraine to quieten the doubters.
Kane's talismanic influence and his body of experience, along with his evident talent in front of goal, are so valuable to Gareth Southgate's side. It must be said that the Tottenham Hotspur striker has cut a slightly weary figure at times during the Championship, with the lack of service no doubt being an issue, but all it took was for a break to fall his way and then he would be up and running.
He was the Golden Boot winner at the 2018 World Cup and is accustomed to fighting back against the doubters. Those who thought he was a one-season wonder at Spurs were put in their place when he rose to third in the club's all-time top-scorers after nine seasons. As England captain, he has been the face of the national team's push through the mental barriers to reach consecutive major tournament semi-finals.
Therefore, when he started slowly in group D and was outshone by Raheem Sterling, who scored both of England's two goals in the subdued group stage but were very much down to the work of his fellow striker, it was only a question of when Kane would break his own duck and provide even more tangible rewards on the scoreboard for those with difficulty observing the cuter elements of his play.
First, he stooped to head home a Jack Grealish cross to score the second against Germany at Wembley last Tuesday. Then, his quick movement and prodded finish brought the opener against Ukraine in Rome after just four minutes with a second arriving five minutes into the second half courtesy of a Luke Shaw delivery which Kane headed through the goalkeeper's legs.
"I have said all along as a striker the ball falls your way and sometimes it doesn't, today obviously it fell my way early," Kane said after scoring twice against Ukraine. "To get one early in the second half was important, I nearly got the hat-trick but Hendo [Jordan Henderson] scored from the corner anyway. That is part of being a striker. You have to be ready for the next opportunity and I will be ready for Wednesday."
This has been a tournament where England's defence has been rightly lauded. They are yet to concede a goal and have kept seven straight clean sheets. This is a team effort, Kane believes, and having a sturdy set-up has been vital in growing into the competition.
"That's what we're building on," he said. "We don't get carried away. We have a great unit from front to back and it's a vital part of winning games and tournaments. We have more experience, we have been playing for our clubs in big games, a lot of us in the biggest of games – Champions League finals and Premier League title races. We are looking confident out there."
'We have visions of winning these tournaments'
Having easily disposed of Ukraine 4-0 in the quarter-finals after defeating Germany for the first time in a major tournament since 1966, there is a sense of something building within the national team. Kane and a large section of the squad experienced the heartbreak of losing the 2018 World Cup semi-final to Croatia, but the England striker now feels that the team are better equipped for their latest semi-final when Denmark come to Wembley on Wednesday.
"Obviously there are a few of us in this team who played in that semi-final and we know how much it hurt not getting to the final and go all the way," Kane said. "It has been a great tournament so far and we have ticked off the boxes as we have gone along but the bottom line is we have a vision of where we want to be and it has to be winning major tournaments.
"We are on the right track but we have a very tough game coming up. We have our supporters there as well, we are going to have 60,000 in the stadium and we want to do them proud and friends and family proud."
The role of Southgate, the England manager, and his ability to take the whirlwind that surrounds the national team in his stride has not gone unnoticed by the captain. Kane said that the leadership and focus that Southgate brings is vital in England's success and will ensure that no complacency creeps in ahead of a seismic week.
"Gareth has been brilliant," Kane added. "I've known him for a long time. I've had him with under-21s through to the senior squad now and he just brings a real calmness to the squad, a real togetherness.
"The most important thing for him is for us to be together. Whether you're playing, you're on the bench or you're in the squad, there is a real team environment and all pushing in the same direction. He's a fantastic coach, he has great ideas. He does it how he wants to do it."