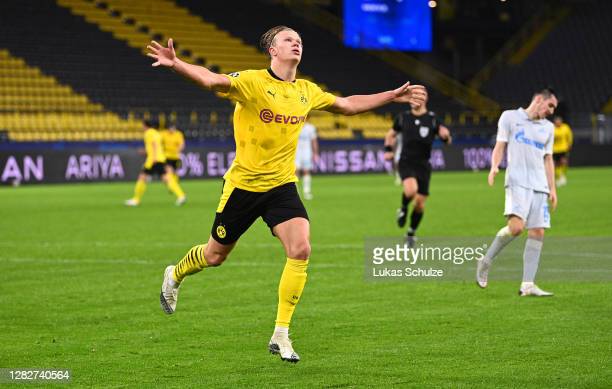 Erling Haaland scored an amazing 27 goals in 28 matches domestically last season as well as scoring ten goals in the champions league in just 8 appearances.
Haaland has continued his form this season managing so far to score 13 goals in 11 matches domestically unfortunately for Borussia Dortmund it means that many clubs want to sign him.
In addition he could leave for a mere €70 million euros due to a clause in his contract that becomes active this summer.
As a result Dortmund will know they will have to create a shortlist of strikers who could replace him. Here are five possible replacements.
Julian Alavarez
One of the lesser known strikers on this list, Julian Alvarez has made a name for himself playing for River Plate in the Argentinian top flight and is now one of the most sought after strikers in the world.
This season Alvarez managed to score 18 goals in just 21 matches domestically as well as getting 14 assists. As a result he is wanted by several big clubs in Europe such as AC Milan and FC Barcelona who are rumoured to possibly start talks to try and sign the Argentine.

Alavarez would be a good fit for Dortmund he is only 21 years old meaning he still has a lot of time do develop.

One of the other good things is that his current market value is £18 million meaning Dortmund could easily afford him and he has the potential to have a similar impact for them like Erling Haaland had when he first joined the club.
Dusan Vlahovic
Arguably the most well known striker on the list Dusan Vlahovic is starting to become one of the deadliest strikers in Europe with many teams in particular the premier league keeping an eye his situation.

Vlahovic scored 21 goals in 37 matches in Seri A last season and has continued his impressive scoring form this season managing so far to score 16 goals in 18 matches domestically.
His current market price is £45 million, however if he continues playing the way he is it could potentially increase.
Vlahovic would be a good signing for Dortmund to replace Haaland in particular because he has played in a top European league compared to some other players on the list and has a proven track record.
Karim Adeyemi
Like Haaland Karim Adeymi has made a name for himself playing for Red Bull Salzburg quickly becoming one of the best young attackers in Europe.

Adeyemi managed only to score seven goals in 30 matches last season, however this season he has been in blistering form scoring 14 goals in 17 matches.
Adeyemi also looks like the most likely player on this list to sign for Dortmund next summer.
Numerous news outlets are reporting that Dortmund have already agreed personnel terms and a five year contract with Adeyemi, and that both clubs are trying to finalise a transfer fee ahead of the potential switch next summer.
Darwin Núnez
Like Alvarez, Darwin Núnez has made a name for himself playing in a smaller league in his case the primeira Liga in Portugal and has become highly sought after.
So far this season he has scored 13 goals in 13 matches including several hat tricks it means that clubs like Manchester City are trying to sign him.
His current market value is £18 million pounds and would again like Alvarez be a potentially good investment for Dortmund in particular because he can play left wing as well as striker.
Youssoufa Moukoku
The cheapest solution for Dortmund if Haaland leaves next summer is to potentially make 17 year old academy wonderkid Youssoufa Moukoku their number one striker.

Having made his Dortmund debut at 16 last season he managed to get three goals in 14 matches, so far this season Moukoku has not scored a goal but has only played six matches due to injury problems.

While it might be unorthodox to have a 17 year old as the main striker, Moukoku has the potential to be as good as Haaland and could in two years find himself bring one of the best strikers in the world.