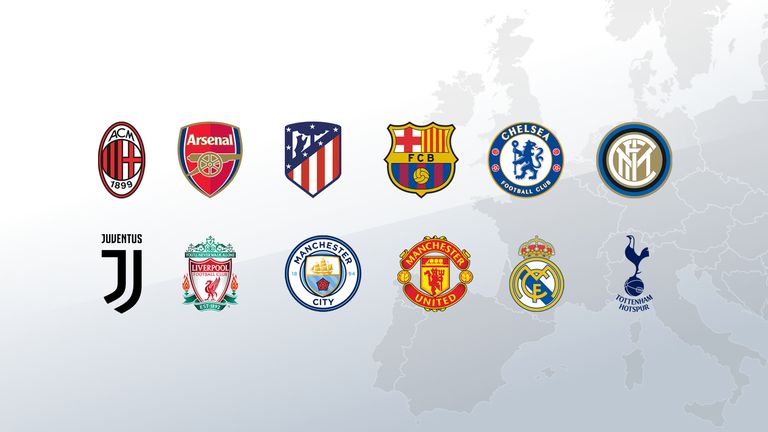 Money. Greed. Power.
These are a few of the reasons people believe twelve clubs have signed up to the proposed European Super League after details of the new format were released on Sunday.
Premier League sides Arsenal, Chelsea, Liverpool, Manchester City, Manchester United and Tottenham Hotspur will be joined by AC Milan, Atletico Madrid, Barcelona, Inter Milan, Juventus and Real Madrid.
And three more club could also sign up for the inaugural season, which will commence 'as soon as practicable' in competition with the Champions League.
'Forget fans at their peril'
That comes despite widespread opposition not only from across the footballing world, but also politicians.
FIFA has voiced its discontent, whilst UEFA has vowed to take legal action about a potential seismic development for the future of football. Even in the house of commons this afternoon, Culture Secretary Oliver Dowden said that owners 'should remember that they are only temporary custodians of these clubs and that they forget fans at their peril'.
Dowden also said that he had spoken to UEFA and the FA, adding that 'if they can't act, we will'.
The clubs involved have said that the ESL will benefit football as a whole, but critics say it's driven by greed.
The move has been condemned by fans, pundits and by most football bodies not involved. With the teams involved not facing qualification or relegation, it has the ability to create a closed shop at the top of football.
There is no doubt that football club revenues have been hit hard by the Covid pandemic, with disrupted fixtures and a lack of spectators.
And the founding clubs have been enticed with a share of a £3billion grant provided by investment bank JP Morgan.
The structure seems to emulate that of the NFL in America, but the ESL argues that the new tournament 'will provide significantly greater economic growth and support for European football'.
FIFA, having previously said it would not recognise a breakaway European league, has expressed its 'disapproval' and called on 'all parties involved in heated discussions to engage in calm, constructive and balanced dialogue for the good of the game.'
'Spit in the face of all football lovers'
UEFA president Aleksander Ceferin has strongly condemned the proposals, branding them 'disgraceful' and a 'spit in the face of all football lovers'.
The head of the European governing body also confirmed any players featuring in the ESL will be banned from the World Cup and European Championships, with bans for the latter competition being sought 'as soon as possible'.
Ceferin spoke at a media briefing after this morning's UEFA Executive Meeting, and when asked if the proposals would stop any players from competing in Euro 2020, he said: "We're still assessing the situation with our legal team. It's a bit too early.
"We will take all the sanctions that we can and we will inform you as soon as we have a clear answer. My opinion is that, as soon as possible, the players have to be banned from all our competitions.
"I cannot stress more strongly UEFA and the footballing world are united against the disgraceful, self-serving proposals we have seen, fuelled purely by greed.
"It's a nonsense of a project. This idea is a spit in the face for all footballer lovers and our society. We will not allow them to take this away from us."
Ceferin added he was "naïve, there are snakes close to us" over the ESL proposals.
He strongly criticised Man. United executive vice-chair Ed Woodward, who has stepped down from his roles within UEFA alongside his club's withdrawal from the European Club Association.
"I was a criminal lawyer for 24 years but I've never, ever, seen people like that," Ceferin said. "If I start with Ed Woodward, he called me last Thursday saying that he's very satisfied with reforms and he fully supports them. Obviously he already signed something else."
He revealed that the meeting on Monday morning decided on a new Champions League format to run from 2024, with no more groups and all teams in one ranking, playing ten different opponents home and away.
When asked if the Champions League could proceed without the 12 clubs signed up to the ESL, Ceferin said: "Yes, of course. In Europe there are many good clubs. We will do it with or without them."
EFL, Premier League back UEFA's response
The EFL, SPFL and governing bodies of German football say they will stand in solidarity with UEFA in response to the ESL proposals.
In a statement, the EFL said: "A strong pyramid based on promotion, relegation and ultimately European qualification, is fundamental to our game's continued success. The EFL opposes any reform that doesn't support competition integrity or offer clubs the prospect of one day competing at the highest level of the game."
A joint statement from Deutscher Fussball-Bund and DFL Deutsche Fussball Liga added: "We cannot allow the financial interests of a few top clubs from England, Spain and Italy to result in the abolition of established structures.
"Football in Europe also lives from the fact that it is theoretically possible for any club to compete with the best on the continent. This dream must not be replaced by an almost closed society."
Jurgen Klopp has strongly indicated he remains opposed to a proposed European Super League despite Liverpool pledging to join the breakaway league.
'My opinion didn't change'
In 2019, Klopp was public in his criticism of Super League proposals, saying: "I hope this Super League will never happen. With the way the Champions League is now running, football has a great product, even with the Europa League.
"Of course, it's economically important, but why should we create a system where Liverpool faces Real Madrid for 10 straight years? Who wants to see that every year?"
Reminded of those quotes by Sky Sports ahead of Liverpool's game at Leeds, Klopp responded: "My opinion didn't change. Obviously I heard for the first time about it yesterday, and trying to prepare a game, a very difficult game against Leeds, and I knew so far we got some information, not a lot to be honest.
"It's a tough one. People are not happy about it, and I can understand that, but I cannot say a lot more about it because we were not involved in any processes, not the players not me, we didn't know about it. That's the case or the fact, the facts are out there. We will have to wait to see how it develops."
Notable absentees
When the 12 clubs plotting to form a European Super League were revealed on Sunday evening, the list contained three notable absentees: Bayern Munich, Borussia Dortmund and PSG.
The latter was perhaps the most surprising - you'd have been forgiven for thinking PSG would be spearheading the scheme. The French juggernauts are renowned for their extravagance both on and off the field; a club defined - or perhaps, redefined - by money more than any other on the continent. Champions League finalists last season, they are the only one of this year's semi-finalists not on the breakaway list.
Bayern, meanwhile, are the reigning European champions. No "Super League" comprised of the biggest and best teams on the planet should exclude the Champions League holders. Borussia Dortmund, one of the most respected and widely supported teams in Europe would also make the cut of any football fan's "biggest and best" list. So why aren't these clubs joining?
PSG's status as the biggest and best team in France is assured regardless of whether they seal a fourth straight Ligue 1 title this season (an eighth in nine seasons). They reached the Champions League Final last season, are the fourth most valuable club in Europe, own the two most expensive players in the world and pride themselves on being a symbol of footballing extravagance.
Therefore, the announcement that they're not involved has raised eyebrows, and the touted explanation may also surprise. According to reports, PSG are yet to commit due to their loyalty to UEFA president Ceferin.
UEFA released a statement on Sunday evening condemning the 12 clubs involved and threatening sanctions. Decision-makers, led by Ceferin, are said to be outraged and PSG are not inclined to tarnish their relationship with the UEFA boss, which has been described as "close". It is unknown whether they will be open to joining at a later date.
The fact no German clubs will be involved is also interesting, such is the regard German football is held in across the continent. Bayern, who claimed the treble in 2019/20, are an especially eye-catching absentee.
Shortly after the story broke, the DFL denounced the Super League, with CEO Christian Seifert writing that a Super League would "irreparably damage national leagues".
It's a strong stance, but this wouldn't have been enough to prevent Bayern and Dortmund from joining if they'd wanted to. The Premier League is also against the plans and that didn't stop six of their clubs from signing up.
Yet the very nature of German football means Bundesliga clubs were always unlikely instigators. German football's 50+1 rule - which gives members of each club the final say on important decisions - makes it impossible for board members and CEOs to do as they please. Everything from shirt sponsors to stadium rebuilds must be rubber-stamped by members and the Super League is unlikely to have been given the green light.
Another thing to consider is that Bayern and Dortmund are overseen by former players. Club legends Karl-Heinz Rummenigge, the CEO of Bayern Munich, and Michael Zorc, Borussia Dortmund's Sporting Director, appreciate the legacy and traditions of their clubs more than many of their counterparts across Europe. Rummenigge and Zorc both starred in the Bundesliga and European Cup for their sides, and one assumes they would not want to devalue their own achievements by alienating their clubs from the same competitions.
'There have to be some consequences'
And as a result of their association with the ESL, UEFA executive committee member Jesper Moller has said that Real Madrid, Manchester City and Chelsea could be banned from this season's Champions League semi-finals.
Real Madrid are due to face Chelsea and Manchester City are drawn against Paris Saint-Germain - who have not agreed to join the breakaway league.
Arsenal and Man. United, who have also signed up to the plans, remain in the Europa League.
In an interview with Danish broadcaster DR, Moller, who is head of the Danish FA, said: "There is an extraordinary executive meeting on Friday where I expect the 12 clubs to be thrown out.
"I think that we, who love football, have had it. Someone has to draw the line and find out which way the clubs should go. We owe it to our fans and everyone who loves football.
"The clubs should be thrown out and I expect it to happen on Friday. Then we will see how the Champions League will finish.
"I don't think they can do it to the fans and to everyone who loves football.
"During the weekend, some people negotiated with the other side, which is not fair to the president of UEFA and those who have spent time on the Champions League model in the past years. They can't do that.
"There have to be some consequences, and, this time, I think there will be."
With further talks to happen after the UEFA Congress on Tuesday, just how far the governing body will go to punish these teams from putting the integrity of their competition at risk will be there for all to see.