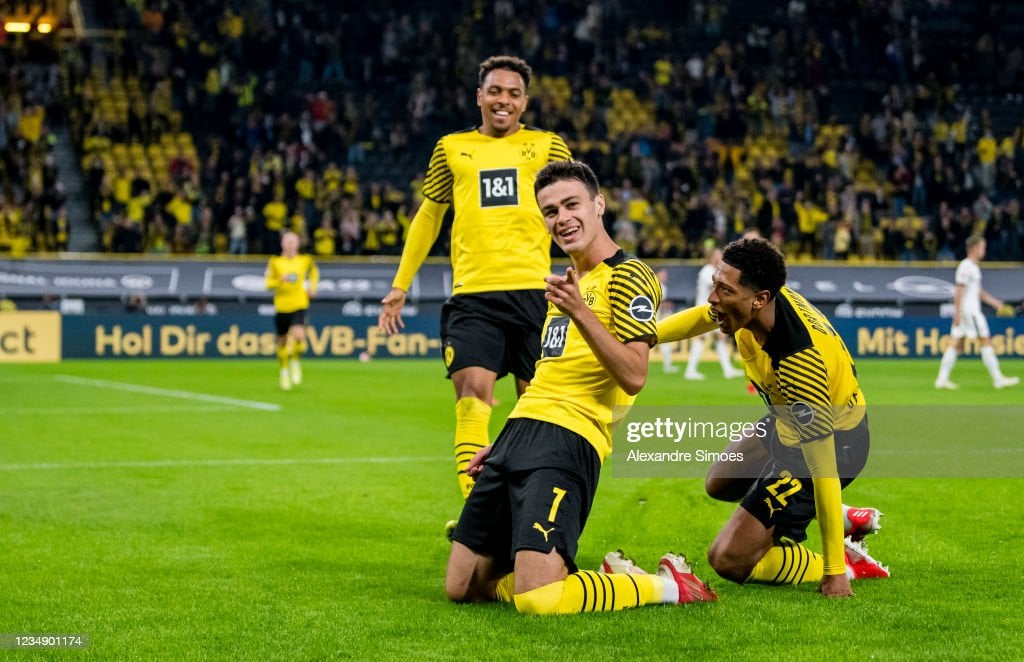 Borussia Dortmund has always had a history of producing talented young players, and their current crop of youngsters is exciting.
These are five players who should become regular starters in the next few seasons for Borussia Dortmund.
Nnamdi Collins
Borussia Dortmund have got quite a few good first-choice Center backs, however, some of them are getting towards the end of their career most notably veteran Mats Hummels who is now 33-years-old. It means Dortmund will be starting to think about replacements, fortunately, they do not need to spend any money as Nnamdi Collins can fill the role.
Collins is just 18 years old and currently plays for Dortmund's U19 team however is quickly gaining a very good reputation. So far this season Collins has played 16 matches scoring twice and getting an assist however he has also struggled with injury. But if he continues progressing as he is, then in the next few seasons he could breakthrough into the Dortmund first team.
Giovani Reyna
Probably the most senior player on the list Giovani Reyna is already part of the first team squad however at the moment he is not a regular starter because he is competing against players such as Marco Reus and Julian Brandt who have more experience than him and at the moment and are playing very well. In addition, Reyna has also been injured for most of this season limiting his opportunities.
As a result, Reyna has only played eight matches scoring twice and getting one assist. However, his quality is clear as shown by his stats from last season where he played 46 matches in total managing seven goals and eight assists. In addition, Reyna is already a fully-fledged international for the United States having played nine games and getting four goals and one assist.
Youssoufa Moukoko
One of the most exciting players on this list Youssoufa Moukoko may only be 17 years old but is already looking like the real deal. Like Reyna, Moukoku is also involved with the first-team squad this season even though he is still only 17 years old.
Moukoku only broke into the first team towards the end of last season as he managed to score a mind-boggling ten goals in just three matches for Dortmund's U19 team. So far this season Moukoku has played 19 matches including two in the Europa League and one in the champions league and has got two goals and two assists. If he continues to work hard and gets his numbers up in a few seasons time he could very well become Dortmund's first-choice striker and one of the most promising youngsters in the world.
Soumaila Coulibaly
Like Collins Soumaila Coulibaly is another talented young defender who is part of the Dortmund first team. Coulibaly worked his way up through the ranks of Paris Saint German before deciding to make the switch from France to Germany.
Coulibaly has played 12 matches so far this season. Although all his matches have been played with Dortmund's second team in the 3. Liga he recently made the step up to the first team and was included in the Dortmund first team matchday squad for their draw at FC Augsburg last Sunday.
Abdulaye Kamara
Like Coulibaly 17 year old Abdulaye Kamara is a product of the PSG academy and worked his way up the ranks even playing for the U19 team even though he was only 16 years old. He also made a senior appearance for PSG in a friendly against Sochaux.
PSG wanted to offer him a professional contract however he turned it down in favour of making the switch to Germany. Kamara has played 25 matches so far this season for Dortmund's youth teams scoring three goals and getting one assist. However if he continues to perform, in the next few seasons he will break into the Dortmund first team squad.
So even though Dortmund look set to lose Erling Haaland this summer the future is bright with so many talented young footballers in its ranks.