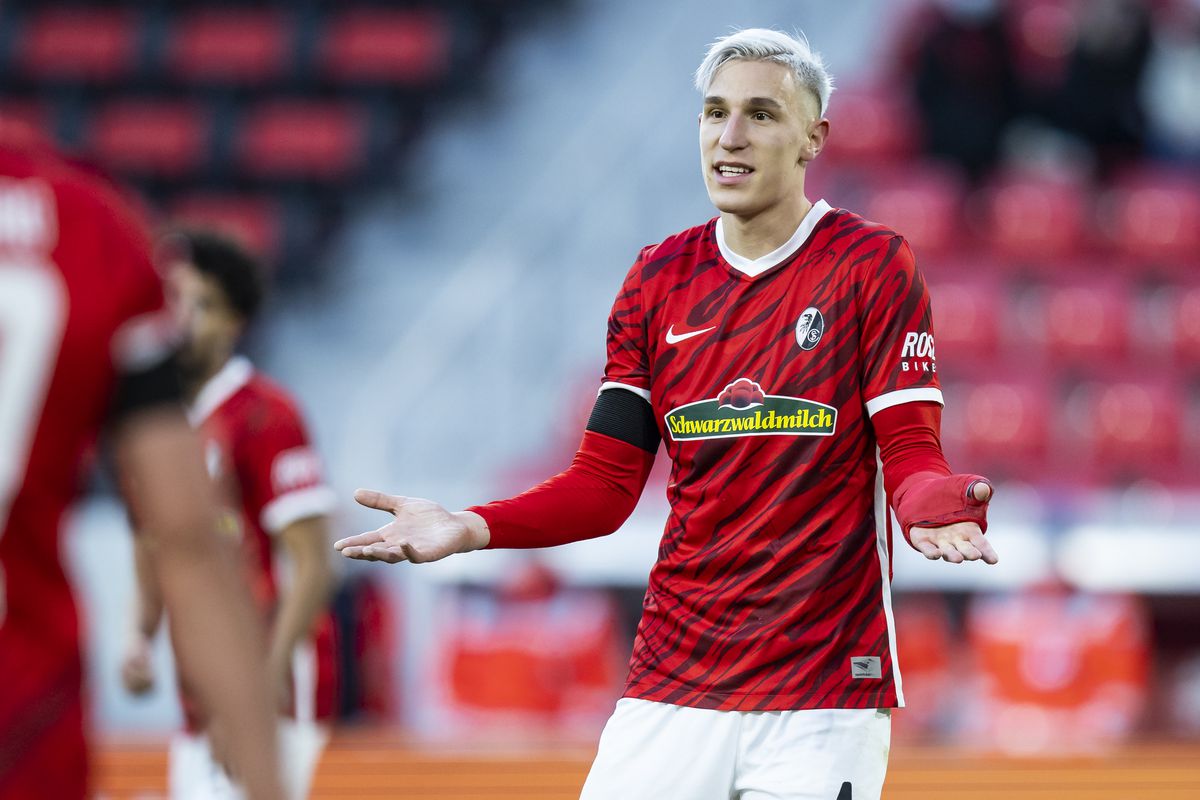 Nico Schlotterbeck is one of the most promising defenders in the Bundesliga, meaning he is a wanted man across Europe. Here is a look at his playstyle and where he could end up.
His career so far
Nico Schlotterbeck has grown up surrounded by professional football. His uncle Niels Schlotterbeck boasted a playing career that spanned over 16 years and it looks as if he has passed his torch on to Nico and his older brother Keven Schlotterbeck.
The younger Schlotterbeck followed in his brother's footsteps, accepting a loan move to Union Berlin from Freiburg for the 2020/21 season. Despite the exciting opportunity available to Nico, injuries plagued his time in the capital and he only amounted to 15 league starts before he returned to his parent club.
Since his return to Freiburg, Nico Schlotterbeck has played 21 games so far this campaign, and he has excelled in multiple systems. The Breisgau-Brasilianer have been the surprise package of the Bundesliga season, fighting with the likes of Bayer Leverkusen, RB Leipzig and Hoffenheim for a Champions League spot while competing with Bayern Munich for the most ridged defence in the league, something Nico Schlotterbeck has been hugely influential in.
The 22-year-old has benefitted from Christian Streich's ability to manage and nurture younger talent within the Freiburg academy, with Schlotterbeck being one of eight members of the squad that graduated from the Freiburg Football School.
Playstyle
Schlotterbeck played a similar position at both Freiburg and on loan at Union Berlin as a left-sided centre back, which has allowed him to utilise his strengths. Schlotterbeck is a proactive and aggressive defender who often steps out of the defensive line to halt passes into a forward and often forces a turnover in possession when pushing up.
His reading of the game allows him to nip in front of attackers to pick up the ball and put Freiburg on the front foot. When winning the ball, Schlotterbeck likes to drive forward with the ball and carry his side into the opposition's half and the German also has the passing ability to switch play to keep an attack alive.
Out of possession, the defender also likes to cause problems for the opposition, stretching the field of play, when he is playing in a back three, whilst also having the freedom to move forward and become an extra option in attack.
Standing at 6'2", he is also a threat in the air, in both boxes. Timing his leap to reach the ball ahead of his opponent. This is just one of many areas that Schlotterbeck excels in and the young German is quickly becoming a quality all-round centre back, that could be an asset for many teams across Europe.
The next step
It is only the start of what looks to be a promising career for young Schlotterbeck, but there are many clubs that could improve with the 22-year-old in their ranks, one of them being Newcastle United.
Since the takeover in October, the Magpies have been on the hunt for a young centre back that could lead Newcastle to their desired goals. With Champions League-experienced Sven Botman and Diego Carlos, the top two targets on the wishlist, Schlotterbeck is a perfect choice if Newcastle's new owners want to be reserved with their spending. His ability to play in a three-back and in a back four formation gives Eddie Howe the option to be more pragmatic with his set-up. He also has the potential to compete at Newcastle, even if they reach the Champions League.
At 22, Schlotterbeck has a long time until he hangs up his boots. However, if he is in more urgent need for European football, remaining in German could be his best bet and progressing his career within his homeland, at a club like Borussia Dortmund, could be ideal as he continues to grow his stock in world football.