Northern Ireland manager Michael O'Neill admitted that Poland were the better team and fully deserved their 1-0 win at the Stade de Nice on Sunday.
Poland were in charge of the game right from the start with the Northern Ireland players struggling to get out of their own half. The team defended well for long periods of the game but were undone when Arkadiusz Milik found the net five minutes into the second half.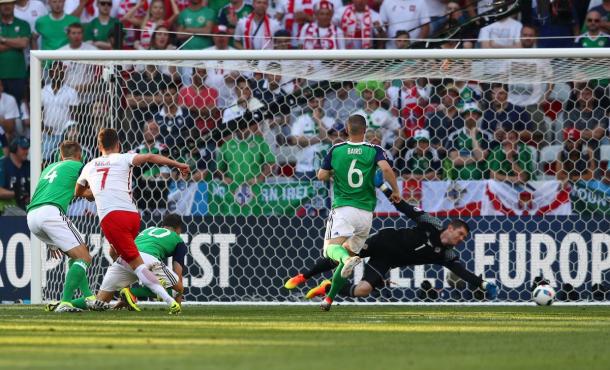 O'Neill admits better team won
O'Neill felt that his side done well to stay in the game until the end but acknowledged that his team did not deserve anything from the game.
O'Neill said that the game was "very difficult" as Poland "we're excellent" and we were "overpowered by the physical strength" that the Poland players possessed. The manager continued to say that "we tried everything after going behind" but he admitted that the players struggled to "create anything" and the "better team won."
O'Neill says that the team did not "come into the tournament thinking we would be disgraced" as the team were confident after having a great qualifying campaign. He went on to say that the team "didn't get the ball quick enough into the final third" and if that is not happening then goals are hard to come by.
O'Neill still belives his team can get through the group
The result against Poland leaves Northern Ireland up against it to try and get out of their group and now need to beat Ukraine in Lyon on Thursday to stand any chance. O'Neill though is refusing to throw in the towel just yet and believes the team can still make it through the group.
O'Neill says that "we have to find a way to get something from the final two games" which won't be easy with the quality of opposition they have to play and O'Neill feels that the team "face an equally stiff test against Ukraine" as they did versus Poland. The manager says that the positives the team can take from the Poland game are that "we had the chance of getting a result right until the final whistle."
O'Neill believes Poland will test every team they play
When asked about whether the team put all of their concentration on stopping Robert Lewandowski and forgot about Poland's other star players O'Neill said "Poland will be a good test for any team" as they have many good players including "Kapustka" who was excellent during the game.