France go into the game against Albania looking to secure their spot in the final 16 at Euro 2016, while Albania look to secure at least a point in order to not end their European hopes.
As Didier Deschamps looked ahead to his teams upcoming fixture he commented on his teams opposition labelling them as tidy but also threatening on the break. He also commented on his own teams strengths and weakness admitting that his players need to look for more gaps and to move the ball from one phase to another quicker. Deschamps however was careful to not reveal anything about his tactics and line up for tomorrow, but instead praised Dimitri Payet, while dismissing concern for Paul Pogba's form.
Albania are well organised
Deschamps labelled Albania as "very organised' thanks to their "Italian coach, who has done a great job". Deschamps added that they "defend well" but are also "good are breaking forward quickly". He also praised their work effort saying "it's impressive how much ground they cover". Deschamps also added that the Albanians "have good attacking players who can cause sides problems".
When talking about the how his team must advance he commented that they must be "neater and tidier" as well as trying to "find the gaps" in order to "get forward quicker from one phase to another".
Dechamps dismissed starting XI rumours
When asked about whether he would drop superstars Paul Pogba and Antoine Griezmann he replied with a simple "you'll find out tomorrow night". Pogba has failed to replicate his amazing form for Juventus consistently for his national team, and when Deschamps was asked about this he commented that, "he doesn't have the same shirt on. He's not playing in the same formation". His manager admitted that Pogba has "played some less impressive games" but he will not try to "use him in a similar fashion to how he is used by Juventus".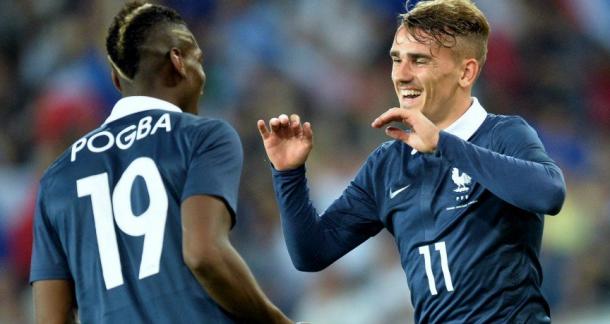 When the conversation turned towards Dimitri Payet, Deschamps commented that, "[he] thinks he's really improved" and that this is obvious from his performances. Deschamps added that Payet has "always been very technically gifted [but] now he's very consistent" suggesting that this is one of the reasons Payet has been handed a bigger role for Les Bleus.
Dechamps looks forward to Vélodrome return
Deschamps has expressed his excitement at returning to the Stade Vélodrome as it is "synonymous with a proper football atmosphere". The manager also believes the "crowd will be really fired up" and so creating "a great atmosphere". Deschamps added that "it's nice to be here and see people who I spent time with as a coach and player". Deschamps played at the Vélodrome between 1989 and 1994 before returning as manager between 2009 and 2012. He further added that the surroundings weren't "the same as they are today" but "there's huge support from the French fans".