On Wednesday, the expected transfer of İlkay Gündoğan from Borussia Dortmund to Manchester City was finally completed.
The German midfielder moves to the Premier League giants on a four-year deal, taking him through to 2020.
No official fee has been announced, although rumours before the deal went through suggested a figure around €25m.
A stellar career so far
Gündoğan, despite being sidelined at the moment with a dislocated kneecap, shone for Dortmund after getting over the previous seasons of injury woe.
The 25-year-old has had rotten luck with set-backs, but controlled the BVB midfield with ease and class when in the side - something which will be hard to replace.
He accumulated three goals and seven assists in his final season in black and yellow, and leaves on good terms with the fans and club.
The Turkish-German enjoyed his footballing education with VfL Bochum before 1. FC Nürnberg snapped him up and gave Gündoğan a first-team shot.
After impressive in his three-season stint in Franconia, a move to Dortmund beckoned and he became one of the most highly-rated central players in football.
157 appearances, 15 goals and 21 assists followed as he helped take BVB to a league and cup double. Gündoğan also has 16 Germany caps.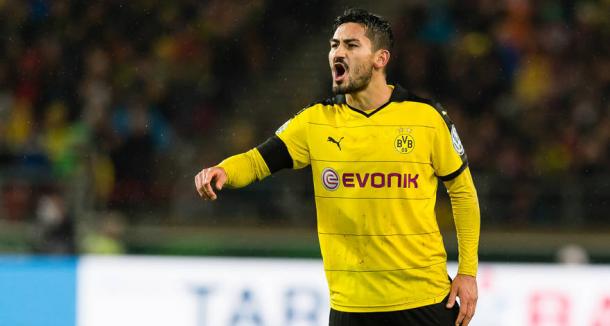 Guardiola got his man
Many have speculated that incoming manager, Pep Guardiola was keen to tie down Gündoğan with Thiago unavailable; he's done just that.
Speaking to the City website, Gündoğan admitted he was "thrilled" to have sign for the Manchester side. He also said that his "heart was set on coming here".
Gündoğan praised his former club, saying he "loved" his time at BVB and added: "I would like to thank the club and the supporters for the five very happy years I spent there."
He credited them for giving him "a platform to play on" and believes he "became a better player" due to the "belief, patience and trust" the Westfalen outfit put in him.
"Now I have a new challenge and that is to achieve great things with City," Gündoğan continued.
He said the "opportunity to work with a coach like Pep Guardiola" is something he is "really looking forward to".