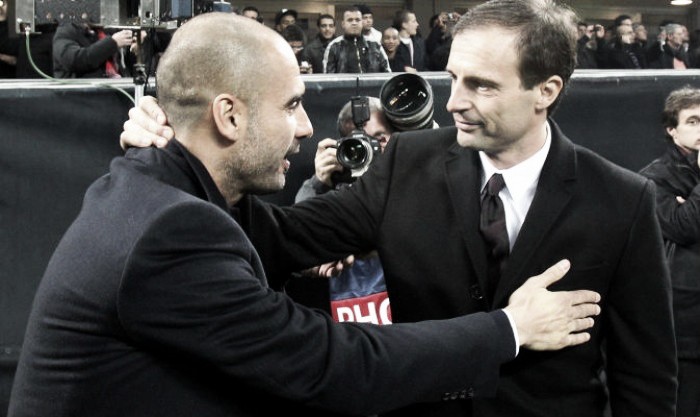 In 2015, the footballing world kissed goodbye to a fair share of previous world bests as they were shipped away to grace the more, let's say, relaxed leagues in the world.
The Old Boys
One club man and Catalonian king, Xavi, was one of these, recently moving to Qatari club Al Sadd from European giants FC Barcelona. The midfielder spent many years gracing European football with central sidekick Andres Iniesta. While Iniesta continues to enchant La Liga alongside new boy Ivan Rakitic, the once charming presence of the legendary Spanish duo seems irreplaceable on a technical level. However, two new faces are beginning to form a breakthrough onto the world stage in their respectable positions, once dominated by Xavi and Iniesta.
Upgrade
The style of football has changed, using Barcelona as an example; when the tiki-taka football was nearing extinction in a European season ruled by a rampant Bayern Munich in 2012, the club saw a much needed revamp to their attacking style. Tactical football became much more than a single attacking and defensive focus, with the combination of attack and defence becoming essential qualities in the game of many individuals.
Guardiola's Europe
When Pep Guardiola left Barcelona for Bayern Munich in 2013, he left a distinct imprint into the style of Barcelona forever. The sluggish, yet utterly mesmerising exchanging passes became sped up, the precision passes came thick and fast, and most importantly, the transition from defence to attack became a much quicker process. It is not right to say Pep Guardiola changed European football alone, but it is also not wrong to assume so. Two players certainly benefitted from the European quality makeover; Thiago Alcantara, and Paul Pogba.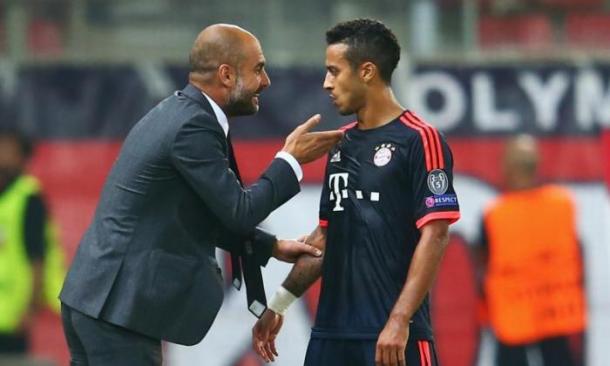 Thiago Alcantara, known in the footballing world as simply, Thiago, is a player that has developed his career working alongside Guardiola. Thiago began his story at the Barcelona Academy, following in the footsteps of Xavi, where in 2011; he eventually graduated to the Barcelona first team in which he played until 2013, where he eventually followed Guardiola to Munich. Thiago is commonly known for his ability to control a game, quite like that of a prime Xavi. Unlike Xavi and previous generations of elite central midfielders, the 24 year old Spaniard has adapted the defensive role to his game also, recognised commonly as a 'box to box' midfielder.
Thiago found himself beating around the sidelines for quite some time at Barcelona, and at the beginning of his career with Bayern. It was unsure what position he strived mostly in, playing as an attacking wide forward some games, and drifting back to the core of the field in others.
After gaining trust with Guardiola's Bayern, and adapting to the differences between the relaxed style of La Liga and the rather abrupt and fast style of the Bundesliga, Thiago now seems to have been the missing puzzle piece for a transitioning Bayern Munich side. His energetic game and pristine fitness portray the efficiency and demands of what it takes to be the ultimate box to box player in Europe's most competitive leagues.
Trust in Thiago
The role of a box to box midfielder is rather flexible, the individual usually plays as part of a duo alongside a matched ability attacking and defensive player, or an entirely deep defensive midfielder. In the case of Thiago and Bayern Munich, the central two (Thiago and Vidal) sit behind a dynamic attacking three, with no recognised 'CAM' role in a 4-2-3-1 formation. Bayern demonstrate the modern day style of football expertly, with Müller acting as almost a false nine to marksman Lewandowski, allowing Thiago to open up play and control the game in a pivot between defence and attack.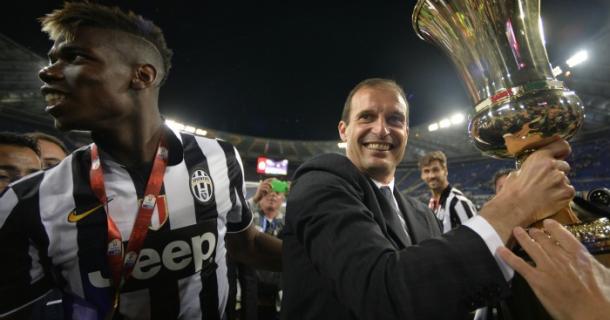 The success of newer generations of midfielders is replicated in undoubtedly one of the world's best young players, 22-year-old Paul Pogba. I decided to compare the Frenchman's efficiency with that of Thiago in order to establish the overall change and success in modern day European football, transitioning from old to new styles, managers, and players. Although playing the same box to box role as Thiago, Pogba's personal adaptation to the role has whisked it to a completely new level, contrasting the two.
The Long Road to the Top
2 years younger than Thiago, Pogba's rise to football came around rather differently to Alcantara's. Pogba's career started in his home country of France with US Roissy en Brie, where he played for seven years, before joining US Torcy for one season in 2006. Making his way through the lower leagues of France, Pogba then moved on to AC Le Havre for two seasons, where he eventually seemed to have made a name for himself. In 2009, he joined up with Ferguson's Manchester United for an unreported fee. It would seem that the rising star had found the club to develop his ability; however things did not work out so clear. In 2012, after three years in and around the Manchester United first team, Juventus snatched Pogba from United as a free transfer. Pogba's innate talent has been nurtured by current manager Allegri, to the point in which he has finally flourished as a crucial part of Juventus' collective success.
Style and Substance
Pogba's style differs from Thiago mainly through the irregular formation often adopted by Allegri, seeing Juventus regularly line up in a 3-5-2. Pogba's role is described as the heart of the team, like Thiago, through the link between defence and attack. However, unlike Thiago, the Frenchman's role comes with more freedom to attack. With essentially one line of midfield placed behind a strike partnership, Pogba's dynamic skill lights up the attack of Juventus, along with his renowned ability to tackle when his defensive brain is required.
The New Boys and their game
Attributes shared between the two upcoming superstars of the game are focal points of how the game has changed for a central midfielder. Their reliability in possession allows them to act as ball carriers, playing a sort of counter attacking build up in every given transition. Thiago's pace and agility along with Pogba's strength and 'twinkle-toe-like' rapid feet, the pair contribute rigidity in their teams, reflected through the clubs immaculate end of season goal differences.
Last season saw Bayern finish 1st, scoring 80 goals and conceding just 18. The same applies to Juventus, winning Serie A; scoring 72 and conceding 24. Bayern and Juventus' domination of their leagues are brilliant examples of how modern, balanced football has become the main factor of success around Europe.
Thiago and Pogba, the transformed and re-updated clones of say, Xavi and Pirlo? Allow me not to create unnecessary comparisons, but instead highlight the individual qualities adapted by the newer generations in comparison to the past ones, in an attempt to understand the remarkable change of modern day football in Europe.