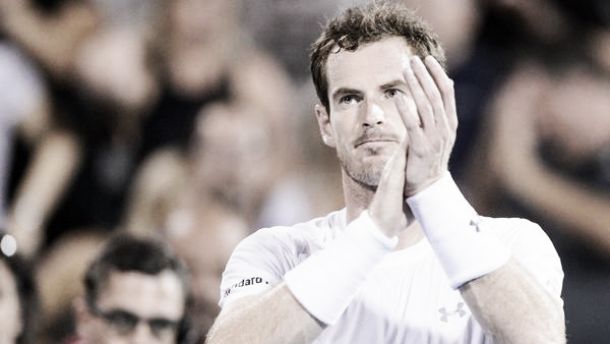 Andy Murray stormed to his biggest title for two years as he produced a stunning performance to defeat the world number one Novak Djokovic in three tight sets at the Rogers Cup in Montreal. Defeating his opponent for the first time in eight attempts, Murray steadied a Serbian tide to seal a 6-4 4-6 6-3 win and round off a terrifc week in Canada.
The players start as they mean to go on
The match started in a thrilling manner with both players producing high quality tennis throughout in a match which swung back and forth with neither wanting to give the other an inch. After holding their opening games easily, their second service games would prove less so as they both had to fend off break points in two eight minute games.
The backhands of both players were in stunning form with both finding the distance and feel early on. This would remain true right until the end as the world's best two players produced a fitting finale to an intense week.
The break, and the momentum, would eventually go Murray's way as he broke in the fourth game at the sixth opportunity as Djokovic mixed it up with a serve and volley, which a deep return from Murray counter acted. With Djokovic sending the following shot long, the break was Murray's.
In the following game - at 3-1 Murray - his break looked fragile with Djokovic and he exchanging some terrific rallies which drew the crowd to their feet. At times it looked like Djokovic would break back but Murray eventually squeezed his way through the game to consolidate.
Murray was slowly beginning to dominate a fragile looking Djokovic and he raced into a 15-40 lead as he sought to snatch a second break and inevitably the first set. But Djokovic held firm and clawed his way back to deuce and eventually won the game as Murray sent a backhand wide after an exciting rally.
You could sense that had Murray won that game, the set would have been curtains and Djokovic, the crowd and his camp could sense it too. At 15-0 in the second game, Djokovic mixed it up and rushed to net after an encouraging approach shot however, inexplicably, he pushed a weak lob from Murray long. Things were definitely not right with the Serb and Murray had him rattled with some of the tennis he was playing.
However, two sloppy points from Murray gifted Novak a way back into the game and before he knew it, a couple of stunning points later, and Djokovic had his first break point of the match. A nervy rally followed with Murray launching the ball only inches over the net but eventually it proved too much with him pushing the ball long to hand the momentum back to Djokovic.
But there would be more drama at 40-30 at 4-4 on the Murray serve when an ace by him was called out. He looked to challenge but was convinced by the umpire, Fergus Murphy, who was adamant the ball was long. Replays subsequently showed it wasn't and a second serve later and Murray was facing break point. It looked like Djokovic was on the verge of breaking back and when Murray faulted to force himself to save it on a second serve, the money was on the Serb. But out of nowhere, Murray threw everything he had at Djokovic and his gung ho approach proved effective as he saved the point and subsequently the game.
On the next serve, with Djokovic now serving to stay in the set, Murray drew the Serb to the net at 15-15 and expertly placed the ball by him to edge ahead at 15-30 and moments later a Djokovic backhand into the net and suddenly Murray was 15-40 and had two set points. Djokovic batted one away with a great backhand before some impressive Murray rallying forced Djokovic into the net and the first set was his.
Djokovic comes out fighting to claw his way back into the match
But just when it seemed that Murray was on top, the second set could not have started in a worse manner as he was broken to love by a fired up Djokovic.
Moments of slackness and switching off have cost Murray in many of his meeting with Djokovic, in particular in their two grand slam meetings this year where Murray has been blown away to love in the final sets. And once again his achillies heel seemed to be striking.
At 0-2 and zero points won in the set by Murray, it was poor at best from the British number one who looked decidedly low. Djokovic, meanwhile, was hitting far freer than he had at any point in the first set. Suddenly nothing was going right for Murray, who at 40-0 up and with Djokovic seemingly letting the game go, he gifted three easy points to his opponent and was periously close to the abyss. He saved himself with two aces out wide.
One got the feeling that if Murray could steady the tide, and by holding serve he had gone someway to doing so, the suddenly revitalised Djokovic would begin to leak break point chances.
And these would eventually come in the sixth game of the set, after two strong holds from both, when some low energy play from Djokovic and an inexplicable double fault gifted Murray his first break points of the set. After a quick raquet change, these were saved by the Serb in sumptous fashion as he fired a forehand past a stranded Murray. However, Murray would step it up a gear and after firing a huge backhand past his opponent for break point, a weak second serve by Djokovic and another classic Murray backhand fired past him to seal the game.
However, in almost every match Murray plays, moments of brilliance are usually offset by moments of disaster and seconds later he was staring two break points in the face with the crowd fully behind the Serb. Murray saved one after a Djokovic mishit hit the crowd but an unforced error on the second undid all of Murray's previous good work in the last game and once again the Serb was on top.
A couple of games later, and he would seal the set without breaking sweat, as only a delicious Murray backhand return delayed the inevitable, but Djokovic would hold firm and serve out to 40-15 and they were suddeny in a decider with the momentum all with the Serb.
Murray steals the day with a stunning final set
The third set would start much like the second with Murray opening the play on his serve and this time it more important than ever that he held. But quickly facing break points once more, and with the second set loss looming over Murray like a cloud, the Brit produced three dominant first serves to hold and edged ahead in the match.
Djokovic looked visibly annoyed with his failure to secure the break and it seemed to tell as Murray found himself with a precious break point after more impressive tennis from the Scot, who was producing aggresive tennis of nature he is often accused of lacking. His aggresion would pay off as he, on the third attempt, broke Djokovic down and suddenly found himself in control and a thrilling hold to take a 3-0 lead took Murray within touching distance of the title.
As Murray continued to reign supreme, Djokovic suddenly began to move awkwardly as he complained about his recurring shoulder injury, but he secured his first game of the set to ensure there would be no bagel either way.
But the following game, a seventeen minute tussle, would prove to be the most vital of the match as a titanic effort from both players would take us to deuce and we woulddance between deuce, break points and game points.
The game did have an odd moment, where Fergus Murphy, who had a shocker, gave Murray a warning for hitting a TV camera when the footage clearly showed it was accidental.
The one game seemed never ending and seemingly had it all, with controversial decisions, superb shot making and a Murray hold at long last with two first serves proving too hot for the Serb who looked deflated thereafter.
Now Murray was only two games from arguably his biggest title since he defeated the same opponent in his famous Wimbledon victory over two years ago.
And after an easy service hold, he was suddenly 5-2 up and only a game away. With the crowd stunned and their man seemingly on the cusp, Djokovic produced two sensational errors to gift Murray match point and the Scot could almost grasp the ellusive trophy. Three match points would come and go but somehow Djokovic held and would force all of the pressure onto Murray who would now need to hold his nerve and his serve.
He would do it in tyically Murray fashion as Djokovic raced into a 15-40 lead and the crowd roared their man. But Murray would not throw away his chance easily, as he fought back to deuce. Another epic tussle would ensue with both players fighting to game point with neither able to see it out.
But on the fifth match point, a stunning rally would end when Djokovic fired a ball long to seal the win for Murray and bring the curtain down on an epic encounter.
A delighted Murray would beam as he raced to the net and shared a warm embrace with his opponent who acknowledged a fine performance from his great rival.
'I had to fight extremely hard. I was agressive, tried to mix my game up'. Murray said after the match and in the same speech he announced the birth of Amelie Mauresmo's baby boy that morning.
The victory capped off a terrific week for Andy Murray, as he became the second player to qualify for the ATP World Tour Finals, will usurp Roger Federer as number two in the world and secured his second Masters title of the year.