Following on from Dom Parsons' bronze on Friday, Team GB now have four medals in PyeongChang following their own Winter Olympic version of 'Super Saturday'.
It all started in the women's ski slopestyle, where young Izzy Atkin claimed a brilliant bronze, saving her best run for last to see off the North American challenge. The 19-year-old X-Games silver medallist was the only competitor to land all three of her run's in the final, but with the best score deciding the medals she had to make do with bronze behind the Swiss duo of Sarah Hoefflin and Mathilde Gremaud.
Yarnold and Deas add more skeleton medals to Britain's ever-growing tally
Attention then turned to the Alpensia Sliding Centre, where Lizzy Yarnold was aiming to defend the skeleton title she had won in Sochi four years previously. Yarnold and teammate Laura Deas were both in the medal shake-up following their two runs on Friday, and after both producing sub 52 second attempts at the start of day two they were second and fourth respectively going into the final run.
As the penultimate slider to tackle the course in round four, Yarnold knew that if she crossed the line with a better time than those below her she would be assured of silver at worst. She didn't just tackle the tough course however, the defending champion smashed in a track record of 51.46 to move first and pile the pressure on Austria's Janine Flock who led at the end of the third run.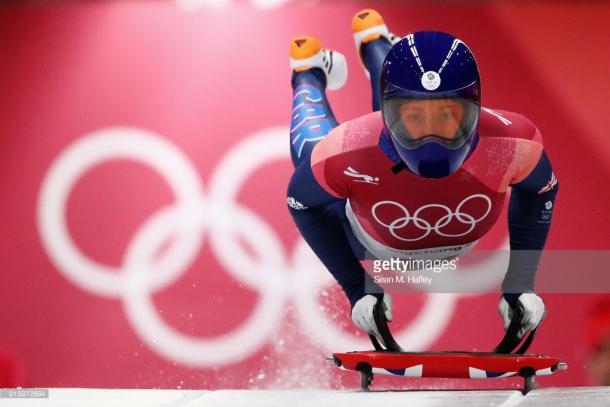 Flock couldn't handle that pressure however, and after a slow start she continued to lose time all the way down the track. It soon became apparent that Yarnold's lead would stay intact, but Flock continued to struggle in the uphill section of the course, and eventually finished 0.64 seconds behind Yarnold, which moved her down to fourth meaning that Deas had taken the bronze medal behind Germany's Jacqueline Loelling.
Yarnold's stunning fourth run will live long in the memory, and in the process of winning gold she became the first British athlete to come back and successfully defend a Winter Olympic title. Having two individual athletes on the same podium was also a first for the British team, with Deas becoming the first Welsh competitor to claim a Winter Olympic medal.
It wasn't all rosy for Team GB however, with Scotland's Elise Christie falling short in her chase for Olympic silverware once more after she was disqualified for causing a crash in her 1,500m semi-final. Gold eventually went to Korea's Choi Minjeong, with Canadian Samuel Girard winning the men's 1000m race, capitalising on a collision which took out the Korean duo of Yira Seo and 1500m gold medallist Lim Hyo-Jun.
Snowboarder Ledecka stuns world with Super-G gold
In the most shocking Alpine Skiing result for some time, Ester Ledecka of the Czech Republic struck gold in the women's Super-G despite only once finishing inside the top ten at a World Cup event.
Borrowing Mikaela Shiffrin's ski's, Ledecka stunned the more fancied skiing specialists to grab gold, despite the fact that she is more comfortable on a snowboard, upon which she will be favourite for next week's parallel slalom event.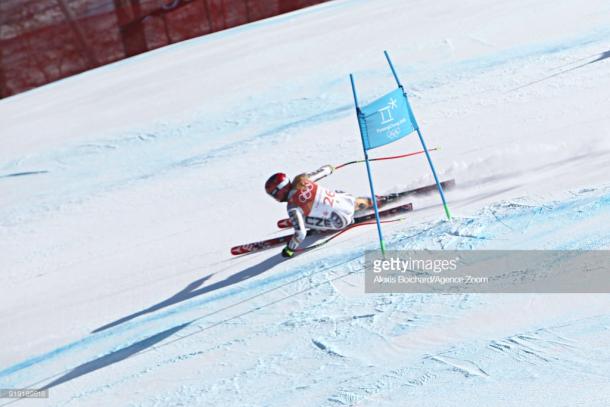 Skiing events generally front load the races, with the likely medallists competing in the first 20 positions to allow them best use of the mountain. With that being said, the top three of Anna Veith, Tina Weirather and Lara Gut would have felt confident that their medals were sewn up ahead of Ledecka's run, but the 26th starter flew down the mountain to claim gold by just 0.01 seconds ahead of 2014 champion Veith, with Gut dropping out of the medals altogether.
Bjørgen leads home Norwegian relay team to claim record-equalling 13th Olympic medal
37-year-old Marit Bjørgen has joined fellow Norwegian Ole Einar Bjørndalen on 13 Winter Olympic medals, after she led home her nation in the women's 4x5km cross-country relay.
Having been given the lead ahead of the final leg, Bjørgen was handed the unenviable task of holding off Sweden's individual sprint gold medallist Stina Nilsson in the battle for top spot.
Nilsson looked to be stalking Bjørgen for the entire lap, always staying within a second of the Norwegian, but after claiming a slight advantage on the final descent, Bjørgen looked stronger over the final 300 metres to secure her first gold of these games.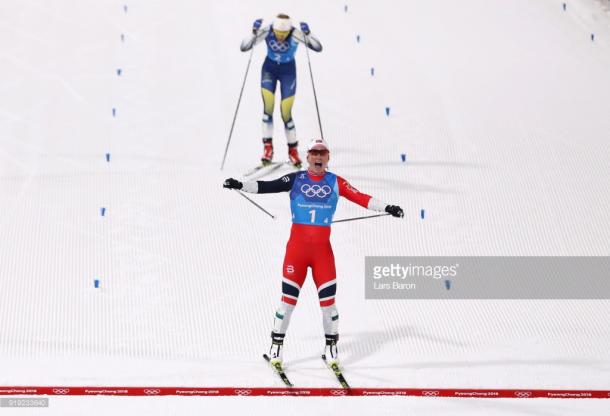 Bjørgen is now the most decorated cross-country athlete in Winter Olympic history, knocking the legendary Bjørn Dæhlie into second spot, with the potential for her to pick up two more pieces of silverware over the final week of competition.
Yuzuru Hanyu of Japan exploited the lead he had built during the short program to take gold in the men's figure skating competition, with his overall score of 317.85 proving untouchable in a high-class final.
In the men's large hill, Germany's Andreas Wellinger saw his hopes of a PyeongChang ski jumping golden double ended by Poland's Kamil Stoch, while at the Alpensia Biathlon Centre, Anastasiya Kuzmina of Slovakia took victory in the 12.5km mass start ahead of Darya Domracheva and Tiril Eckhoff.