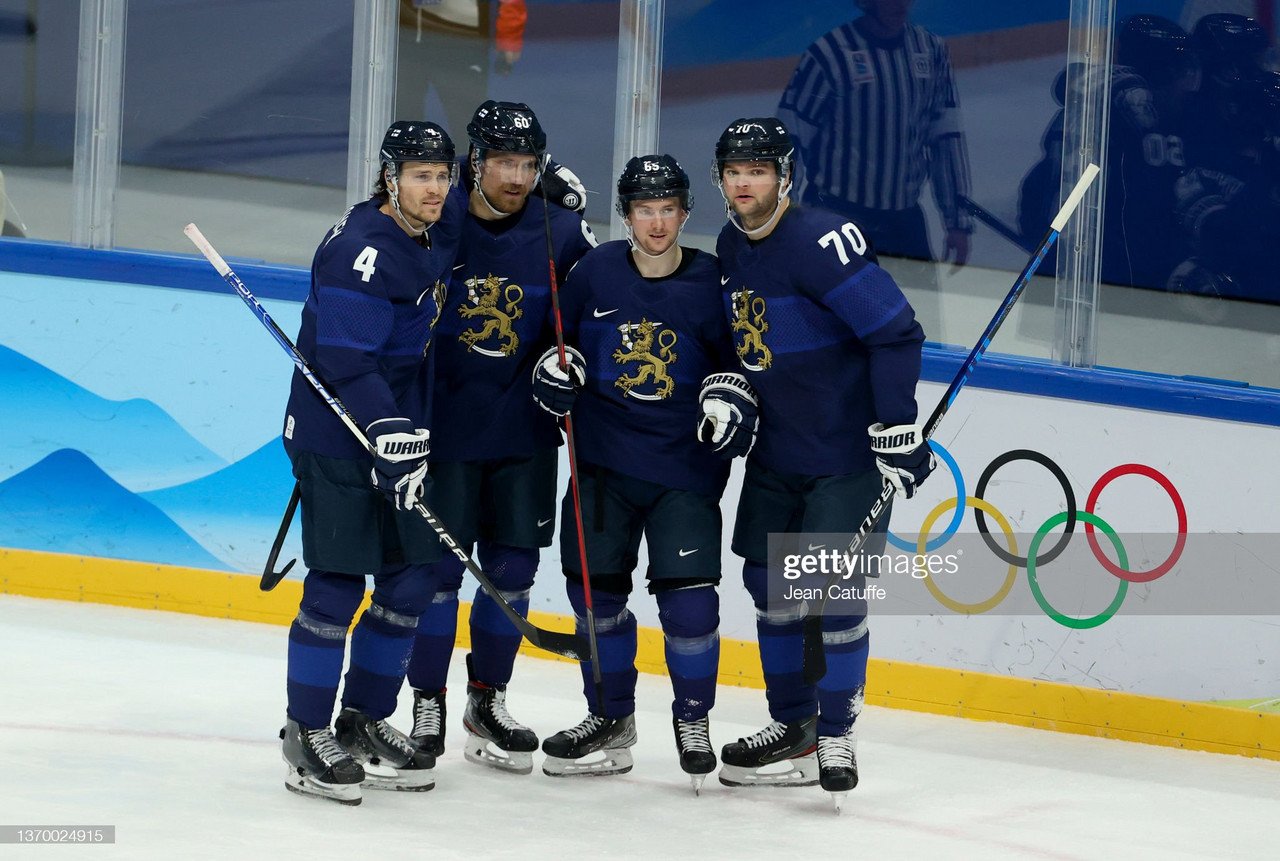 Sakari Manninen scored a hat-trick and Miro Aaltonen added two goals and an assist as Finland opened their account with a 6-2 victory over Slovakia in Group C play at the 2022 Winter Olympics.
Juraj Slafkovsky scored twice for Slovakia, becoming the first 17-year old to tally in the Olympics since 1984.
"We had really good offense today", Mannien said. "Six goals today. We have to be happy for that. We had some chances and scored on them.
"We had a good goalie and good penalty kill, but we also have things to improve."
Slafkovsky, who plays in Finland, stated "it's positive that I scored two goals but the important thing is we didn't win and we need to learn that and just be better against Sweden.
"Of course it's special to play against the team from the country where I play most of the season, so I know what to expect."
Slovakia came out strong and in the first minute Peter Cehlarik passed to linemate Marek Hrivik in the slot, but he failed to convert on the backhand.
They did open the scoring as Milos Roman's wraparound attempt was stopped by Harri Sateri, but Slafkovsky fired the rebound over his shoulder.
"When we got in the offensive zone, we held the puck, got some shots and got a couple of goals from the young boy", said Slovakia head coach Craig Ramsay. ​​​​​"I feel good about some things, but not so good about others."
After not recording a shot in the first ten minutes of the opening period, Finland got three on six shots. Teemu Hartakainen fed Manmohan with a breakaway pass and beat Slovak goalkeeper Branislav Konrad glove side.
On their first power play of the game, Mikko Lehtonen hit the post and Harri Pesonen put home his own rebound after his initial shot was stopped at the side of the net.
Slovakia failed to capitalize on a pair of power plays and soon after Aaltonen ended a two-on-one by one-timing past Konrad after a pass by Joonas Nattinen.
Manninen picked up his second on a breakway just shy of the midway point of the game with a wrist shot through the legs of Konrad to extend Finland's lead to 4-1.
Slafkovsky then picked up the puck along the boards, circled out in front, shielded the puck with his body and beat Sateri to his blocker side to cut the lead to 4-2.
"He's really good", Hrivik said of his young teammate. " It's been nice to watch him in practices and when we get to the game, he scores two goals. He's got a bright future and is gonna be a really good player."
The first shift of the third period ended any chances of a comeback as Hartikainen stick-checked Peter Ceresnak as he tried to carry the puck out of his own zone and he found Manninen for a one-touch re-direct into the top corner.
"That was really special (for the hat-trick), but I have to thank my linemates for the really good passes", he said. "I got three chances and scored on all of them. It's a special day."
Aaltonen capped the scoring with five minutes left as he finished off a tic-tac-toe move with a one-time slap shot off of the post and in.
"I scored two goals so it was an okay game for me", he stated. "It was a tough game, but an important win for us. They had a good start, but we scored six goals. That's always a good sign.