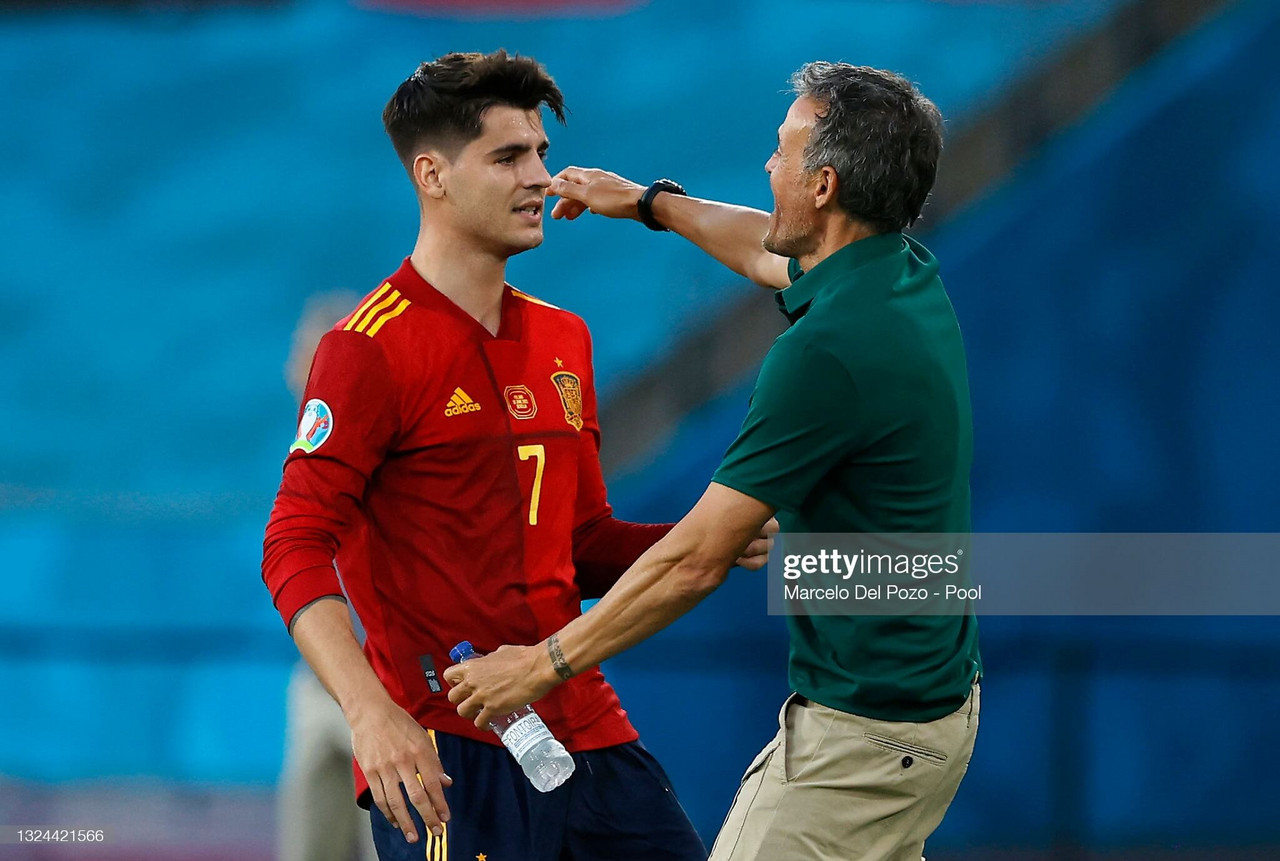 Luis Enrique isn't happy. The Spain coach has encouraged the police to look carefully and act upon the abuse that striker Alvaro Morata and his family have received. The Spain forward, who was jeered by so-called supporters after appearances in the final Euro 2020 warm-up game against Portugal and the opening match of the tournament with Sweden, has also spoken out about the abuse.
After the 5-0 win over Slovakia, Morata was again singled out after he missed a penalty and tormented to criticisms while his wide and children suffered abuse in the stands, offensive messages over social media were sent to him too.
Morata spoke to Spanish radio station Cadena COPE in the aftermath and said: "I understand I get criticism for not scoring goals. I'm the first to know and accept it. I wish people would put themselves in the position of seeing what it is to receive threats and insults to your family, 'I hope your children die.' [This week] I had to put my phone away.
"[Memes] don't bother me, but what annoys me is what my wife has to go through," he added. "My kids go to Seville with their dad's name on their shirts. Yes [they've had things said to them]. I understand criticism for not doing my job well. But there's a limit."
Morata admitted that, in the aftermath of Spain's draw against Poland, he lay awake for nine hours, "angry because I had a chance and Spain couldn't win." As he dealt with not meeting his own expectations, online abuse and threats poured in. Now his manager Enrique has said enough is enough and action must be taken.
"This is bad enough that it has to be put in the hands of the police," Spain's coach said. "This is a serious crime. Insulting his family is a serious issue that has to be put into the hands of the authorities and dealt with in the strongest possible way. It is his wife and children."
"We're all used to criticism and we accept it but we do not accept threats to a player, his family and his kids," said Morata's international teammate Koke. "We have to be responsible for what we say and do. And we have to denounce this. I can't even get into my mind that someone would do that because you do a lot of harm. It goes too far and it should be reported.
"After the game, I gave Alvaro a big hug. Otherwise, you help him by being as normal as possible, helping make sure his mind is on what it should be on. I love him. Apart from being a player and a teammate, he is my friend."
'We are in best possible form'
Spain are in Copenhagen for their last-16 match with Croatia and Enrique believes that his team are as confident as ever in their ability. They topped group E thanks to an emphatic win over Slovakia in the final group game which quietened some of the critics who accused Spain of being too pedestrian and lacking a cutting edge in their previous two games.
"My confidence in Spain is the same as before the tournament," Enrique said. "The teams which are in good shape now were the same as pre-tournament. I thought we merited winning the group but in terms of motivation and morale we are in the best possible form.
"My team has had the identical attitude since the Sweden game and the goals we scored against Slovakia don't change anything. The only thing I'd say is finishing the group with a powerful result like that is good because it adds confidence."
Koke added that Spain must play to their strengths if they are to advance past Croatia and book a place in the quarter-finals. "Every national team and every club team is distinct," he said. "There's nobody here winning matches easily. We have to look to our own standards and our own performances first. It's all about minimising errors and maximising our strengths if we want to go far.
"There's no euphoria after the last result. We have continued with the same tranquillity that we've relied on all tournament. We'd have preferred to win the group but there's no lack of pride or ambition about tomorrow's match."
Spain's opponents Croatia will be without Ivan Perisic for the game after the Internazionale forward tested positive for Covid-19 and was forced to go into quarantine for 10 days. The rest of the squad tested negative. "He's an important loss for them but not definitive," Koke said.