Team Great Britain's James Guy missed out on a medal in the men's 400m freestyle final as Mack Horton won Gold for Australia, following a gutsy swim in the Olympic Aquatics Stadium at Rio 2016.
The World Championship silver-medallist put on a superior showing from the earlier heats, but was pushed out of the reckoning into sixth by Horton who clocked 3.41.55, defending champion Sun Yang and the hugely unfancied Italian Gabriele Detti, who finished in bronze.
US duo Conor Dwyer and Connor Jaeger finished in fourth and fifth respectively.
Guy's focus will now switch the 200m free on Sunday - the event at which he holds the world crown.
Guy leads out race
The double gold-medallist from Kazan had to put on an improved performance from the morning heat - where he finished sixth fastest in qualifying. Guy was bent on making a statement.
Leading out the race from the gun, the 20 year-old went for a similar fast start as in his heat. With a stacked field, Guy went for the aquatic jugular and led the opening three lengths, turning at 150m in first.
Pace of final 100m catches Briton
Unlike in qualifying, Guy still held his lead after 200m and after turning in 250, GB had a first medal of the Games on the horizon. As 300m approached however, Sun, Horton and the US duo began to wind it up.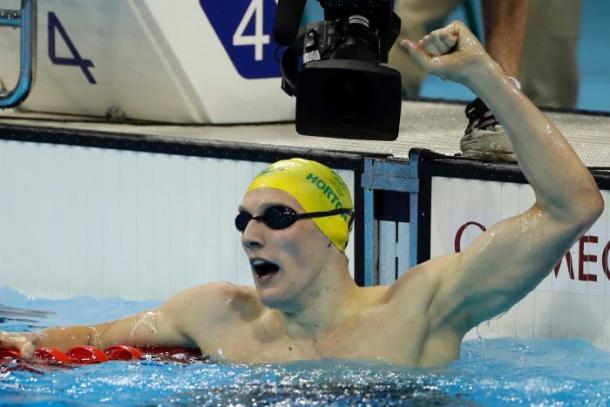 By the penultimate turn, Guy's lead had evaporated as the brave Briton's ploy backfired, as the field left him in their waves. Pulling away, the battle for the podium heated up.
Horton held off the late charge of the Chinese to touch first an win Australia's first gold in Rio. The Australians will hope to us this as platform after a hugely disappointing team medal tally in London four years ago.
Elsewhere, in the men's 400m individual medley, world number one Kosuke Hagino pipped American Chase Kalisz for gold, with Japan's Daiya Seto taking the bronze.
Britain's Max Litchfield, in his first final finished a hugely creditable 4th position.
GB's Hannah Miley was touched out agonisingly for the bronze at the wall, by Spain's Mireia Belmonte in the women's event.