Britain's Jazz Carlin won silver in the women's 400m freestyle final on the second Swimming finals night Rio 2016.
Carlin swam a hugely mature race finishing behind defending Olympic champion Katie Ledecky of the USA, breaking her own world-record in time of 3.56.46.
Ledecky's teammate Leah Smith claimed the bronze.
It was the second medal in a matter of minutes for GB after Adam Peaty coasted to victory in the men's 100m breaststroke, winning the first male gold in the pool since Adrian Moorhouse in 1988.
Carlin calm as Ledecky races away
American Ledecky customarily destroyed the field and raced away after the first turn, leaving the rest to fight for the medals.
In a race of huge maturity, Commonwealth champion Carlin sat in the pack and made the move away from Leah Smith, whilst Ledecky in the lane next to her, left the opposition in her waves.
At 200m, the 25 year-old Welsh swimmer took control of the race for the second spot. Turning for the last time, Smith began to press Carlin but held on two complete one of the finest 16 minutes in British swimming history.
Guy sneaks into final
In the semi-finals of the men's 200m freestyle, Britain's James Guy sneaked into Monday's final by one one-hundrenths-of-a-second, qualifying in 8th spot.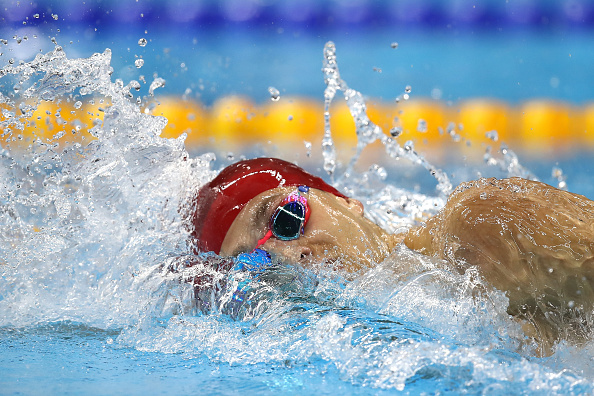 Guy touched the wall third in his heat - won by Conoro Dwyer - ahead of Kacper Majchrzak of Poland. The second semi was won by Sun Yang of China, with Kosuke Hagino second and Russian Aleksandr Krasnykh in a surprising third.
Crucially, Australian Thomas Fraser-Holmes finished in sixth at 1.46.24, 0.01 slower than Guy who scrapes in.