In the land of the rising sun, Nico Rosberg rose above the rest, claiming his ninth victory of the season - his first career win in Suzuka - and in doing so, the German increases the gap at the top of the Drivers' Championship to Mercedes team mate Lewis Hamilton to 33 points, with just four races to go.
Rosberg took a convincing lights to flag victory, coasting in the latter part of the race as Max Verstappen and Hamilton squabbled amongst themselves for the 'best of the rest tag'. In truth, Rosberg was a cut above the rest all weekend, topping the time sheets in every session from Friday through to Saturday.
With a one-three finish, it means that Mercedes have clinched their third successive Constructors' Championship, with Rosberg taking a giant leap towards his elusive first world title.
Hamilton's faulty start
If Hamilton wishes to retain his crown for a third time as well, only four wins will do, with the Brit needing Rosberg to slip up for good measure. Easier said than done, Hamilton's burden was further extended less than a second after the lights turned to green. Suffering with wheelspin aplenty as he transgressed beyond the limit of adhesion, his second launch phase was poor. However, a damp strip of tarmac in front of his front row grid spot failed to help. He took the blame, apologising over the radio; not for the first time this season. However he admitted that he was unsure about the cause of the problem.
"I'm not really quite sure, I'll have to see what the engineers say. I lost a lot of ground and had to fight back from there."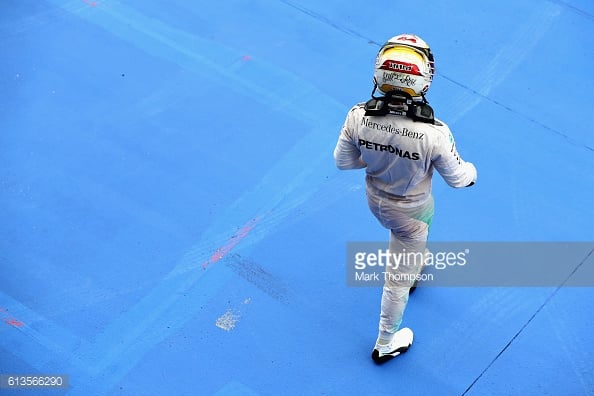 As Rosberg streaked away, with the Red Bull and Ferrari duos in close pursuit, along with a charging Sergio Perez, Hamilton dropped like a lead balloon. By the end of Turn one, he found himself in the mire of a midfield battle, in eighth. In addition, it was a miracle that no contact was made throughout the field, with the two Ferrari cars and Hamilton coming very close.
With his team mate in clear air, Hamilton was frustrated in traffic, losing around two seconds per lap to the leading quartet of Rosberg, Verstappen, Perez and Daniel Ricciardo.
Yet, he fought back, in part thanks to the power of his Mercedes package, and also due to a wonderfully worked strategy, that allowed him to leapfrog Sebastian Vettel into the podium spots in the mid part of the race, and bar some brief trouble, courtesy of the German, he never looked in danger of surrendering it, and it seemed more likely that he'd move up the order, rather than down.
Verstappen doesn't surrender
In the final few laps, he went on the assault, closing in on second placed Verstappen before being frustrated time after time on the pit straight, the young Dutchman defending superbly, using his 160 horsepower of battery power to great effect on the pit straight. Depsite having the benefit of DRS, Hamilton could find no way through. In a last chance saloon move, Hamilton went for a bold move at the Casio chicane, after lining up the teenager on the run down from Spoon, through 130R; but Verstappen held firm, with the Mercedes driver having to take to the escape road. Firm but fair, Verstappen clung on to second.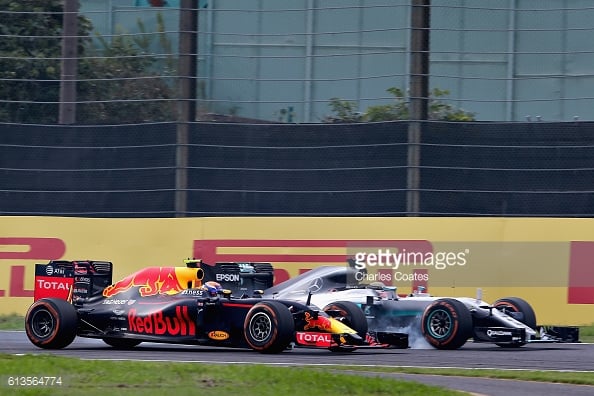 Speaking afterwards to Sky Sports, Verstappen rightly defended his move. "Well, I'm not going to say 'Here you go,'" he said. "I closed the door and I think he was far enough away to see that I would do that."
Five seconds up the road, Rosberg had started his final lap. He made it look effortless, never worried, and had the luxury of being able to cruise to the flag, saving his brakes and power unit. In fact, the German had been taking it so easy, Tony Ross had to give him a wake up call on lap 44: "So, be aware, the front tyres are staring to drop to the bottom of the window."
He duly picked up his pace a smidgeon, enough to keep the car in the correct operating window, but not enough to strain it. He had no need to push for a fastest lap, as Verstappen and Hamilton lost time by tripping over each other.
33 points
He now has a 33 point lead over Hamilton at the top of the standings, a gap that looks nigh on insurmountable. There was certainly a contrast of emotions post-race for the second weekend running. But indeed, that had been the story of the weekend. Hamilton cut a weary figure, his every move scrutinised - particularly in the Thursday press conference - whilst Rosberg looked more relaxed than at any other point in the season, and why wouldn't he; he has won four of the five races after the summer break, overturning what was a 19 point deficit in August.
Although, selflessly, his post-race thoughts were focussed on his team's achievements rather than his own personal triumph.
"Congrats [sic] to all my colleagues for securing the third Constructors' world title," Rosberg lauded. "So deserved, it's an unbelievable effort."
Ferrari in deep trouble
Yet, Mercedes were a tad fortunate to walk way with a double podium, as Ferrari dropped the ball once again, furthering the considerable pressure on Maurizio Arrivabene, Vettel and Kimi Raikkonen's shrinking shoulders.
With Hamilton chasing Vettel for first, after Rosberg's stop, Vettel lost time tanks to backmarkers, making his point clear over the radio several times over the race. But, when all is noted, traffic wasn't the issue. Strategy was again the achilles heel for the Scuderia, Mercedes and Hamilton getting the undercut in the final round of stops. Despite Vettel getting his soft compound tyres plugged in quickly, his attack on the hard tyre shod Hamilton was all in vain, the German moaning "He's pulling away. He's pulling away." within five laps of his stop.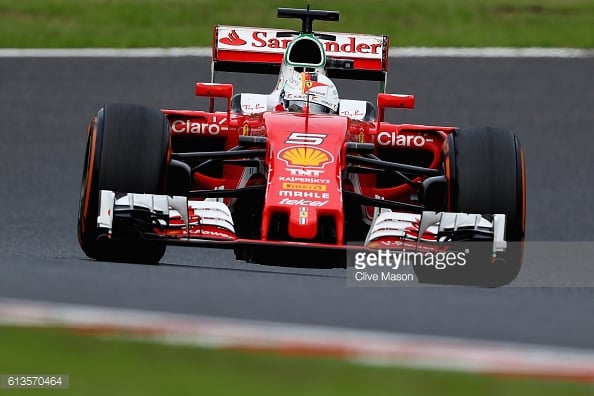 Fingers have to be pointed at Ferrari accordingly, but unfortunately, it's not a question of one person; it's set to be a long and strenuous winter in Maranello, with several jobs under threat going into 2017. The loss of chief strategist Ruth Buscombe to Haas and now Sauber in the last year has hit the team hard. That pain extends to the design team, with Technical Director James Allison leaving for personal reasons early on in the year. With the Italian media also looking for answers, their start to a new era in the sport will be far from easy.
Now falling further behind Red Bull, despite Ricciardo losing time and track position due to a fault on the front right tyre during his last stop, it looks as if third best is the maximum, with Force India 201 points behind in fourth.
But, for now, no one can touch Mercedes. Or Nico Rosberg.
2016 FORMULA 1 EMIRATES JAPANESE GRAND PRIX CLASSIFCATION

| | | | | | | |
| --- | --- | --- | --- | --- | --- | --- |
| Position | Driver | Team | Laps | Gap | Pit Stops | Points |
| 1 | Nico Rosberg | Mercedes | 53 | | 2 | 25 |
| 2 | Max Verstappen | Red Bull-Racing | 53 | +4.978 | 2 | 18 |
| 3 | Lewis Hamilton | Mercedes | 53 | +5.776 | 2 | 15 |
| 4 | Sebastian Vettel | Ferrari | 53 | +20.269 | 2 | 10 |
| 5 | Kimi Raikkonen | Ferrari | 53 | +28.370 | 2 | 8 |
| 6 | Daniel Ricciardo | Red Bull-Racing | 53 | +33.941 | 2 | 6 |
| 7 | Sergio Perez | Force India | 53 | +57.495 | 2 | 5 |
| 8 | Nico Hulkenberg | Force India | 53 | +59.177 | 2 | 4 |
| 9 | Felipe Massa | Williams | 53 | +1:37.763 | 1 | 2 |
| 10 | Valtteri Bottas | Williams | 53 | +1:38.323 | 1 | 1 |
| 11 | Romain Grosjean | Haas | 53 | +1:39.254 | 2 | |
| 12 | Jolyon Palmer | Renault | 52 | +1 lap | 1 | |
| 13 | Daniil Kvyat | Toro Rosso | 52 | +1 lap | 2 | |
| 14 | Kevin Magnussen | Renault | 52 | +1 lap | 1 | |
| 15 | Marcus Ericsson | Sauber | 52 | +1 lap | 1 | |
| 16 | Fernando Alonso | McLaren | 52 | +1 lap | 2 | |
| 17 | Carlos Sainz | Toro Rosso | 52 | +1 lap | 2 | |
| 18 | Jenson Button | McLaren | 52 | +1 lap | 2 | |
| 19 | Felipe Nasr | Sauber | 52 | +1 lap | 1 | |
| 20 | Esteban Gutierrez | Haas | 52 | +1 lap | 2 | |
| 21 | Esteban Ocon | MRT | 52 | +1 lap | 2 | |
| 22 | Pascal Wehrlein | MRT | 52 | +1 lap | 2 | |