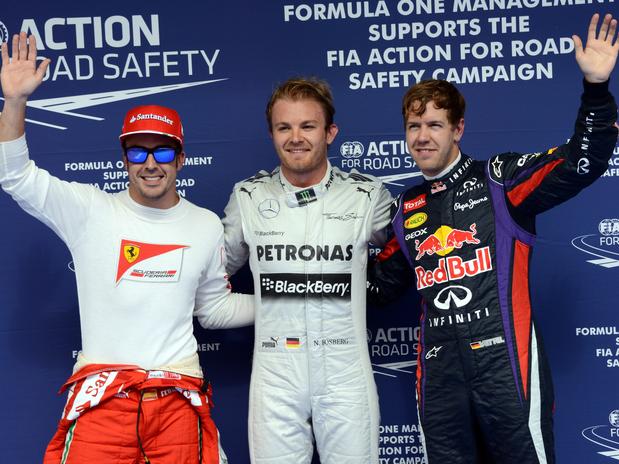 Nico Rosberg grabbed Mercedes' second pole position in a row after Hamilton's pole in China and shows again that the German team paces really fast in short-runs. Unfortunately, a F1's race lasts more than a short sting and Mercedes's degradation is quite noticeable. Rosberg will have to preserve his tyres in order to get a podium position or even fight for the triumph.
Q1
Favourites drivers set hard tyres for this session unless Mark Webber who was on soft tyres. Even though, the Australian was one second away from Alonso's lap which was the fastest. Ferrari showed that its pace in long-runs with hard tyres is quite faster than any other team so Alonso and Massa have settled their options for wining in Bahrain. Williams demonstrated its bad season beginning and though Maldonado lapped out of the relegation zone, the Venezuelan was finally dropped by Ricciardo and joined the knocked out drivers. Therefore, Maldonado, Gutierrez, Pic, Bianchi, Van der Garde and Chilton were placed at the back of the grid. Hamilton was about to join them but eventually lapped for sneaking the relegation zone. The Brit claimed that his seat was unusually heated.
Knocked out: Maldonado, Gutierrez, Pic, Bianchi, Van der Garde, Chilton.
Q2
Rosberg, Alonso and Di Resta set new soft tyres and made just one attempt for going through Q3. Meanwhile, the other drivers lapped twice in order not to be knocked out. Vergne, Botas, Hulkenberg and Ricciardo had no choice of reaching the last session. Perez could not managed to lap faster than Lotus' drivers nor Button and was placed 12th. Grosjean set ninth but first Button and Kimi later sent the French out of Q3.
Knocked out: Grosjean, Perez, Ricciardo, Hulkenberg, Botas, Vergne.
Q3
Rosberg set the pace in the last session. Just the German, Hamilton, Alonso, Di Resta and Sutil lapped twice for getting the pole position. Meanwhile, the other drivers remained at their boxes. When there were just three minutes to go, all cars pulled off the pit lane and started lapping Bahrain's track. So far Rosberg had been the fastest. Massa was on hard tyres, Button on used soft tyres while everyone was on new soft tyres. Rosberg recorded 1:32.330 what was 0.213 seconds faster than his first attempt. Vettel was unable to lap any faster and settled to be second. The Spaniard Alonso aborted his last lap though was third while Lewis Hamilton got his Mercedes to the fourth position. Even though, the Brit had been penalized for changing gearboxes and will be dropped to the ninth position so Massa went up to the fourth followed by both Force India (Di Resta and Sutil). Webber was seventh after having been penalized too. Räikkönen was eight and Button tenth.
Vavel race preview
Rosberg grasped the pole but it seems Alonso and Vettel are favourites for wining on Sunday. Alonso's pace with hard tyres looks unbeatable though Red Bull Sebastian Vettel will give his best for the final victory. Räikkönen have to be taken into account because the Finn preserves the tyres better than anyone else. Kimi won in Australian from the seventh position at the grid. Massa, Rosber and even Di Resta will settle for the podium.