Nico Rosberg levelled Friday's scores between himself and Mercedes teammate Lewis Hamilton, setting the fastest time in an afternoon session that was bathed in sunshine at the Circuit of the Americas.
Rosberg's time of 1:37.358 on the Supersoft tyres was good enough for top spot, nearly two tenths faster than the Red Bull of Daniel Ricciardo and a further tenth quicker than Hamilton. Sebastian Vettel and Max Verstappen were the best of the rest, nearly a second off the ultimate pace.
Hamilton showed early pace
Although Hamilton showed initial pace, setting a time three tenths off of Rosberg, despite being on the hardest compound of tyre, compared to the Soft Pirellis Rosberg had bolted on his Mercedes.
However, on the second runs, Rosberg was untouchable on the Supersoft tyre, completing Mercedes' Friday dominance in Texas, but in truth, it came as little surprise, being the theme of Friday's throughout 2016.
Further down the field, Ferrari struggled - despite Vettel's fourth. Kimi Raikkonen could only manage tenth place, and struggled with front end grip on his race run; resulting in a tough day for the ice cool Finn, nine years to the day he won his sole World Championship.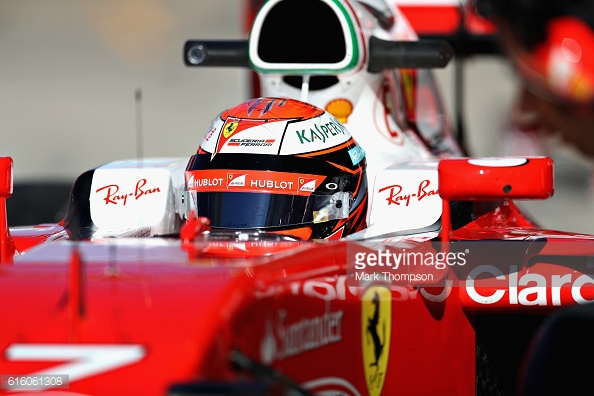 Contrarily, Vettel had little to worry about, no slow cars to moan about and had decent pace to show, at a track only he and Hamilton have won at.
Toro Rosso amongst the strugglers
Their Ferrari engined colleagues, Toro Rosso struggled. Carlos Sainz put in a 1:38.971 that was good enough for 11th, with Daniil Kvyat four places back. Their speed trap figures made for harsh reading as well, both Sainz and Kvyat at the bottom, around four kilometres an hour off the average speed down the long back straight; hampered by their forced lack of engine development.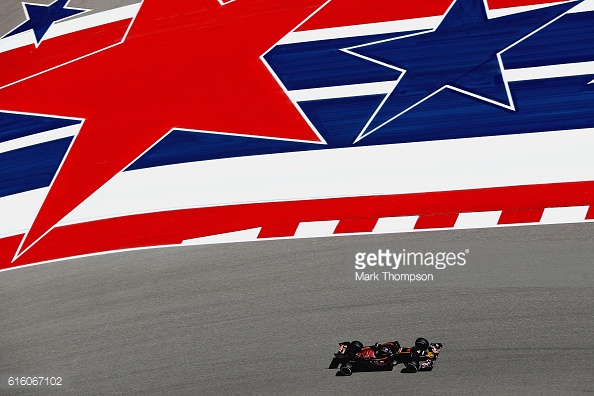 The unforgiving bumps and new kerbs at Austin, the new home of Formula 1 over in America, shook the cars to breaking point. For some it was too much, the session briefly suspended with just over half an hour to go after a stray shard of front wing settled on the racing line in the twisty first sector.
The triple apexed right hander of Turns 16, 17 and 18 caught several drivers out. Both Esteban Ocon and Sainz had large excursions at the start and end of the session respectively. Ocon was lucky not to have beached his car in the gravel, with only a lone wheel settled on the tarmac.
Going into an all-important Saturday, it's even between the two championship rivals, with Hamilton the man with it all to do in the last four weekends.
2016 Formula 1 United States Grand Prix | Free Practice 2 | Classification

| | | | | | |
| --- | --- | --- | --- | --- | --- |
| Position | Driver | Team | Time | Gap | Laps |
| 1 | Nico ROSBERG | Mercedes | 1:37.358 | - | 33 |
| 2 | Daniel RICCIARDO | Red Bull | 1:37.552 | +0.194 | 33 |
| 3 | Lewis HAMILTON | Mercedes | 1:37.649 | +0.291 | 32 |
| 4 | Sebastian VETTEL | Ferrari | 1:38.178 | +0.820 | 35 |
| 5 | Max VERSTAPPEN | Red Bull | 1:38.258 | +0.900 | 27 |
| 6 | Nico HULKENBERG | Force India | 1:38.508 | +1.150 | 32 |
| 7 | Sergio PEREZ | Force India | 1:38.568 | +1.210 | 31 |
| 8 | Jenson BUTTON | McLaren | 1:38.713 | +1.355 | 29 |
| 9 | Fernando ALONSO | McLaren | 1:38.801 | +1.443 | 30 |
| 10 | Kimi RAIKKONEN | Ferrari | 1:38.865 | +1.507 | 31 |
| 11 | Carlos SAINZ | Toro Rosso | 1:38.971 | +1.613 | 31 |
| 12 | Kevin MAGNUSSEN | Renault | 1:39.159 | +1.801 | 23 |
| 13 | Felipe NASR | Sauber | 1:39.189 | +1.831 | 28 |
| 14 | Valtteri BOTTAS | Williams | 1:39.197 | +1.839 | 34 |
| 15 | Daniil KVYAT | Toro Rosso | 1:39.202 | +1.844 | 36 |
| 16 | Felipe MASSA | Williams | 1:39.281 | +1.923 | 30 |
| 17 | Jolyon PALMER | Renault | 1:39.455 | +2.097 | 34 |
| 18 | Romain GROSJEAN | Haas | 1:39.554 | +2.196 | 24 |
| 19 | Esteban OCON | MRT | 1;40.086 | +2.728 | 27 |
| 20 | Esteban GUTIERREZ | Haas | 1:40.114 | +2.756 | 26 |
| 21 | Marcus ERICSSON | Sauber | 1:40.219 | +2.861 | 28 |
| 22 | Pascal WEHRLEIN | MRT | 1:41.131 | +3.773 | 31 |