What a good race. Haas score points on their homecoming, which is important and both McLaren's make it into the points, Button finishing in a credible ninth from 19th on the grid, despite their power troubles.

What about the race for the title? The gap is now 26 points with this result. Had the VSC not been deployed, would that gap stand at 23 points? You'd think so, but it's quite the speculation, Rosberg showed good pace at the end.

Hamilton had little to worry about, and much like Rosberg a fortnight ago, could coast to the line. The gap ended at four seconds between first and second. You'd have to presume that the engine blowout in Malaysia played on his mind in the last few laps.

We even had another shoey on the podium. Brave man, Gerard Butler.

I've been James Eagles, thanks so much for joining me. Until Mexico, take care.
PROVISIONAL CLASSIFICATION AFTER 56 LAPS

1. Hamilton
2. Rosberg
3. Ricciardo
4. Vettel
5. Alonso
6. Sainz
7. Massa
8. Perez
9. Button
10. Grosjean

11. Magnussen
12. Kvyat
13. Palmer
14. Ericsson
15. Nasr
16. Bottas
17. Wehrlein
18. Ocon

Retired: Raikkonen, Verstappen, Gutierrez and Hulkenberg
CHEQUERED FLAG: Lewis Hamilton makes it win number 50, from pole position number 58. It's his fifth win in America - he joins Ayrton Senna and Michael Schumacher in that regard - his fourth here at the Circuit of the Americas and he closes the gap ever so slightly on Rosberg, who finishes second. Ricciardo follows in third.
L56: Alonso gets into 5th, with a bold move on Sainz, he leaves the track but made the move beforehand. He lets out a "YEE-HA" in true Texan style.

Magnussen's off the track manoeuvre on Kvyat will be investigated afterwards.
L56: Hamilton starts his last lap.
L55: Massa has a puncture. That's the wheel that was hit by Alonso - who is now battling with Sainz.
L55: Vettel hasn't complained about blue flags (to my immediate knowledge). And his race lasted more than a lap.

Wow.
L54: Good battle between Nasr and Bottas for 15th, the Brazilian gets ahead.
L54: Vettel pits. Why?

He stays fourth.
L53: The move shall be investigated after the race.
L53: "F***ing Felipe just closed the door on me". Alonso feels he did nothing wrong.
L52: Alonso makes an unconventional move on Massa at Turn 15 for 6th. There's contact and both go off the track. Alonso comes out on top, but was it legal?
L49: Kvyat makes a bold move on Ericsson stick for 11th. Crucial in the Manor/Sauber battle.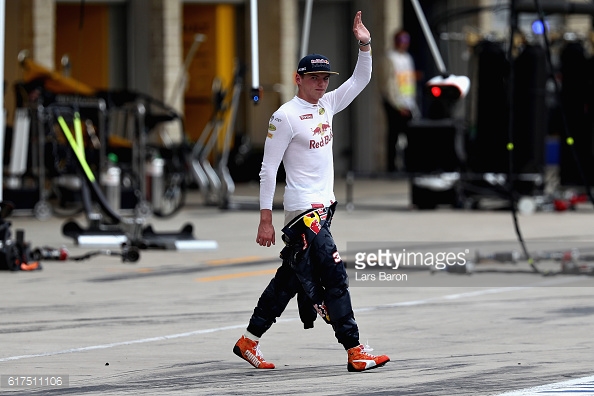 L45: Massa nearly smashes into the back of Sainz, locking up after the back straight.
L44: "Let me know about Rosberg's times, I'd love to catch that motherf****r."

That escalated quickly. Danny Ric is on the offensive. Quite literally.
L44: Rosberg has a massive lock-up at Turn 15.
L43: Hamilton remains out in front, nine seconds ahead of Rosberg. Ricciardo is falling behind.
L41: Now Ferrari are under investigation for an unsafe release. I believe the rear left wasn't fully on.
L40: He's out of the car. I don't know either.

I feel like Chris Kamara when he missed the sending off at Portsmouth.
L40: He's rolling back down the hill into the pits, so the Ferrari mechanics can work on the car. But no one is there. This is odd.

How will that retirement be described?
L39: Out of the pits and out of the race, he's stopped at the pit exit.

There was a wheel gun attached on the left hand side, supposedly.
L39: Raikkonen is in for his final stop. Soft tyres until the end.
L38: THE T-REX IS BACK!
L37: The gap between Hamiton and Rosberg stands at 10.395 seconds.
L35: Palmer feels that he's being held up. I'm sure he'd like to go through.
The order at the moment:

1. Hamilton
2. Rosberg
3. Ricciardo
4. Raikkonen
5. Vettel
6. Sainz
7. Massa
8. Alonso
9. Perez
10. Button
L34: A very enticing battle between Magnussen and Palmer for 14th and maybe even, a 2017 seat alongside Hulkenberg.
L34: Ricciardo's given a pep talk by Simon Rennie: "You can see Rosberg ahead, let's get him".
L33: The VSC period has ended.
L32: Ricciardo isn't happy.

"So they got a free pitstop?"

"Yes mate."

"That's so *choose your expletive of choice*".
L32: He puts on a set of medium tyres, Rosberg follows him in, and has to change his strategy, another set of mediums.

This VSC has put paid to the potential masterstroke, but Rosberg is now ahead of Ricciardo.
L31: Hamilton is told to pit under the VSC.
L31: Verstappen pulls over at Turn 17. Virtual Safety Car deployed.
L30: Vettel has indeed pit. Verstappen says that something is hitting the engine.
L30: VERSTAPPEN IS OUT! He coasts to a near halt on the straight.

"I think I have an engine failure, or something". Concise diagnosis.
L29: Box Sebastian, box is the call.
L28: Both Grosjean and Perez are in for their second stops.
To be fair, he may not finish fourth now.
L27: Gianpiero Lambiase wants answers, Verstappen says "I thought you boxed me, sorry".

Driver error to blame.
L27: Verstappen has pitted, but Red Bull aren't ready! It's a long stop, 9.2 seconds.

Raikkonen is flying on those new tyres, he sets a new fastest lap with a 1:41.841.
L26: In comes Ricciardo, for a set of mediums. He should go to the end of those.
L25: That was easy, Raikkonen pits. He puts on a set of used supersofts, surprisingly. There's a three stop strategy. He rejoins marginally ahead of Massa.
L24: Vettel is harassing Raikkonen, team orders inbound you feel.
L22: First stop for Kvyat. It's a shocker.

10 seconds before they could start work, two seconds to work on it and a further three as the Russian struggled to get away.
L22: Bottas' race just keeps on going wrong. A long stop after a problem at the rear leaves him firmly in 20th.
L21: Button just gets past Kvyat, with the help of DRS.
L20: Palmer gets a load of numbers over the radio. He responds bluntly.

"YEAH, I'VE KNOWN THIS ALL RACE".

Not a good lap for engineers, it's fair to say.

Otherwise, Palmer's best attack of the race.
L20: "Just make sure we can do the stint we need to here".

"I'm not here to finish 4th".

Fair enough Max.
L19: Verstappen is firmly up Rosberg's gearbox.
L18: Gutierrez comes into the pits and I suspect he will stay there for the remainder of the race. The second retiree, and one of the home cars gone.

In other Haas news, Grosjean is sitting in 13th.
L18: Verstappen is reeling Rosberg. The gap is just seven tenths of a second.
L16: A little lull in proceedings for now, the gap between Hamilton and Ricciardo is 4.529.

Gutierrez is coasting with a heavily vibrating steering wheel. He's flatspotted his right front heavily after locking up before the back straight. That's not going to be comfortable for half a lap, looks like a brake issue to add to the worry.
L15: It means that Hamilton leads. Vettel comes out in sixth, behind Raikkonen.
L14: Vettel is the last to blink, dispatching of his worn supersofts. He goes onto a brand new set of softs.
L14: Tony Ross says: "You are the only car on the mediums. This is the long game, the race will come back towards us".

He seems confident.
L14: Verstappen sets the fastest lap of the race with a 1:43.056.
L13: Verstappen passes Raikkonen for fifth.

Kvyat is given a 10 second time penalty for his clash with Perez. Not sure why Sainz' name arose.
You say that Fernando, but you have passed Palmer. Every cloud.
L12: "Behind the Renaults, getting lapped. What a disaster".

Alonso is having fun...
L12: The gap between Hamilton and Ricciardo is now four seconds. The Brit has gained nearly two seconds in the first round of stops, suggesting that the undercut is not working.
L12: Vettel leads, Hamilton rejoins ahead of Ricciardo and Rosberg.
L12: No he doesn't, he goes onto another set of softs. So maybe that's what the long game is for Rosberg...
L11: Mercedes are out for Hamilton, will he go for the mediums as well? He's shown terrific pace thus far.
L11: Rosberg rejoins behind Ricciardo and Sainz in 6th. He's crucially ahead of Raikkonen.
L10: Rosberg comes in for the medium tyre. Interesting.
L10: In comes Verstappen, who was on the soft tyres, he puts on another set of softs. He rejoins behind Button, but makes a move in sector 1. The veteran doesn't fight too hard.
L9: Tony Ross informs Rosberg: "Okay, we're going for the long game now Nico, push hard."

"Pushing hard is not the long game!" replies Rosberg.
L9: Both of them go onto the soft compound tyre.
L8: And now Perez and Sainz are under investigation for causing a collision. That may well be the clash that demoted Perez right to the back on the first lap. Ricciardo and Raikkonen get the call to pit.
L8: Little contest, as Perez sweeps past Gutierrez down the hill to Turn 2.
L7: Grosjean throws it down the inside of Gutierrez, he locks his front left, but gets the move done cleanly. He's up to 11th. And now Gutierrez is under pressure from fellow Mexican Perez.
L7: The gap between Hamilton and Ricciardo is just over two seconds.
L7: Hamilton sets another fastest lap, with a 1:43.649.

No action taken between Nasr and Ocon.
L6: Perez slithers past Kvyat for 13th.
L6: An incident between Ocon and Nasr is under investigation for forcing a driver off the track.
L3: Gutierrez and Button go side by side, but the battle is curtailed when the Brit runs over debris. No damage. Button gets the move done after the back straight.

However, Hulkenberg's race is over.
L3: Hamilton sets the fastest lap with a 1:42.292
L2: In come the wounded trio.
END OF L1: Hamilton, Rcciardo, Rosberg, Raikkonen, Verstappen, Vettel, Massa, Sainz, Alonso, Gutierrez
L1: An awful start for Force India. Both Sergio Perez and Nico Hulkenberg have problems and contact with other cars and are last. Bottas has a puncture.

Get all of that? Good.
START: FIVE LIGHTS ARE OUT! Hamilton has a good start and leads into Turn 1, but Rosberg is passed by the alert Ricciardo! They all get through Turn 1 without incident.
FORMATION LAP: Off we go. Martin Brundle informs me that there is zilch chance of rain. A two stop strategy is expected, however we may see a few three stoppers out there.
Before we start, let's take a gander at the Drivers' Championship with four races to go:

1. Rosberg - 313
2. Hamilton - 280
3. Ricciardo - 212
4. Raikkonen - 170
5. Verstappen - 165
= Vettel - 165
Welcome back to VAVEL's live coverage of the 2016 United States Grand Prix, I'm James Eagles and we're closing in on lights out in Texas.
Whilst the track may be new, Grand Prix racing is anything but in America, the first race Stateside was held in 1908, and has seen many thrilling races since. From Long Beach to Watkins Glen to Phoenix, Indianapolis and Texas, the United States Grand Prix is one to look out for. Who will come out on top in this year's edition? Find out with me from 7:45pm this evening.
As for the Constructors' Championship, it's all over at the top, with Mercedes securing their third successive title at Suzuka, amassing 35 points over the course of the weekend. Red Bull look to have claimed the 'best of the rest' tag, but must guard against complacency, with Ferrari behind, as the pressure mounts on Maurizio Arrivabene and Sebastian Vettel; who has been outperformed by Kimi Raikkonen in recent races, and yesterday's Qualifying.
Last time out in Japan, it was Nico Rosberg who streaked away from the rest of the field for the ninth time this season, comfortably winning from Red Bull's Max Verstappen and Mercedes team mate and remaining championship rival, Lewis Hamilton. The pressure is firmly on Hamilton this weekend, albeit at a track he's dominated since it's debut race in 2012. He's won three out of the four races held in Austin, and desperately needs to make it four. He's in the best place to do so, starting on pole after a last minute Qualifying shoot-out with Rosberg.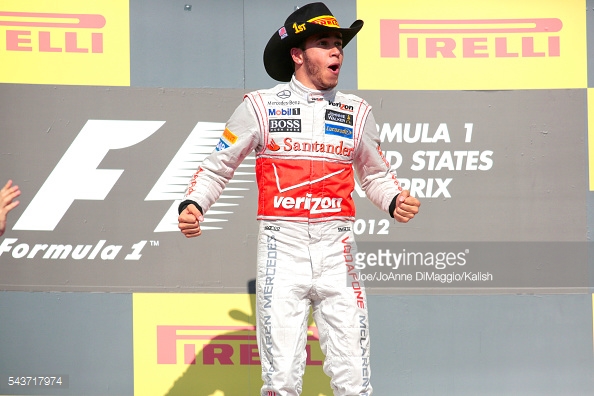 Here's Jake Nichol's Qualifying report. The gap stands at 33 points, in Nico Rosberg's favour. Furthermore, no driver has ever won nine races in a season and not gone on to win the title - can he move one step closer here today?
And the list of previous winners here. Bodes well for pole-sitter Lewis Hamilton.

| | | |
| --- | --- | --- |
| Year | Driver | Constructor |
| 2015 | Lewis Hamilton | Mercedes |
| 2014 | Lewis Hamilton | Mercedes |
| 2013 | Sebastian Vettel | Red Bull Racing |
| 2012 | Lewis Hamilton | McLaren |
| 2007 | Lewis Hamilton | McLaren |
| 2006 | Michael Schumacher | Ferrari |
| 2005 | Michael Schumacher | Ferrari |
| 2004 | Michael Schumacher | Ferrari |
| 2003 | Michael Schumacher | Ferrari |
| 2002 | Rubens Barrichello | Ferrari |
This evening's circuit, for those of you unfamiliar with it: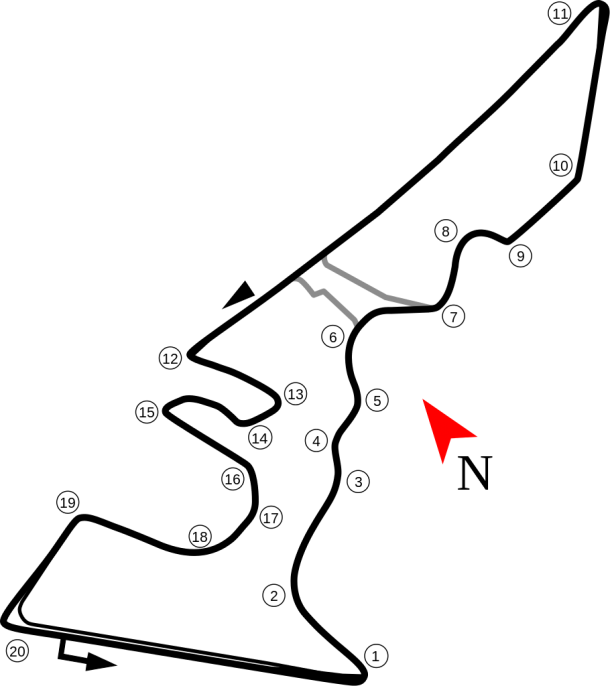 Welcome to VAVEL's live coverage of the 2016 Formula One United States Grand Prix, I'm your correspondent James Eagles and will be guiding you through all the events of this evening's Grand Prix from the new, but much-loved Circuit of the Americas.