It may not count for much come the race start tomorrow, on the account that it is expected to be very wet, but Lewis Hamilton claimed a pyschological advantage over team-mate Nico Rosberg, by pipping the World Championship leader to his second pole in Brazil and 60th of his career by 0.102s.
On the final runs in Q3, the two were barely separated, before a superior final sector gave Hamilton, his 11th pole of the season.
Behind the dominant Mercedes', Kimi Raikkonen will start in third place, just ahead of Max Verstappen. Toto Wolff is alledged to call have called Verstappen's father, Jos, earlier in the week to ask him to keep out the title fight between his two drivers. For the second row to be compiled by the two who have had some close encounters, adds a little extra spice to the mix.
Row three will also be made up of a Ferrari and Red Bull, with Sebastian Vettel and Daniel Ricciardo alongside each other.
Star of qualifying was Haas driver Romain Grosjean, who used his new found confidence on the Carbon Industry brakes, to qualify seventh fastest, not bad as that slot is now considered 'Best-of-the-rest Pole'.
Nico Hulkenberg and Sergio Perez were eighth and ninth quickest in their Force Indias' whilst the final place in the top 10 was taken by Fernando Alonso's McLaren, without a deckchair or camera in sight.
Button out in Q1
Heavy rain was predicted for the qualifying hour in Sao Paulo, but aside from the odd drizzle, there was no real major cause for concern, although at the start of Q1, there was a rush out, just to ensure that a time was on the board if the heavens opened.
There were fears that Vettel would miss the session, as his Ferrari was up on the jacks, owing to a hydraullic issue. Fortunately, the team fixed the issue and he was comfortably fifth quickest in the opening 18 minutes. The rest of the session was quite rountine, with all the front runners parking it after a single lap, and attention turning to the fight to get into Q2. Hamilton topped the session, 0.3s ahead of Rosberg.
Jenson Button, suffering from understeer in FP3, failed to find a suitable set-up in his McLaren. His quickest lap was 0.017 slower then what the recently remployed Jolyon Palmer had managed, which included a costly lock-up a the Senna S. His final lap was marred with "snap oversteer and then understeer" i​n the twisty second sector. He will start P17.
Behind the 2009 World Champion, new Haas signing Kevin Magnussen failed to make it out of Q1 for Renault, just over a tenth behind Button, whilst the usual suspects of both Manor's and Saubers' will be at the back.
After qualifying had ended, Esteban Ocon's present from the stewards was a three-place grid drop for impeding Jolyon Palmer during Q1. He will start P22 and last, promoting the other Brazilian in the field, Felipe Nasr to P21.
Williams fail to impress
In recent races, the front runners, including the both Mercedes and a single Red Bull and Ferrari have opted to take the Prime tyre in Q2, as it is generally the best race tyre. Not a single driver opted for that route today, the legacy of the unpredictable conditions.
On Friday in FP2, the pace of the Williams shocked many as they finished P3/P4. However, when it came down to it, the FW38 just lacked pace. Massa was in the knockout zone going into the final Q2 runs, and he improved to P9, before others came through to consign the Sao Paulo native a to a P13 start. Interestingly enough, P13 is where Massa's Ferrari mentor, Michael Schumacher began his final Formula One race in 2012.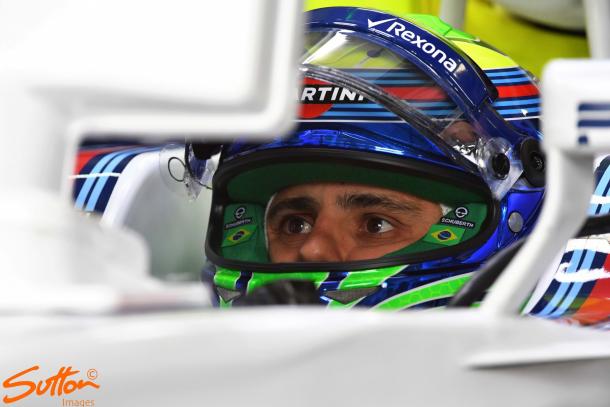 Valtteri Bottas, after a strong practice showing all weekend also failed to make it through, starting in P11. To rub salt into the fresh Williams wounds, their rivals for fourth in the constructors', Force India, were the team who made it through at their expense to the Q3 shootout.
Whilst Grosjean was busy making it through to Q3, the recently made unemployed for 2017 Esteban Gutierrez put his Haas P12 on the grid.
Toro Rosso were 14th and 15th quickest, Danill Kvyat getting the better of Carlos Sainz Jr, whilst Palmer had a "really scruffy lap", and will start P16.
Meanwhile, up front Hamilton continued his hot-streak by lapping in 1:11.238, 0.135 clear of Rosberg. Verstappen, in third was over half a second back.
60 up for Hamilton
First runs in Q3 had Hamilton up by 0.162 on Rosberg, a 1:10.860 - 1:11.022.
Verstappen, Vettel, and Ricciardo were separated by less than a tenth, with Raikkonen slotting into a provisional P6.
Alonso put himself into P8, ahead of the two Force India's whilst Haas opted to run Grosjean for just a single timed lap, during the mid-session turnaorund for the rest.
It worked, as the Frenchman posted a solid time, that wasn't beaten by any of the other three, to secure Haas's best result on a Saturday in a long time. The two Force India's jumped Alonso, Hulkenberg ahead of Perez.
The tension was palpable as the two W07 Hybrid's set off on their final laps. Rosberg was slightly up in S1, and again in S2, by 0.054, after Hamilton had lowered the benchmark to a 1:10.736. But on the run up the hill, Rosberg lost 0.156 to his team-mate and will line-up second. By qualifying on the front row again, it is the 20th time out of 20 that he has managed that this season, and breaks the record.
Raikkonen had a much improved final lap, and vaulted himself ahead of the squabble between the other Ferrari and Red Bull's to nab third. By out-qualifying Vettel again, the Finn has made it 10-10 for the season, not bad for a driver many thought was past it and questioned Ferrari's decision to hand him a new contract at July's British Grand Prix.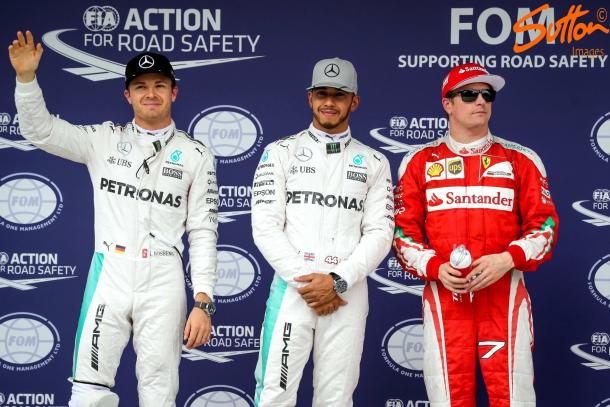 Ayrton Senna's tally of 65 poles was one of those records that many thought unbreakable. Schumacher breaking that, at Imola of all places in 2006, and ending up on 68, but from nearly 140 more races shows just how much the idol of Brazil had in qualifying. Lewis Hamilton is now closing in on the pair of them, and knows that if he is not first over the line in tomorrow's race, Nico Rosberg will likely do that for him and clinch the World Title. If it is a normal start to the race, I.E not behind the Safety Car, preparre for some fireworks.
The Brazilian Grand Prix gets underway at 16:00pm UK time on Sunday afternoon.
2016 Brazilian Grand Prix - The Grid
Position
Driver
Team
POLE
Lewis Hamilton
Mercedes
2.
Nico Rosberg
Mercedes
3.
Kimi Raikkonen
Ferrari
4.
Max Verstappen
Red Bull
5.
Sebastian Vettel
Ferrari
6.
Daniel Ricciardo
Red Bull
7.
Romain Grosjean
Haas
8.
Nico Hulkenberg
Force India
9.
Sergio Perez
Force India
10.
Fernando Alonso
McLaren
11.
Valtteri Bottas
Williams
12.
Esteban Gutierrez
Haas
13.
Felipe Massa
Williams
14.
Danill Kvyat
Toro Rosso
15.
Carlos Sainz Jr
Toro Rosso
16.
Jolyon Palmer
Renault
17.
Jenson Button
McLaren
18.
Kevin Magnussen
Renault
19.
Pascal Wehrlein
Manor
20.
Marcus Ericsson
Sauber
21.
Felipe Nasr
Sauber
22.

Esteban Ocon*

* Thrre place grid penalty for impeding Jolyon Palmer

Manor