 In the year's final Free Practice session at the stunning Yas Marina circuit in Abu Dhabi, Sebastian Vettel set the pace ahead of the Red Bull of Max Verstappen and his Ferrari team mate Kimi Raikkonen. The two Mercedes cars of Lewis Hamilton and Nico Rosberg were fourth and fifth respectively, and struggled with varying brake issues through the afternoon.
Vettel's time of 1:40.775, set towards the latter part of the session, on a new set of ultra-soft tyres, confirmed that Ferrari are in the mix for this weekend. With both the Red Bulls in close company, today's Qualifying session looks to be a mouthwatering prospect.
Mercedes find flaws
Both title contenders Hamilton and Rosberg suffered in a trying session, Rosberg noting that his car was pulling one side under braking, whilst Hamilton reported a lack of braking efficiency with his right front, and suffered a scare when his engine lost full power down the long straight between Turns 7 and 8. His engineer Pete Bonnington assuring him that it was an unexpected derate, as the engine went into harvesting mode; but no harm done.
Verstappen was the first of the front-runners to trouble the top of the timing sheet, with a 1:42.461 on a set of super-soft tyres, bettering previous leader Sergio Perez by a margin of 1.5 seconds. But, that wasn't to last for long, Hamilton and Rosberg making their first appearances of the day on the red walled super-softs. Hamilton set the pace with a time three tenths quicker than the young Dutchman, with Rosberg lagging in fourth, behind Verstappen and Red Bull colleague, Daniel Ricciardo.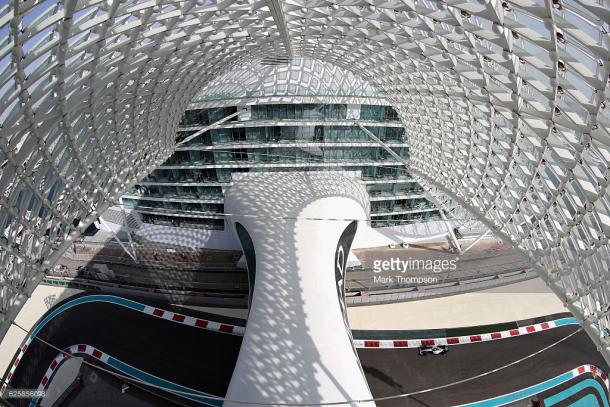 Sainz in a spin
After his troubled weekend thus far, Carlos Sainz' afternoon got no easier, spinning at Turn 18 under the hotel walkway. The Spaniard failed to set a representative lap time throughout the session, Toro Rosso keen to avoid a repeat of yesterday's rear wheel hub problems.
Just under the halfway mark, Vettel lowered the pace into the '41's', two tenths faster than Hamilton. The Ferrari looked promising in the speed trap, Vettel reaching a peak of 208 mph. Whether that pace is cut and dried in comparison to the rest of the field is a different matter.
Six minutes later, Vettel's sister Ferrari, piloted by Raikkonen trumped the German on a set of used ultra-softs. The Finn's hour was marred by a lack of braking power and front-end bite, which Raikkonen made clear note of over the radio.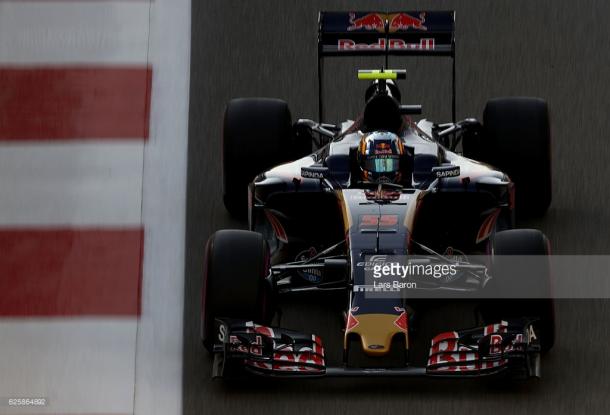 Vettel tops even session
That was how the order stayed until the two Silver Arrow cars started their Qualifying runs on fresh ultra-softs. Rosberg briefly held top spot, until Hamilton bettered his time by a tenth. That looked to be how the session would end, but Vettel, Verstappen and Raikkonen all ventured into the 1:40 bracket in the last 10 minutes.
With the Mercedes duo lagging behind in fourth and fifth, and suffering with various niggles; it's up for grabs in Qualifying and indeed, the race - with Vettel stretching a set of ultra-soft tyres out for an 11 lap stint, and showing promising pace and consistency.
THIRD PRACTICE CLASSIFICATION

| | | | | | |
| --- | --- | --- | --- | --- | --- |
| Position | Name | Team | Time | Gap | Laps |
| 1 | Sebastian VETTEL | Ferrari | 1:40.775 | - | 16 |
| 2 | Max VERSTAPPEN | Red Bull | 1:40.912 | +0.137 | 21 |
| 3 | Kimi RAIKKONEN | Ferrari | 1:40.999 | +0.224 | 14 |
| 4 | Lewis HAMILTON | Mercedes | 1:41.065 | +0.290 | 14 |
| 5 | Nico ROSBERG | Mercedes | 1:41.168 | +0.393 | 18 |
| 6 | Daniel RICCIARDO | Red Bull | 1:41.831 | +1.056 | 20 |
| 7 | Sergio PEREZ | Force India | 1:41.885 | +1.110 | 18 |
| 8 | Nico HULKENBERG | Force India | 1:42.067 | +1.292 | 13 |
| 9 | Valtteri BOTTAS | Williams | 1:42.076 | +1.301 | 19 |
| 10 | Esteban GUTIERREZ | Haas | 1:42.354 | +1.579 | 15 |
| 11 | Fernando ALONSO | McLaren | 1:42.585 | +1.810 | 13 |
| 12 | Jolyon PALMER | Renault | 1:42.616 | +1.841 | 17 |
| 13 | Jenson BUTTON | McLaren | 1:42.664 | +1.889 | 14 |
| 14 | Felipe MASSA | Williams | 1:42.683 | +1.908 | 19 |
| 15 | Romain GROSJEAN | Haas | 1:42.805 | +2.030 | 17 |
| 16 | Kevin MAGNUSSEN | Renault | 1:43.057 | +2.282 | 17 |
| 17 | Pascal WEHRLEIN | MRT | 1:43.145 | +2.370 | 16 |
| 18 | Carlos SAINZ | Toro Rosso | 1:43.301 | +2.526 | 10 |
| 19 | Felipe NASR | Sauber | 1:43.417 | +2.642 | 21 |
| 20 | Esteban OCON | MRT | 1:43.733 | +2.958 | 14 |
| 21 | Daniil KVYAT | Toro Rosso | 1:44.105 | +3.330 | 12 |
| 22 | Marcus ERICSSON | Sauber | 1:44.238 | +3.463 | 20 |