South Africa continued their scintillating start to the HSBC World Sevens Series, claiming the Sydney Sevens title thanks to a final victory over England.
Their third title from four tournaments so far this campaign sets South Africa up to end Fiji's dominance of the overall Series title.
Bliztboks overturn group stage defeat to claim Sydney crown
Having lost to England in pool play on Saturday, South Africa turned the tables in the cup final in a match they never looked like losing as soon as Philip Snyman crossed in the first minute.
Much of South Africa's dominance this season has been built on defence and this final was no different. Camped in their own 22' for what felt like the whole first-half, English errors led to further tries from Seabelo Senatla and Justin Geduld as a 19-point half-time deficit was built.
Simon Amor's men needed an improvement at the start of the second stanza but that didn't occur and Geduld punished another slip-up to cross for his second of the game, before England finally got on the board with substitute Richard de Carpentier teeing up skipper Tom Mitchell.
No sooner had England crossed for their first try, South Africa were attacking once more and following a break from Senatla, Stephan Dippenaar crossed to end any outside chance of a comeback.
It was England who had the last moment of cheer however, with Dan Norton breaking from his own line to claim his 233rd World Series try after the full-time kookaburra siren had already sounded.
New Zealand take home bronze as best of the rest
In the Bronze Final, New Zealand toppled old rivals Australia 29-14 on their own patch to finish as Sydney's third best side.
Having struggled in Wellington last weekend, the Kiwis had a much better performance across the Tasman, with a win over Fiji in the quarter-finals their standout victory.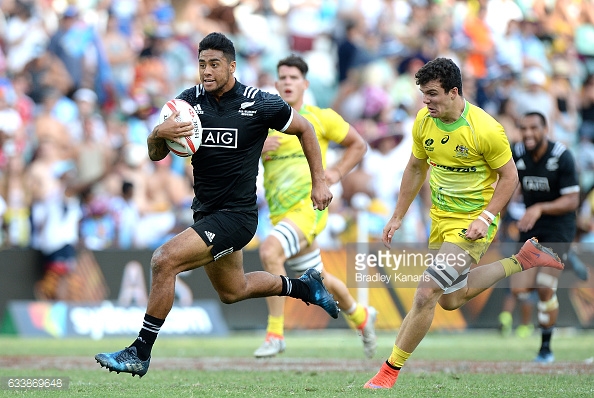 The Bronze was won thanks to a relatively one-sided win over the hosts, with DJ Forbes, Rocky Khan, Dylan Collier, Regan Ware and debutant Trael Joass each crossing for five-pointers.
Fiji fought back from that loss to New Zealand to claim fifth following wins over Argentina and then the United States in the playoff final.
Meanwhile, in the Challenge Trophy Final, Russia continued their ascendancy in the sport with a 26-0 thumping of France, with German Davydov the star of the show.
The Series now takes a month's break before heading to North America with legs five and six coming from Las Vegas and Vancouver on the horizon.