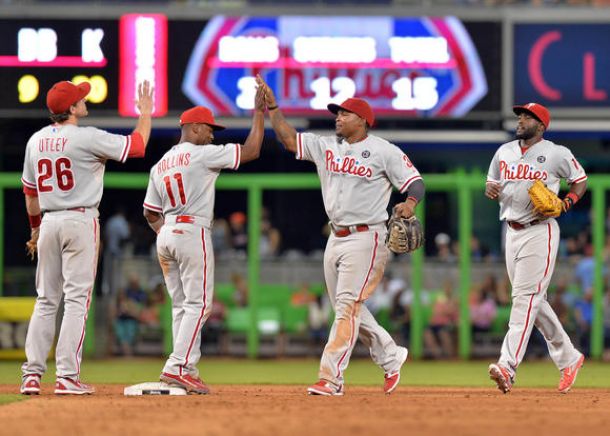 Kyle Kendrick was opposed on the mound by Brad Hand in the series finale between the Philadelphia Phillies and Miami Marlins. The Phillies needed a quality start from Kendrick in order to prevent their losing streak from extending to seven games, further burying them in the N.L. East standings.
Both teams were held scoreless through two innings, but in the bottom of the third the Marlins capitalized on a Marcell Ozuna lead-off double as Brad Hand sacrificed into a fielder's choice, giving the Fish an early 1-0 lead. Ozuna once again got the inning started for the Marlins in the bottom of the fifth with a single to center off of Kendrick. After a Donovan Solano single and a Brad Hand sacrifice bunt, Christian Yelich singled home Ozuna to add to the Marlins lead.
The Phillies were able to take a 3-2 lead in the top of the sixth, lining up Kyle Kendrick for the win. Chase Utley scored on a Cesar Hernandez fielder's choice, then Cameron Rupp doubled to deep right with two outs to bring home Ryan Howard and Cesar Hernandez, putting the Phillies on top entering the bottom half of the sixth.
Jake Diekman relieved Kyle Kendrick in the bottom of the eighth to no avail. The Marlins got on Diekman from the start with back-to-back singles from Ed Lucas and Giancarlo Stanton. Lucas and Stanton advanced to second and third after a Diekman wild pitch, with Lucas scoring on a Casey McGehee fielder's choice, and Stanton scoring on a Jeff Baker triple.
Steve Cishek came out in the top of the ninth with the intent to close out the 4-3 win and series sweep for the Marlins. Jimmy Rollins grounded into a fielder's choice bringing home Tony Gwynn Jr. to tie the ballgame up at four all, but everyone was safe on the play as Donovan Solano unsuccessfully attempted to throw Gwynn out at home. Chase Utley followed Rollins with a ground out to second that scored Revere from third, giving the Phillies a 5-4 lead.
Jonathan Papelbon shut the door for the save in the bottom of the ninth to close out the come-from-behind 5-4 win for the Phillies. Jake Diekman picked up the win and Steve Cishek was nailed with the loss.
Entering the game, the Phillies were 1-40 when trailing after eight innings (Jim Salisbury - CSN Philly), but were able to pull through in this one, avoiding the sweep and a seventh consecutive loss.
The Phillies head to Pittsburgh to take on the Pirates in a three-game series, while the Marlins travel to St. Louis for a three-game set with the Cardinals.