 3:29 PM EST: Ken Rosenthal of Fox Sports reported that Heyward can opt out of this deal after year three or four based on a certain amount of plate appearances.
2:38 PM EST: Ken Rosenthal of Fox Sports reports Heyward's deal is eight-years, $184 million.
1:57 PM EST: Gordon Wittenmyer of the Chicago Sun-Times reports that Heyward's deal is less than $185 million and and for around eight years.
________________________________________________________________________
Outfielder Jason Heyward has decided to sign a long-term contract with the Chicago Cubs, first reported by Gordon Wittenmyer of the Chicago Sun-Times.
The years and money amount is not known at this time, but Jon Heyman of CBS Sports reported that he is signing for less than $200 million. Which comes as a shock considering it's said the Washington Nationals offered him exactly or over $200 million.
The Cubs continue to make huge offseason additions to an already stacked roster. Earlier this week, Chicago landed utility man Ben Zobrist to a four-year, $56 million contract. As well as signing right-hander's John Lackey (two-year, $32 million) and Trevor Cahill (one-year, $4.25 million).
Now that Heyward is expected to where a Cubs uniform, the question is where Joe Maddon and his staff are going to play him? There is no arguing that Heyward is the best defensive right fielder in the game, but that spot on the field is currently occupied by Jorge Soler. It's not out of the question that the 26-year-old Heyward could roam center field, but he already owns several Gold Gloves in right.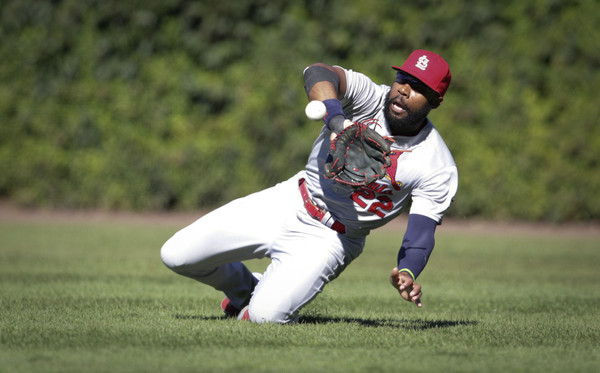 John Konstantaras/Getty Images North America
With the surplus of young, talented position players in the Cubs organization, Chicago has the ability to draw from strength and make a trade to free up right field for Heyward and add another quality starter to the rotation. There have already been rumors that the Soler has been shopped. Look for those talks to heat up in the coming days.
However, if the Cubs decide to trade Soler or left fielder Kyle Schwarber, the club would still have to fill center field. If that challenge arises, free agent outfielders Denard Span and Dexter Fowler could be reached out to.
Despite being a player who can do a little bit everything, most notably defensively and on the base paths, there has been justified criticism about Heyward's offense and if he is worth a long-term contract around $200 million.
In his six seasons between the Atlanta Braves and St. Louis Cardinals, Heyward has only hit over 20 home runs one time (27 in 2012) and has a career slash line of .268/.353/.431. Not only has the 6'5", 245 lb outfielder not hit for much power, but he has never driven in 100 runs, something you expect from a player you give a contract of this magnitude to.
To spin things on a positive note, Heyward is only 26-years old and is just getting ready to enter his prime. In his lone season with the Cardinals, Heyward slashed .293/.359/.439 with 13 home runs and 60 RBIs. He also had career totals in hits (160), doubles (33) and stolen bases (23). At some point, no matter the age, a player is who he is. Heyward may never be that 30+ home runs and 100+ RBI guy the Braves expected when they brought him up in 2010. But playing half your games in Wrigley Field could help those power numbers, and the depth of the Cubs lineup takes plenty of pressure off him.
In 101 plate appearances at Wrigley Field, Heyward has slashed .311/.376/.522 with four home runs and 13 RBI. This just might be the perfect fit for Jason Heyward as he looks to prove all the doubters wrong.