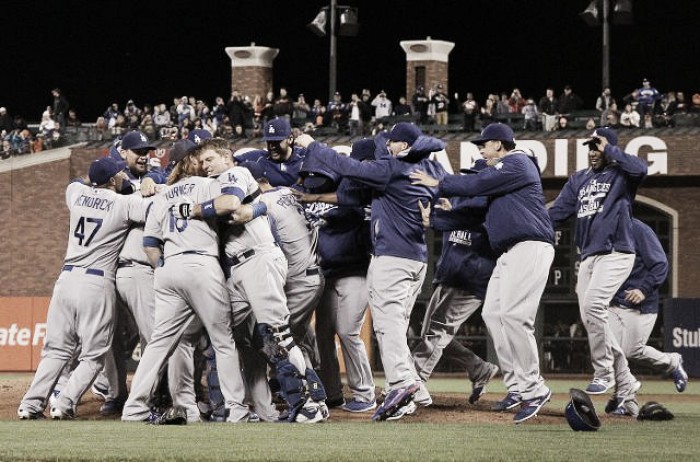 One month of baseball is in the books. We've seen a no-hitter, a stunning start by another young shortstop, surprising starts in Chicago, and much, much more. So, with one month in the books, it's time to have a little fun and start making some way too early predictions.
The way too early Cy Young watch
Right now, there's no good reason to dethrone defending National League Cy Young winner Jake Arrieta. Arrieta has been lights out to begin the season. He has won all five of his starts, averaging over seven innings per tilt and pitching to the tune of a sparkling 1.00 ERA. Oh, and he's also thrown a no-hitter. Teammate Jason Hammel has also been dominant but has also pitched less than Arrieta so far, throwing just 24 innings to Arrieta's 36. Dating back to last year, Arrieta has won his last 17 regular season decisions. Yes it's April and there's plenty of time to crash, but Arrieta is looking out of this world early on in this season. He's on pace for 33 wins this season currently. That will almost certainly not happen but it's tough to make a case against Jake Arrieta right now.
In the American League, the race is a little tighter. There's another couple of Chicago candidates in White Sox hurlers Chris Sale and Mat Latos. Jordan Zimmermann of the Tigers has been unreal to begin the season, allowing just one earned run over his four starts this season. Sale has averaged over seven innings per start, winning all five of his outings. Latos has appeared dominant in all four of his outings thus far, baffling batters on his way to a 4-0 record and 0.74 ERA. The American League is much more wide open right now. Defending champion Dallas Keuchel will likely pull it together but is struggling right now as his ERA has bloated to 4.41 during April. So, for now, this writer's way too early Cy Young pick will be Detroit's Jordan Zimmermann. It's hard to beat just one earned run. Sale has pitched more innings, but he's also given up six more runs than the Detroit hurler. Sale is a very likely possibility at this point in the season but apologies to Chicago, you only get one Cy Young pick for now.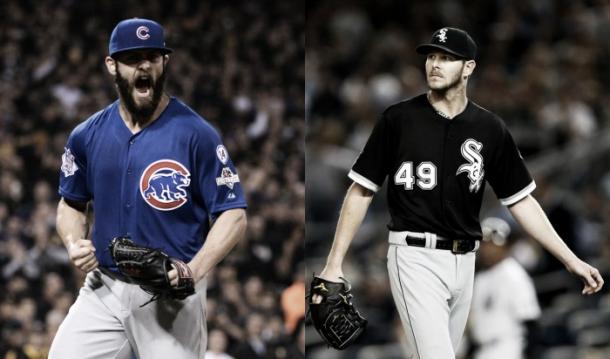 The way too early MVP watch
In the National League, looking at the statistical leaders, it's not surprising to see Bryce Harper near the top in almost all categories. But who is Aledmys Diaz? The answer would be a St. Louis Cardinals' rookie who is tearing up the league in the early going. In fact, Diaz is beating Harper in the majority of offensive categories. He is hitting .420 with four home runs, boasts a 1.186 OPS, and has struck out just four times in 69 at-bats, the best strikeout-to-at-bats ratio in the league. An early candidate for Rookie of the Year, it'll be interesting to see if Diaz emerges into a legitimate MVP threat as the grueling season wears on. Meanwhile, it's a pretty sure bet that Harper will stay among the statistical leaders. But, what the heck, we like underdogs so we'll give Diaz the way-too-early MVP award in the National League. Maybe that'll give Harper a chip on his shoulder...
In the American League, our attention is turned to two of the game's premiere third basemen, both residing in the American League East Division. Josh Donaldson of the Toronto Blue Jays and Manny Machado of the Baltimore Orioles are neck and neck in almost every statistical category. Donaldson leads in home runs (8-7), but Machado trumps him in batting average by 43 points. However, we're going to give the award to Machado, whose major stats, like batting average, on base percentage, slugging percentage, and OPS all top those of Donaldson. Boasting a .341/.394/.681/1.075 slash line, Machado has been handling the pressure that is heaped on a young star with ease and is making the game look easy.
Division Predictions
AL East
As always, the very even AL East is a difficult decision to predict. The Orioles have the early lead in the division and look promising but so do the Red Sox. The Rays have lights out pitching but absolutely no offense. The Yankees have looked dismal to say the best. The Blue Jays have plenty of pop in their lineup but their pitching provides question marks aplenty. So, just for kicks, here's the predictions after April, but they will likely change by next month…
Boston Red Sox
They've got a much better offense so far and their pitching seems to be pulling it together.
Baltimore Orioles
A good team with plenty of pop but they seem to lack a bona fide ace.
Tampa Bay Rays
Their pitching will keep them in games but their inability to score will make it tough to be .500
Toronto Blue Jays
Plenty of pop for this squad but their lackluster pitching, particularly the bullpen, could hurt them.
New York Yankees
They haven't scored much. Besides Masahiro Tanaka, they don't have much pitching. This could be a tough year in the Bronx. But hey, it's April-anything could happen.
AL Central
The White Sox are off to a sizzling start in this division, but the Royals have won the American League two years straight. The Tigers usually contend, despite last year's dismal campaign. Cleveland and Minnesota are dark horses, but both squads have had recent success. Here are the picks.
Chicago White Sox
The AL Central leader at the end of April has won it the past two years and Chicago is looking hot.
Kansas City Royals
Two-time defending AL Champs have done something right. Not looking spectacular early on but we'll give them the benefit of the doubt.
Minnesota Twins
After almost getting a wildcard berth, the Twins will make a strong push and might sneak into the postseason.
Cleveland Indians
This might not be the year for Cleveland, but don't count them out yet, not with Terry Francona at the helm.
Detroit Tigers
This might be harsh, seeing as the Tigers are in second right now. But they were in second at the end of April last year... and they finished last so this isn't unwarranted.
AL West
Will the Mariners finally live up to expectations? Can the Angels rebound from last year's sudden collapse? Do the A's have a chance in 2016? Can the Rangers repeat? Was Houston a fluke? Anything could still be determined in the AL West, but here are some picks.
Houston Astros
You know, why not? Let's give them some credit for their run last year. Despite a terrible start (7-16) Houston has lots of pop and some good arms on that roster.
Texas Rangers
The defending division champs have a chance again. With many talented players frequenting this division-leading roster, don't be surprised to see Texas play in October.
Seattle Mariners
Continuing to tease their fans, the Mariners might have a legitimate chance at contending this year. However, let's not get crazy. The Mariners do tend to underperform, thus the third-place pick.
Oakland Athletics
Billy Beane has generally been considered a genius in the front office, but he has not been able to get his teams into contention lately. With a limited budget, don't expect Oakland to contend in 2016.
Los Angeles Angels
The Angels have struggled in 2016, largely due to the struggles of Mike Trout. This team might just be too dependent on one star to contend this season. But it's April and this could be way off.
NL East
The Mets have the pitching, that's for sure, but will they have enough offense to defend their NL title? Washington has Bryce Harper and Max Scherzer, but is that enough? The Braves and Phillies will likely not contend, but do the Marlins have a chance? Here are the picks.
Washington Nationals
They have an ace. They have a star. Let's see if they can finally live up to their potential
Miami Marlins
Go ahead and shout. How can the Marlins be picked above the Mets. It's just a feeling really. The Marlins have some really solid pitching, some young talent, and a chance to make a run this season.
New York Mets
The Mets have lots of pitching. But their offense is questionable. Yoenis Cespedes hits a lot of home runs but also strikes out a lot. Likely, the Mets might finish higher than third, but this writer will wait until their offense proves themselves.
Philadelphia Phillies
Not yet Philadelphia. For Pennsylvania baseball fans that want a contending team, go watch the Pirates. The Phils are almost ready... but not quite.
Atlanta Braves
A is for awful, atrocious, and Atlanta. The Braves have won just five games thus far and hit just three home runs all season...this team is going be cellar dwelling all year.
NL Central
Cubs fans are ecstatic. It might finally be the year! But they have a very tough division to win first, including the Pittsburgh Pirates and St. Louis Cardinals. The Reds and Brewers don't figure to be big threats.
Chicago Cubs
Every Chicago fan screams with delight at every prediction that shows their long-suffering squad winning this stacked division. Could it be the year? Well, here's another prediction for Chicago fans to scream about.
St. Louis Cardinals
Just because the Cubs are really good this year, don't expect St. Louis to falter. They generally find themselves playing in October and finishing second here should get them a wild-card.
Pittsburgh Pirates
The third Musketeer. These three squads have established themselves as the top three teams in the division with ease. However, these Pirates might be trailing behind the Cubs and Cards this year.
Milwaukee Brewers
No offense meant to Milwaukee fans, but they really have no chance this year. A rebuilding squad in a division with a solid Pittsburgh team, a desperate and really good Chicago team, and a St. Louis powerhouse has no chance.
Cincinnati Reds
See statement for Milwaukee Brewers. Sorry Cincy... just not your year.
NL West
The Dodgers have really good pitching but they did lose Zack Greinke to a division rival in Arizona. San Francisco picked up Johnny Cueto. Colorado has the top two home run hitters right now and San Diego... well they don't have a lot but they do have James Shields and Justin Upton. Who will come out on top in the West? Here are the picks after one month of play.
Los Angeles Dodgers
With Clayton Kershaw, Kente Maeda and Hyun-jin Ryu heading the rotation, plus young talent like Corey Seager and Joc Pederson, it'll be difficult to dethrone the Dodgers, who lead the division after one month.
San Francisco Giants
The Dodger's in-state rival did pick up Cueto and Jeff Samardzija so they should contend for a wild-card berth, even if they can't keep up with the Dodgers.
Colorado Rockies
Things are starting to turn around in Colorado as they have a 23-year-old shortstop in Trevor Story and a 25-year-old third baseman in Nolan Arenado who mashed ten home runs in April. They might not play in October this season but the Rockies could be a force in the years to come.
Arizona Diamondbacks
The D-backs have Greinke plus Paul Goldschmidt but not enough talent to really compete in this division. They might be a .500 team but that will almost certainly not be enough to come close in this division.
San Diego Padres
This is a lackluster squad that just doesn't have much. They have a good outfield with Matt Kemp, Justin Upton, and Wil Myers, but the Padres just can't put it together. They sit in the basement right now and they might just stay there.
Postseason Predictions
Obviously these are way, way too early, but here goes.
AL Wild Card
Texas Rangers over Baltimore Orioles
NL Wild Card
Pittsburgh Pirates over St. Louis Cardinals
ALDS
Chicago White Sox over Texas Rangers
Boston Red Sox over Houston Astros
NLDS
Pittsburgh Pirates over Chicago Cubs (Sorry Cubs fans, I'll expect your hate mail in the morning)
LA Dodgers over Washington Nationals
ALCS
Chicago White Sox over Boston Red Sox
NLCS
LA Dodgers over Pittsburgh Pirates
World Series
LA Dodgers over Chicago White Sox
The pick goes to the Dodgers right now. The Dodgers are only 12-12 but they still lead the NL West and have a good chance of winning the division. And maybe they'll be inspired to win one last World Series for Vin Scully before he says good bye to baseball.
Well, there you have it folks! Your Way-To-Early Predictions, brought you by VAVEL MLB's Aidan Thomas.