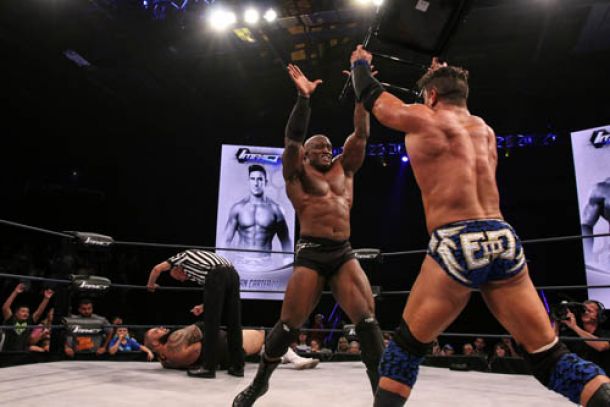 Austin Aries and Mr. Anderson kicked off the first match in week three of the World Title Series. Anderson comes in with no points after suffering a loss to Lashley and Aries has one for going to a draw with EC3. Not too much build up beforehand as only two of the groups has yet to compete. Neither wrestler took an advantage early as the match was very high paced. Once again Aries has to deal with time limit issues as the clock reached the five minute mark. This is where Aires found his offense and started to gain some momentum. Anderson went for a mic check but that was countered by Aries who failed in his attempt at a brain buster. After a weird exchange on the ropes Aries landed a 450 splash for a near fall. Once again they have an exchange on the ropes this time with Anderson almost getting a near fall with his signature flip. Aries missed with his discus punch while Anderson climbed to the rope again which surely prompted his undoing. Austin hits the brainbuster off the rope and that was enough to finally get the three count and a point for Aries. Anderson is eliminated with his second lost and we know for some TNA fans that's a good thing.
Since the initial pairings weren't announced for this episode except for Lashley and EC3 it was surprising to see the first matchup in the X Division Group. Reigning X Division champ Tigre Uno takes on Mandrews for the first of their debut matches in the series. It's a quick match with a few dramatics from Mandrews before Tigre took over. Mandrews clearly isn't at the level of Uno and and it only took a matter of minutes for him to hit his finish and grab his first three points of the series.
Another Bound For Glory Replay ensued, this time the three way title match.
After that truly unnecessary replay and a recap of Jessie Godderz defeating Crimson(?) we saw the next match from the X Division. Kudos to the creative for having Josh Matthews and The Pope for explaining why Manik is wearing his Mask. He faces DJ Z in another match filled with flips and high speed takedowns. Most of the early offense went to DJ Z. Both wrestlers missed their top rope finishers but another mistake by DJ Z landed him in the arms for a quick finish by Manik for the win.
It is mentioned that next week's matches will be Awesome Kong - Gail Kim, Abyss - James Storm and Matt Hardy facing Robbie E.
The main event for week three was between EC3 and Lashley. As predicted the match started with all the offense going the way of Lashley. Due to a very substantial commercial break eventually the fight found it's way outside of the six sided ring. After a huge slam to the ground by Lashley EC3 is thrown back in the ring. This allowed Tyrus to get a cheap shot in on Lashley. Tyrus would not be finished as he hit a pancake slam on Lashley while Earl's back was turned again. While in a rear naked choke Tyrus grabs EC3's foot and places it on the ropes to interfere once again. A powerbomb by Lashley sets up the spear from Lashley and of course Tyrus interferes once again. For the final distraction Tyrus comes in with a chair gets speared by Lashley, EC3 grabs the chair Lashley counters but is ultimately hit with a low blow. One percenter and finish. That has to be a record for most disruptions in a match. This gives EC3 4 points and now stands at the top of the leader board. It almost seems as if this could ultimately lead to the Tyrus and EC3 clash but it's hard to see either as a babyface as this goes on.
This episode lacked the creativity of the first two so hopefully from this point on we won't see anymore replay matches.