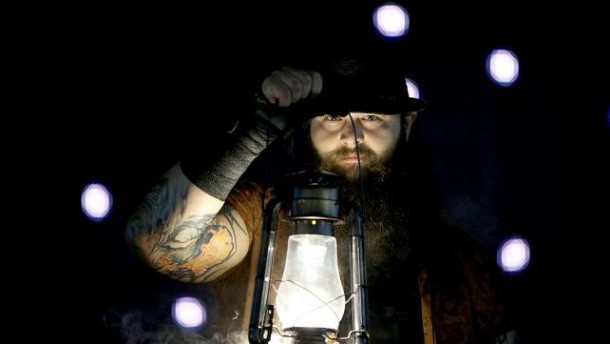 In Ring Segment: Triple H proposes to Roman Reigns
With the injury to Seth Rollins there was no way RAW wouldn't start with Triple H promo. Triple H praises Rollins for his accomplishments while he was WWE Champion. Triple H goes on to say that since Rollins is no longer champ, it's time to move on. Triple H calls out the number one contender for the title, Roman Reigns.
Triple H proceeds to tell Reigns if he wants to be the man, he needs to be Triple H's man. Reigns tells Triple H "shssh… you he had him at hello". They are currently in Iowa scouting homes in the country were they can raise a family together.
Okay, that last part didn't happen, but Triple H did awkwardly ask Reigns to be his man multiple times. Reigns refusal of Triple H's indecent purposely was inevitable. Which led to Triple H putting Reigns in a match against the Big Show to advance in the World Title tournament.
Grade: 6
Reason this didn't work: The issue here wasn't Triple H going on and on about likening muscly armed paperboys like Reigns or Reigns mic work (less is always more when it comes to him). The problem is this is just more of the same. Trying to cast Reigns as the underdog here is asinine. After everything they have been through why would Triple H try to convince Reigns to come to the dark side? Furthermore, why would he do it in the middle of the ring?
If the idea is to turn a face into a heel then they literally just need to copy the formula that was used to turn The Rock heel during the Deadly Game tournament at Survivor Series 1998. Act like you're stacking the deck against Reigns when you are really just making his road easier then wham! Hand him the belt in the finals. The newer fans would never see it coming.
Let's not go too far off the rails and go into the idea of actually turning Reigns heel. What did any of this accomplish? We know where The Authority stands on Reigns and vice versa. This 10 minutes segment essentially just set up Reigns - The Big Show. You know... Because in some alternate reality Big Show is a threat to super face Reigns.
Roman Reigns - The Big Show: This time it's... Personal?
There is really not much to say about this match. It is essentially the same match these two have been having for the past year or so. This will shock you, but Big Show dominates the match, but Reigns wins with the running hug… err the spear. Reigns advances to the next round of the WWE title tournament.
Grade: 4
Reason this didn't work: Same old same. Maybe they will shock us and let Big Show win a match eventually.
Kevin Owens - Titus O'Neil: Seriously?
Titus O'Neil is great, but they can't be serious here. Titus is not in the position to be a threat to Kevin Owens on any level. Titus managed to look strong during the match, but Owens managed to get the win via the pop-up powerbomb, which Titus took it like a champ. Kevin Owens advances to the next round of the WWE title tournament
Grade: 5
Reason this didn't work: No way to suspend disbelief here. We all knew how this was going to end.
Paige - Becky Lynch:
Considering the atmosphere (they are in the U.K.) and the participants this match had serious potential. Problem is five minutes does not a quality match make. They did their best to convey the animosity between these two: the match starts with an aggressive lock up spot were Becky and Paige roll out the ring while still holding on to each other. After a few vicious striking spots, Becky won after reversing Paige's roll up attempt and grabbing the tights.
Grade: 6
Reason this didn't work: Both Paige and Becky are great in-ring talents. Considering that there is a *snicker* Divas revolution going on, these two should have gotten at least a two segment match. The funny thing about all of this is they could have run this match before the ending segment and the crowd would have eaten it up. But alas, that was not to be. Becky got the win, but this match solidified her as an afterthought. She deserves more.
The Miz - Dolph Ziggler: Former world champions collide... Wait they were both world champion?
What a difference a few years make. Miz has gone from main eventing WrestleMania to jobbing to everyone they put in front of him. Let's not even talk about the 157 missed opportunities WWE Creative has had with Ziggler. To their credit, both Miz and Ziggler did there best to make this match seem important. Going for quick pin attempts to try to end it early to advance in the tournament. Ziggler gets the win after a superkick. Dolph Ziggler advances to the next round of the WWE title tournament.
Grade: 7
Reason this sort of worked: The match was actually fun. Miz worked a body part and Ziggler sold Miz's offense expertly. Ziggler winning with a surprise superkick reminded this writer of an old school HBK match. If the superkick wasn't so overused *stares angrily at the Young Bucks* it would be the perfect finisher for Ziggler.
Backstage Segment: Zeb Colter and Alberto Del Rio have... Something to say?
The point of this is essential to get over the Mex-America revolution (there goes that word again) and Del Rio as the winner of the world title tournament.
Grade: 3
Reason this didn't work: Quick question for everyone: what the heck is the point of any of this? Del Rio is a great heel, so is Colter, but none of this makes sense. It's obvious that neither Del Rio nor Colter's hearts are into whatever this gimmick is supposed to be. If you don't agree, go back and watch Colter's promos when he was with Jack Swagger and Del Rio's promos during his first run in WWE.
Natalya - Naomi: Can't have RAW without a Diva screaming we want Sasha.
This was another quick but fun match. Not a lot to see here. Natty wins via a roll up.
Grade: 5
Reason this didn't work: Neither Diva had enough time to put together a compelling contest, furthermore, Natty spent half of the match yelling, "we want Sasha!" This has been a theme the past few weeks during Diva matches. To what end? Is it going to lead to Sasha becoming Divas champion? Probably not... well not yet. All it serves to do is create an annoyance to anyone who actually cares about watching a quality-wrestling match.
Sheamus w/King Barrett - Cesaro: The "Winner loses to Roman Reigns in the next round bowl".
This match was actually pretty good. Cesaro could have a match with a broom and make him look like Kurt Angle. Wrestling Sheamus isn't like wrestling a broom, but its close. All jokes aside, Sheamus and Cesaro tried to kill each other. If there is one match you watch, it should be this one. After a goofy distraction by Wayne Rooney, Cesaro pins Sheamus with a roll up. Cesaro advances to the next round of the WWE title tournament.
Grade: 9
Reason this worked: In a word? Cesaro. Too bad he has a snowball's chance in hell of beating Reigns next week. If anything, Stardust will cost him the match. Oh, did you forget about the impending Stardust/Cesaro feud? You're welcome.
Tyler Breeze - Dean Ambrose: The future - the future.
It's pretty remarkable that Tyler Breeze's debut match would be a first-round match in the world title tournament. Breeze fights valiantly, but he never really had a chance here. Breeze walks right into a small package. Dean Ambrose advances to the next round of the WWE title tournament.
Grade: 8
Reason this worked: Ambrose and Breeze have a surprising amount of chemistry. Expect to see this match many times in the future, most likely over the Intercontinental championship.
The New Day - Neville and The Usos: New Day still rocks.
At this point, New Day can do no wrong. It's perplexing that none of them were in the world title tournament. You would figure Big E. would have gotten the nod. That said this was a very quick paced match. Each team got their major spots in. It's great to see the Usos back in the ring healthy. Neville seemed a bit out of place. There really was no build or reasoning behind why he is in this match, but his sky twister press from the top rope to the outside was a thing of beauty. Neville set up for the red arrow, but Big E. pushes him off the top rope. Woods gets the pin with his feet on the ropes.
Grade: 7
Reason this sort of worked: We have gotten used to the main event being a tag match but in most cases, it isn't exactly an interesting affair. This semi-nonsensical tag match managed to actually be exciting. It great for things to make sense, but if its fun, who cares if it doesn't.
In Ring Segment: Bray Wyatt says some stuff…
WWE Creative needs to learn that when it comes to Bray Wyatt promos less is more. He is a great talker, but he talks way too much. In the end, Kane and Undertaker appear and a brawl breaks out between the Brothers of Destruction and the Wyatt family. The Brothers of Destruction stand tall after double choke slamming Wyatt.
Grade: 7
Reason this sort of worked: It's great to see Kane and Taker working together again. Also, seeing the Wyatt Family get served for once is a welcome change. The only problem is last time we saw Kane or Taker they were being carried off by the Wyatt Family. Suspension of disbelief is a big part of wrestling but come on! What was the point of having them both "abducted" if they were just going show up a week or two later? Would it be asking too much for an explanation of how they escaped?
Overall Grade: 7.5