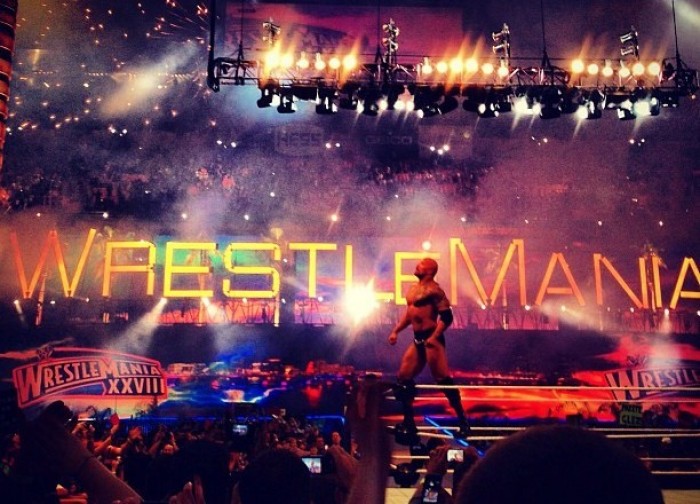 There has been much speculation and rumors regarding The Rock's status for Wrestlemania 32, ever since his appearance last year with Ronda Rousey the dirt sheets have discussed all manner of possibilities, but for now it is guaranteed that he will at least be present on the grandest stage of them all.
Doubts had been cast on his ability to perform in Texas next year, with stories claiming that The Rock couldn't gain insurance coverage from his latest film project, but it appears that is not going to be an issue, as he revealed, "IT'S OFFICIAL: People's Champ is coming home," and he has, "3 things," that he wants to accomplish.
His Instagram post went on to state his goals for the event; to set an all-time attendance record, electrify Dallas, and to make Wrestlemania history, as well as an additional goal to simply have, "Fun," news which will undoubtedly have gained mass anticipation ahead of the event.
Coming Back Home
Ever since The Rock made his long awaited return to the WWE back in 2011, he promised the WWE Universe that he was never going away, and whilst he hasn't been a regular on T.V. he has kept to his word.
Wrestlemania 32 will se Dwayne 'The Rock' Johnson appear at his sixth Mania in a row, ever since hosting the showcase of immortals, the Great One has consistently turned up to surprise the fans, whether it's competing in the ring or simply cutting a promo.
Whilst he did announce that he will be appearing in 2016, The Rock didn't say what he would be doing, often known nowadays for shocking the fans, it's unlikely we will find out exactly what his role will be until the WWE is ready to reveal it, but simply having him appear is sure to help not only the sales, but the quality of the event.
What is his role?
The possibilities that surround The Rock are endless, whether he competes in a match, hosts the event, does a run in or just cuts another promo, but now it's been revealed beforehand the expectation will certainly be higher than before.
There have been rumors in the past that have stated the WWE wants to have a match with Johnson against former UFC star, Brock Lesnar, and was set for a Wrestlemania 30 until an injury prevented The Rock from starting the feud the night he was supposed to.
But the most obvious option would be to continue the feud that was started at last years Wrestlemania, with Triple H, continuing what has been a long standing rivalry between both men.
With The Authority still around and having power over the company, The Rock could work as the perfect babyface to come in and attempt to bring an end to their dominance, and seeing two of the company's all time greats have one more match would certainly help sell tickets.
As the WWE has suffered so many injuries to top caliber superstars, with the likes of Seth Rollins and Randy Orton both major doubts, bringing in The Rock is 'Best for business' as Triple H would say, and it's going to be good to see him back, doing what he does best.